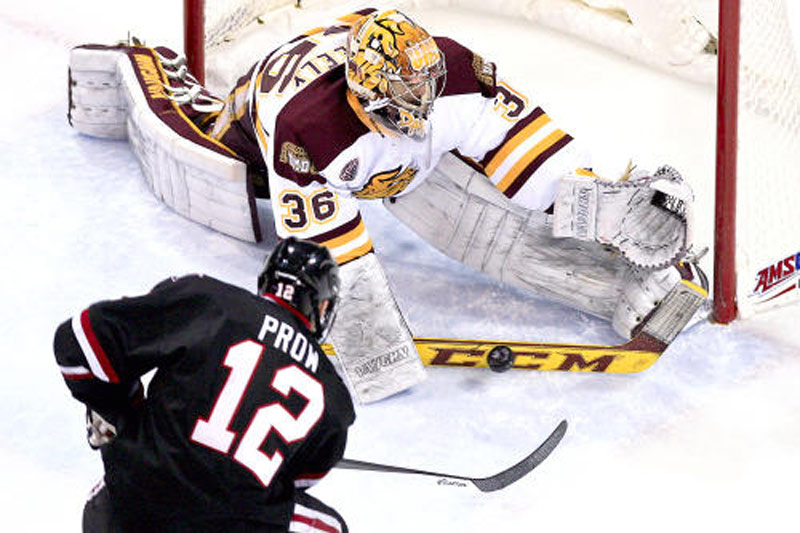 This is part three in a series on returning 2015-16 NCHC talent. Earlier in the week, we created models to evaluate the relative on-ice performance of goaltenders and forwards. Today, let's tackle the defenders. But before we do, we need to have a quick discussion about the analysis itself, because this category is always more subjective than the other two.
I picked an image of a talented NCHC defensive player (SCSU's Ethan Prow) making an offensive move for a reason. Prow is a good two-way guy in a lot of ways, and I'll show you why we think that in a minute. But when we're evaluating defensive players in hockey, we tend to conflate their actual defending abilities with their offensive contributions.
Defensemen are the most difficult position to assess in hockey, at all levels. You can evaluate them in the same way you do forwards, but that only tells you who the most offensive-oriented guys are. Trying to determine the most defensive defensemen can be difficult, especially with the lack of data we have at the NCAA level. FOr so long, plus/minus was the standard, but the stats community has come to a consensus that +/- is unreliable and useless. At the NHL level, two-way blue line talent can be looked at through ice time, relative Corsi, player usage charts, etc., (see here, here and here) but we simply don't have that kind of data in college yet. We're stuck with shots, shot blocks, faceoffs, goals and assists.
We've tried to make do with what we have, knowing that we still need a better way. But in working with the extant data, we can do a pretty good job of evaluating who is helping the team score goals from an offensive perspective, and we might be able to infer some things about who is actually playing good preventative defense. We'll return to this discussion at the end of the article, because there are a few more preferable indicators of good defense (and they're not that hard to get at), but it would take some investment from the NCAA and the conferences.
For now, let's play with the data we've got.
Top Losses
NCHC teams lose 18 defenseman in 15-16, whether through graduations or defections. No player will likely be as missed as Denver's Joey LaLeggia, one of the top five point earners in the league. North Dakota's Jordan Schmaltz leaves with a year of eligibility, and Nick Mattson graduates – both contributed 20+ points. Colorado College will miss sophomore Jaccob Slavin and senior Peter Stokykewich, who combined for 139 blocked shots last year. WMU's Kenny Morrison leaves a year early after a relatively fruitful 2014-15, but he certainly could have contributed significantly in the upcoming season. SCSU's losses of Andrew Proncho and Tim Daly will be felt, too – Daly led the league in blocked shots.
UNO, Miami and Duluth remain relatively unscathed, however, losing only four defensive players between them, and only two who played a full season.
Traditional Analysis
There are 48 returning defenders in the NCHC. As we did for the forwards, let's look at the top d-men in a few of the more traditional ways – points, blocked shots, and blocks per game.