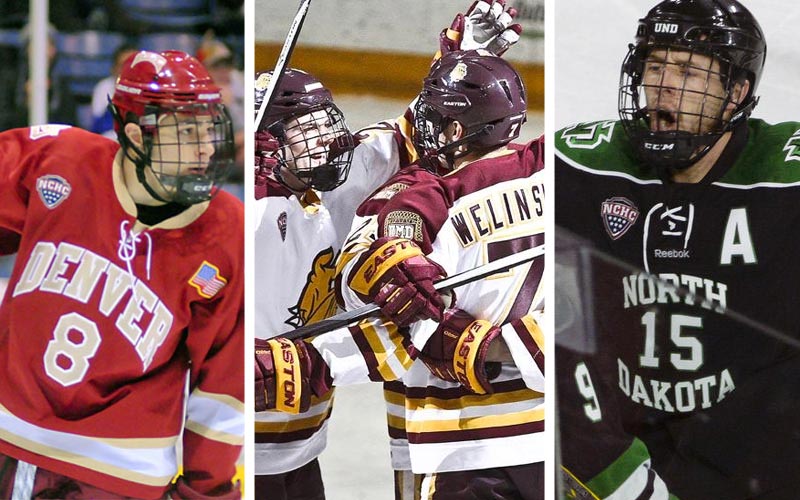 Here it comes – Year Three of the NCHC. Once again, the eight-team conference looks to be the toughest and most talented in the nation. Most polls put 4-5 teams in the national Top 10, and, having sent 75% of the conference to the NCAA Tournament in March, the NCHC looks poised to return at least half the conference this year.
As the 2016 NCAA hockey season gets underway, it's time to predict the final 2016 standings of the National Collegiate Hockey Conference. Per usual, I will be doing this using only actual statistical data based on each team's past performance.
This only gets tougher as nearly every team in the conference has proven a national contender over the last few years. Already the teams are so talented that the marginal differences between each team are so slim – any team could beat any other team on any given night (yes, even CC).
Last year when I did this, the statistical method of predicting did slightly better than all of the NCHC hockey journalists. There's no guarantee I will do as well this year though, so the better my odds I made a few adjustments to the model to try and get an even more accurate prediction.
I've collected individual-level data on all NCHC players from 2014-15, primarily goals, shots, shot%, save% and a derived possession-share (individual shots/all shots). That data was much more readily available thanks to better tracking by the NCHC and more in-depth shot statistics compiled by College Hockey News.
As we did last year, we're going to adjust sh%, sv% and possession for each team based on what we know about roster changes, particularly about who is returning and who has left. To do this, I have to make some assumptions about players and teams. I'll try to keep these as safe as possible: