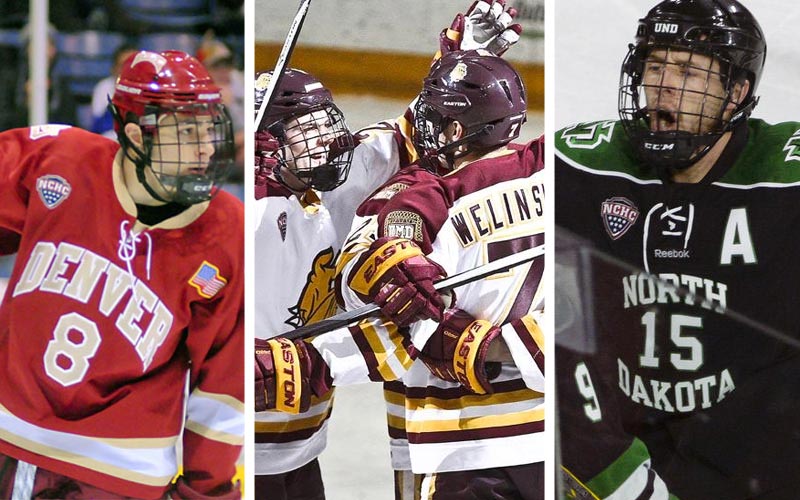 Here it comes – Year Three of the NCHC. Once again, the eight-team conference looks to be the toughest and most talented in the nation. Most polls put 4-5 teams in the national Top 10, and, having sent 75% of the conference to the NCAA Tournament in March, the NCHC looks poised to return at least half the conference this year.
As the 2016 NCAA hockey season gets underway, it's time to predict the final 2016 standings of the National Collegiate Hockey Conference. Per usual, I will be doing this using only actual statistical data based on each team's past performance.
This only gets tougher as nearly every team in the conference has proven a national contender over the last few years. Already the teams are so talented that the marginal differences between each team are so slim – any team could beat any other team on any given night (yes, even CC).
Last year when I did this, the statistical method of predicting did slightly better than all of the NCHC hockey journalists. There's no guarantee I will do as well this year though, so the better my odds I made a few adjustments to the model to try and get an even more accurate prediction.
I've collected individual-level data on all NCHC players from 2014-15, primarily goals, shots, shot%, save% and a derived possession-share (individual shots/all shots). That data was much more readily available thanks to better tracking by the NCHC and more in-depth shot statistics compiled by College Hockey News.
As we did last year, we're going to adjust sh%, sv% and possession for each team based on what we know about roster changes, particularly about who is returning and who has left. To do this, I have to make some assumptions about players and teams. I'll try to keep these as safe as possible:
Assumptions:
Most returning players will perform about the same as they did last year in sh% and sv%. At a team level, this will even out in the aggregate.
Teams with no coaching changes and stable possession over time will have similar possession in 2015-16. Adjustments will be made based on loss of a high-shooting player or an increased role of a returning player, as well as an assumed regression toward the mean.
New players will perform at the average of each team's new players over the last two years. We're not sure how junior or high school hockey translates in NCAA talent, and even if it did, we don't know how much any individual guy will play this year. So until they prove otherwise, they're considered average. There's no great way to quantify incoming talent yet, but I do what I can.
Extreme outliers need to be moderated. If Jonny Brodzinski or Riley Barber were returning this year, I would tone them down based on expected regression toward the mean.
There's plenty more on the methods behind this analysis here, here and here. I tried to reduce subjectivity, but that's not entirely possible. To deal with that, remember that all of these assumptions will be constrained, because there are a few constants that MUST be true in the model:
Constants:
NCHC shot% + save% will always equal 100%.
Furthermore, don't expect Sh% to deviate much from just less than 10% and don't expect save % deviate much from just more than 90%.
NCHC average possession is always 50% and possession ratio is always 1.00.
Total points will equal 288.
Finally, noise will happen, and I can't predict it. That's why we watch the games and they play the seasons. However, hopefully in the second year of the model, with an additional year's worth of data, the noise will begin to shrink.
First of all, let's look at how shooters from each class within each team performed last season:
Colorado College 14-15
| | Fr. 14-15 | So. 14-15 | Jr. 14-15 | Sr. 14-15 | Team |
| --- | --- | --- | --- | --- | --- |
| Sh% | 3.28% | 5.33% | 10.34% | 8.28% | 7.08% |
| Poss. Share | 10.05% | 40.20% | 23.89% | 25.86% | 100% |
| Avg. Shots | 12.2 | 34.9 | 29.0 | 26.2 |  26.4 |
| Avg. Goals | 0.4 | 1.9 | 3.0 | 2.2 |  1.9 |
| Count | 5 | 7 | 5 | 6 | 23 |
| Lose in 15-16 | 1 | 1 | 0 | 6 | 8 |
Denver 14-15
Fr. 14-15
So. 14-15
Jr. 14-15
Sr. 14-15
Sh%
11.58%
9.55%
7.75%
11.95%
10.48%
Poss. Share
12.60%
26.39%
18.83%
42.18%
100%
Avg. Shots
23.8
28.4
35.5
 45.4
 34.3
Avg. Goals
2.8
2.7
2.8
5.4
3.6
Count
4
7
4
7
22
Lose in 15-16
0
0
0
7
7
Miami 14-15
Fr. 14-15
So. 14-15
Jr. 14-15
Sr. 14-15
Sh%
3.23%
9.09%
9.21%
10.59%
8.95%
Poss. Share
11.40%
9.44%
47.92%
31.25%
100%
Avg. Shots
31.0
19.3
35.5
51.0
35.5
Avg. Goals
1.0
1.8
3.3
5.4
 3.2
Count
3
4
11
5
23
Lose in 15-16
0
0
2
5
7
Minnesota-Duluth 14-15
Fr. 14-15
So. 14-15
Jr. 14-15
Sr. 14-15
Sh%
8.33%
7.94%
8.48%
12.82%
8.94%
Poss. Share
11.04%
36.40%
37.19%
15.37%
100%
Avg. Shots
14.0
39.6
40.4
39.0
33.1
Avg. Goals
1.2
3.1
3.4
5.0
3.0
Count
6
7
7
3
23
Lose in 15-16
1
0
0
3
4
Omaha 14-15
Fr. 14-15
So. 14-15
Jr. 14-15
Sr. 14-15
Sh%
7.81%
13.31%
7.25%
9.72%
10.15%
Poss. Share
38.79%
39.85%
10.45%
10.91%
100%
Avg. Shots
25.6
43.8
42.8
18.0
 28.7
Avg. Goals
2.0
5.8
1.7
1.8
2.9
Count
10
6
3
4
23
Lose in 15-16
2
2
0
4
8
North Dakota 14-15
Fr. 14-15
So. 14-15
Jr. 14-15
Sr. 14-15
Sh%
6.67%
5.88%
9.50%
13.69%
9.61%
Poss. Share
16.02%
24.97%
23.90%
35.11%
100%
Avg. Shots
24.0
31.2
35.8
37.6
 32.6
Avg. Goals
1.6
1.8
3.4
5.1
3.2
Count
5
6
5
7
23
Lose in 15-16
0
1
1
7
9
St. Cloud State 14-15
Fr. 14-15
So. 14-15
Jr. 14-15
Sr. 14-15
Sh%
10.84%
3.23%
11.90%
4.49%
9.36%
Poss. Share
22.52%
8.41%
47.90%
21.17%
100%
Avg. Shots
33.2
20.7
50.4
22.3
33.5
Avg. Goals
3.6
0.7
6.0
1.0
3.2
Count
5
3
7
7
22
Lose in 15-16
0
0
1
7
 8
Western Michigan 14-15
Fr. 14-15
So. 14-15
Jr. 14-15
Sr. 14-15
Sh%
5.81%
8.04%
7.04%
9.52%
7.36%
Poss. Share
24.82%
32.32%
30.74%
12.12%
100%
Avg. Shots
24.6
28.0
35.5
28.0
28.9
Avg. Goals
1.4
2.3
2.5
2.7
2.1
Count
7
8
6
3
 24
Lose in 14-15
0
0
2
3
5
Clearly seen here, no team relied more on their underclassmen than UNO, and no team will miss their seniors more than Miami, although North Dakota, Duluth and Denver also lose talented senior classes. Duluth, however, loses the fewest number of players (4), while North Dakota loses the most (9).
For good measure, let's look at what every team loses for 2015-16, in terms of percentage of their team, but also in terms of shooting percentage of those departed players and the share of the possession they made up:
2015-16 NCHC Team Losses
| Team | % of team lost | Lost Sh% | Lost Poss.% |
| --- | --- | --- | --- |
| Colorado College | 34.8% | 8.06% | 34.76% |
| Denver | 31.8% | 11.95% | 42.18% |
| Miami | 30.4% | 10.53% | 46.57% |
| Minnesota-Duluth | 17.4% | 12.20% | 16.16% |
| Nebraska-Omaha | 34.8% | 8.89% | 13.64% |
| North Dakota | 39.1% | 11.80% | 42.99% |
| St. Cloud State | 36.4% | 7.97% | 34.06% |
| Western Michigan | 20.8% | 9.14% | 26.84% |
| NCHC Average | 30.7% | 10.56% | 32.15% |
Something interesting to note here: many have commented how Duluth only loses four guys. This is true, they do lose the fewest bodies and smallest percentage of the team. However, in terms of possession, Duluth actually loses slightly more than Omaha, and the shooting percentage lost is hefty. This is almost entirely Justin Crandall. Also, while Miami appears to have lost a lot, North Dakota and Denver are not far behind. But if you look at what Denver retains compared with those other schools, you begin to see an edge in depth and experience.
Alright, on to the predictive model.  We assume all the returning players will perform at about the average rate they performed last season. Obviously this won't be true down to the player, but at the aggregate, it should pan out – and I'll just have to hope the team-level adjustments aren't huge.
In addition, I'll make the assumption that each team's new players will perform at about the rate of the last two years averaged. This year, there was much more graduating talent than last year, and across the board there are more freshman. I'm hoping that by instituting an average freshman performance across years, the imputations will be more accurate than they were last year.
Putting this all together, we have a rough approximation of what sh%, sv% and possession might look like for this NCHC season. Assuming we're comfortable with these numbers, all we have to do is plug these numbers into the model, and we get:
2016 NCHC Expected Metrics
Team
'15 Shot%
'16 Shot%
'15 Save%
'16 Save%
'15 Poss%
'16 Poss%
'16 Points*
'16 Finish
Denver
10.49%
10.30%
90.65%
91.30%
50.9%
51.50%
44
1
Minnesota-Duluth
8.95%
9.15%
91.26%
91.60%
53.0%
54.25%
44
2
North Dakota
9.61%
9.75%
92.75%
91.75%
49.7%
49.50%
41
 3
Omaha
10.15%
10.00%
92.63%
90.50%
46.5%
49.5%
38
4
St. Cloud State
9.18%
9.25%
91.37%
91.00%
53.7%
50.25%
37
5
Miami
8.99%
8.70%
90.90%
90.90%
55.2%
50.25%
34
6
Western Michigan
7.38%
7.80%
89.51%
90.60%
49.8%
49.25%
29
7
Colorado College
6.81%
7.35%
88.65%
90.00%
42.1%
45.75%
21
8
ALL NCHC
9.02%
9.04%
90.98%
90.96%
50.00%
50.00%
288
*All 15-16 expected points +-2.43
In a stunning turn of events, statistical modeling suggests Denver will edge out Duluth for the NCHC regular season title (44.0 computed points for Denver, 43.8 for Duluth) Let's discuss the data team by team:
Colorado College: Coming off a dismal season to forget, the Tigers see nothing but upside. Attrition still hurts them, and losing a talented sophomore in Jaccob Slavin isn't ideal. But CC's stats were so low last year that they should have no problem improving in 2015 – the question is whether there will be enough improvement. Even considering returning talent and mean regression, it appears the Tigers are still a couple years away from contention. There's just not enough returning this year. A big freshman class could make waves, however, and I don't think CC is a total cellar dweller in 2016. They'll notch a few key upsets.
Denver: Alright, here's why the model likes Denver – they return almost as much freshman talent as they lose senior talent, they have two above-average options in goal, and their possession looks to improve after already being above average last year. It's a perfect storm of factors catapulting them to the top of the list, but don't get too comfortable, Pio fans. You just eeked out the nod over Duluth, and that falls well within the margin of error. Nationally likely a top five team, however, and if everything goes to plan, possibly a #1 seed in the NCAAs.
Miami: I got a little nervous when I saw Miami picked 6th again. Last year, the model burned me by picking Miami 6th, but this year I think it makes more sense. Miami loses almost half their possession from 14-15, and the departing players take with them a 10.53% shooting average, which is the high end for a 8.99% team. Goaltending should be solid – average, but solid – but man, you've got to think a five-point drop in the shots edge is going to catch up to the Redhawks. I'd love to be wrong again, but I can't think anyone would disagree that this is a rebuilding season in Oxford. And yet, Miami still might be tournament bound! But no NCHC home ice.
Minnesota-Duluth: UMD will regain their crown as possession champs this year, and it's not even close. Also, they return almost their entire team. To the model, however, that is the problem – they return almost their entire team, which placed 5th in the NCHC last year. Now, yes, every team ahead of them loses significant pieces, but the Bulldogs also lose one significant piece in Crandall, and even factoring in the experience and improvement in every area, they come just short of first. If it makes you feel better, UMD fans, it's tecnically a statistical tie.
Nebraska-Omaha: As previously mentioned, the Mavericks lose the least where possession is concerned – that's good. However, their possession last year was very low – that's bad. But experience is correlated with stronger possession, and a more mature team should be able to close that gap – that's good. But they'll need goaltending answers to back them up, because they can't rely on all the luck breaks they got last year – that's bad. So this team will be well positioned for an NCAA tournament run, but they might be fighting for home ice once again in the NCHC. It's a crazy league. But hey, this team seems to thrive as underdogs.
North Dakota: Here's the difference between North Dakota and Miami or Denver – UND loses not only possession players on offense, but the best goaltender in the conference. If they only were losing one of those pieces, they'd be at or near the top. But it's too many losses all at once for the To-Be-Named, especially when their NCHC possession was already below 50%. Throw in a a coaching change, and I think you have an off year for this team, even with arguably the best blue line in the nation. But for North Dakota, I'm sure an off year includes conference tournament home ice, a Frozen Faceoff appearance, and a #2 seed in NCAAs. Poor guys.
St. Cloud State: Sorry about Brodzinski leaving, Huskies – he took 13.2% of your team's shots last year all by himself. Expect possession to dip as a result. In addition, anticipate some minor regression to the mean in net. Shooting percentage, believe it or not, could go up. Overall, those players leaving had a worse percentage than the team as a whole. So there is something to build on there. In addition, a strong defense could be an un-quantified game changer. Home ice isn't an automatic, but it's not out of reach.
Western Michigan: Broncos, Broncos, Broncos. In the middle of last season, it really looked like your team might have something to build on. Then everyone left. Now your're back to square one, looking for an edge. The funny thing is that both goaltending and shooting percentage are likely set to improve this year, but Western didn't retain enough key players to improve its possession numbers. In this league, that hurts. Likely a year or two away from contention, the model suggests WMU once again inherits the no-man's land between CC and the rest of the NCHC.
There you have it, a stats-based 2016 NCHC Prediction. All of these point predictions are plus/minus 2.425 points. Given that confidence interval, we're almost certain Denver and Duluth won't finish last, and we're almost certain CC or Western Michigan won't finish first. Every other spot is up for grabs.
Now, just to be clear, the inputs are up for debate until a puck is dropped. Here are the admitted weaknesses that could contribute to noise in the model:
Wild fluctuations from last year's numbers: Last year's model only had one year of data. This year's model has two. However, there's more roster turnover in 2015-16 than there was in 14-15, so the likelihood of some great fluctuations are increased. I'll be watching the possession numbers more than anything – those seem quite volatile from year to year, especially with so many teams losing so many key pieces.
The St. Cloud effect: Last year, St. Cloud really beat up on the weaker teams in the league, and the model interpreted that as a Husky team that was earning more points than they did in real life. Teams can throw off the predictions and skew their numbers by beating up on weak teams, or with clutch performances in close games. Basically any inconsistent play will add noise. However, as more years of data are added to the model, that affect will dampen.
Injuries/departures/playing time: If anything affects the general composition of a roster, the independent variables are going to change. Specifically, any goalie injuries are going to throw the inputs off quite a bit.
New coaching styles/systems: I'll be watching North Dakota closely. New coaches always have potential to affect possession numbers, but in this case, I don't think there will be much change of style.
Ties: I'm removing ties from the critical issue list. Last year, despite a good number of ties and shootouts, the model handled them well. Averaged out over an entire season, the model understands that some marginal points will come from ties, and it factors these things in when looking at the statistics.
We get a really good idea of whether the predictions and model are performing well after each team has played 12 of their 24 league games. Yes, that's halfway through the season, but that's when we have enough data that the violent swings settle.
So, once again, here's our 2015 NCHC prediction:
2016 NCHC Prediction
Team
'16 Shot%
'16 Save%
'16 Poss%
'16 Points*
'16 Finish
Denver
10.30%
91.30%
51.50%
44
1
Minnesota-Duluth
9.15%
91.60%
54.25%
44
2
North Dakota
9.75%
91.75%
49.50%
41
3
Omaha
10.00%
90.50%
49.50%
38
4
St. Cloud State
9.25%
91.00%
50.25%
37
5
Miami
8.70%
90.90%
50.25%
34
6
Western Michigan
7.80%
90.60%
49.25%
29
7
Colorado College
7.35%
90.00%
45.75%
21
8
ALL NCHC
9.04%
90.96%
50.00%
288
*All 15-16 expected points +-2.43
So that's it – my 2016 NCHC odds-on winner is the Denver Pioneers, barely edging out the Minnesota-Duluth Bulldogs for the Penrose Cup. If you don't like these predictions, don't blame me. Blame the numbers. Then, root for your team to defy expectations. I know I will.
Oh, and don't forget to check back in with the model and all the relevant stats, which I track here: joelgehringer.com/thelab/NCHC2016. in fact, go ahead and bookmark that while you're at it – I update every weekend after the games have ended so you can see what the stats say about your team's expected performance throughout the NCHC season.
Thanks for reading, and we'll see you again in a few weeks to check in on the season!