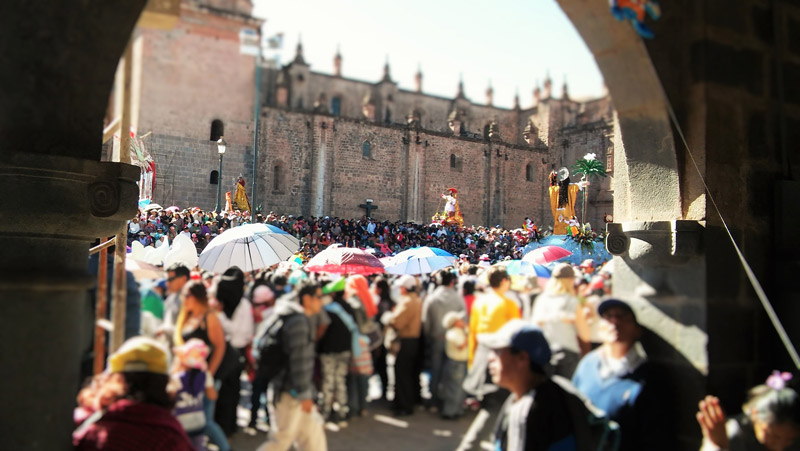 On our final day in Cusco – May 26, 2016 – Taylor and I wanted to see some of the attractions around town: Sacsayhuaman, Qorikancha and the Inca History Museum. Since our AirBnb was just a block away from Mercado de San Pedro, we decided to start our morning at the market. Maybe we could snag a fresh snack for breakfast.
As we got to the end of our street, we saw the market in full swing – and do I mean full. The narrow sidewalks were packed shoulder to shoulder with shoppers and merchants. Well, for me, mostly elbow to shoulder with short, unstoppable Peruvian grandmas. All around sellers yelled to passers-by, holding out pomegranates, trays of chica, buckets of indistinguishable fish parts, and laminated posters of Jean Claude van Damme(???). Holy cow, I thought, this is a hoppin' market!
But as we shoved our way through the crowd to the next plaza, we saw an even more expansive sea of Cusquenos, this time surrounded by booths, speakers blaring dance music, and street performers. Clearly this wasn't a regular day at the market.
We continued to push our way through the throngs until we arrived at the southwestern corner of Plaza de Armas. When we arrived, we found the streets crammed with people, parade floats and stages set up outside the two churches, complete choirs and marching bands.
"I don't think we're going to make it to the tourist sites," I said to my wife.