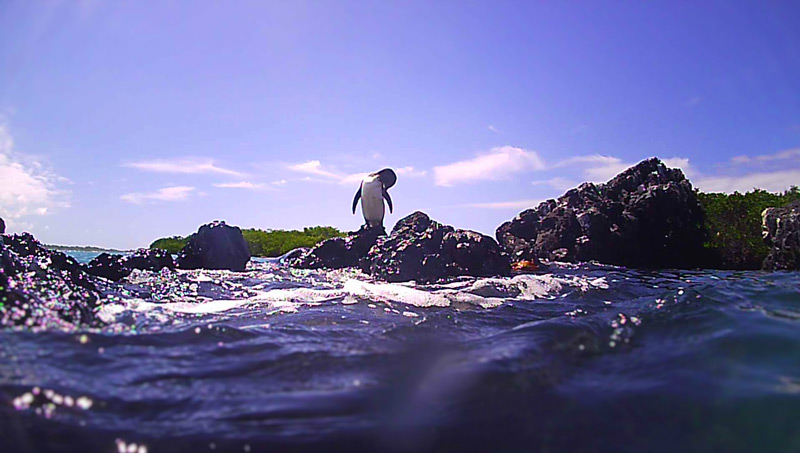 I have to admit that one of the top reasons we wanted to go to Galapagos was to see real, live penguins in the wild. Penguins are my wife's absolute favorite animal of all time, and Galapagos is the closest place to the United States to see them. Some Galapagos penguins even live north of the equator, the only penguins in the world to do so. After a few days in Peru and a week exploring other areas of Galapagos (including a prehistoric land of giant tortoises), we were determined to meet a tuxedoed ambassador of bird-kind. Commence Operation Penguin.
If you take the land-based approach to seeing Galapagos like we did, your best bet to see a penguin sits right off the southern coast of Isabela, the archipelago's largest island, in Las Tintoreras.
Just about a half-mile from Puerto Villamil, Las Tintoreras is an irregular group of low volcanic rocks surrounded by shallow coves. The area makes an ideal nesting ground for the Galapagos penguins, because they can nest among the rocks and swim around safely in the relatively calm waters. Las Tintoreras host much more than penguins, however. There are so many unique species to see in Galapagos (view a slideshow here), and this atoll of volcanic rock serves as a home and nesting ground for dozens of them, including boobies, frigate birds, herons, marine iguanas, sea lions, and the namesake of the area – las tintoreras, the white-tipped sharks that are endemic in these waters.
Las Tintoreras provides one of the best diving areas in all of Galapagos, too. Beneath the shallow waters among the cracked and craggy rocks, you can see all sorts of wonders – rainbow fish, sea cucumbers, rays, sharks, sea turtles, marine iguanas, and, yes, penguins.
Toward the tail-end of our trip, we took a tour of Las Tintoreras, which consisted of three parts, a boat tour, a walking tour and a diving session. I had bought a cheap HD underwater camera specifically for this excursion – in no reality would I leaving Galapagos without a picture of Taylor meeting a Galapagos penguin.