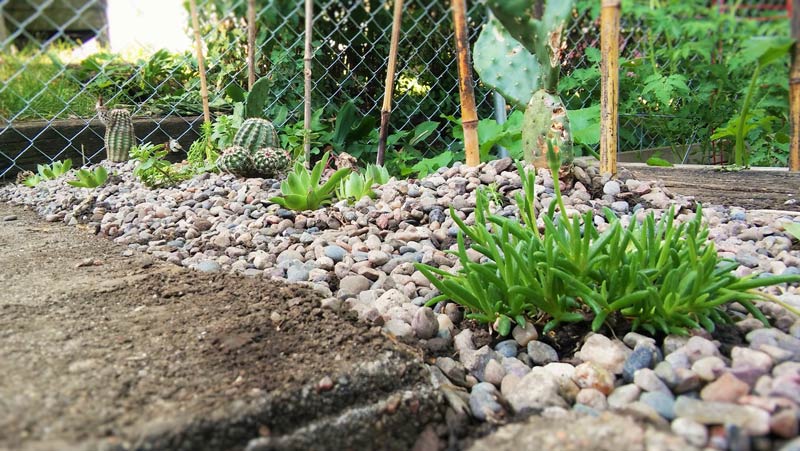 Grass is terrible. It's needy, it grows fast and needs frequent mowing, and it sucks up gallons of water. Now that we're a homeowner, I have an even more acrimonious relationship with grass. I've spent time on most of my summer weekends either reseeding, cutting, weeding or watering my front lawn. I only do this so the neighbors don't think I'm a derelict slob (which I am).
Ever since we started collecting succulents and cacti a few years back, I've dreamed of a xeriscaped landscape instead of a turfed lawn. But I live in hot and humid/cold and biting Nebraska, so that option doesn't make much sense. But that doesn't mean that all hope is lost!
I've started an experiment this summer. Taylor and I hit the River City Cactus and Succulent Society show back in May. While there, we met a vendor from Oklahoma who offered a variety of cold-weather cacti. "Why not?" I thought. Cacti grow primarily in hot, dry climates, but the real key word is dry. You can find cactus varieties in the wild in the United States from the southwest to as far north as eastern Montana. You can find some of the most amazing cactus and succulent gardens in the country in cold, snowy Colorado, even.
On a whim, I bought four plants: two opuntia humifusa (pricky pear), an echinocerus reichenbacchi (lace hedgehog cactus), and an echinocerus viridiflorus (nylon hedgehog cactus). Each is about 6-12 inches tall and maybe a year or so old. All of these varieties bloom big, bright flowers once they emerge from hibernation when the ground begins to thaw. I'm hoping mine live up to their reputation come spring 2017.
However, I still had the challenge of getting them into the ground. I live in Hardiness Zone 5 (at least until the zones get revised up thanks to climate change). Plants must be able to survive temperatures as low as -15ºF here. All of mine should survive if planted right and protected over the cold winter. But it will take a little work.
Last year, Taylor gifted me Leo Chance's "Cacti & Succulents for Cold Climates", and I've been digesting it ever since, waiting for my chance to plant a cold-weather cactus garden. Therefore, when I bought my plants, I was more than ready. Here are the steps I took to prepare the rich, loess-y soil in my backyard for my spartan spiny friends.