In June of 1831, Charles Darwin arrived in a small archipelago off the coast of Ecuador looking forward to taking some geologic samples and confirming the emerging theories on plate tectonics. When he left, he had collected hundreds of flora and fauna samples; observed strange and wondrous animals such as the giant tortoise, the marine iguana and the blue-footed booby; and had noticed the peculiar, subtle differences between species of animal from island to island. What would follow would literally change scientific knowledge and cement Darwin as one of the greatest minds the world has ever known.
In June of 2016, Taylor and I arrived in that same archipelago, and said, "Holy crap! We're in the mother-flippin' Galapagos Islands!"
Ok, so maybe we weren't as ambitious as Darwin, but we still found ourselves in one of the world's most unique and storied locations. Galapagos still inspires as a pristine paradise with dramatic implications for science, ecology and the way we think. And it's beautiful to boot. However, few visit Galapagos because it had a reputation of being remote and inaccessible.
I'm here to tell you it's accessible, and it's not as difficult to see as you might think.
There are two ways to see the islands and its treasures. Most people see Galapagos via cruise. You can make brief stops at multiple islands and truly see a large portion of the archipelago. Heck, that's how Darwin saw the islands, and it was inspiring enough to prompt his theory of evolution and The Origin of Species. Tickets for these trips tend to be fairly expensive, though, especially when you still have to factor in airfare. We opted for a less expensive, but still awe-inspiring, route. After all, whether by boat or by land, you're still in Galapagos. Seemingly every square inch of the islands have something incredible worth seeing.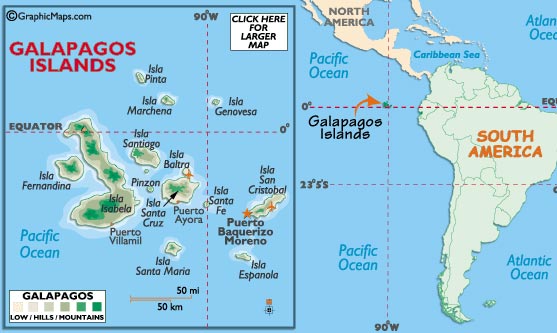 We planned to spend a week in Galapagos, visiting two of the major islands, Santa Cruz and Isabela. The only way to get to Galapagos is by plane, and you have to fly from mainland Ecuador. Our plane from Quito flew into Baltra, an old U.S. air base from World War II. We spent three days staying in Puerto Ayora, the largest settlement in Galapagos, before taking a ferry to Isabela's tiny Puerto Villamil for four more days. From both towns you can take day trips to a great variety of excursions and sites. I've outlined the highlights of our trip below.