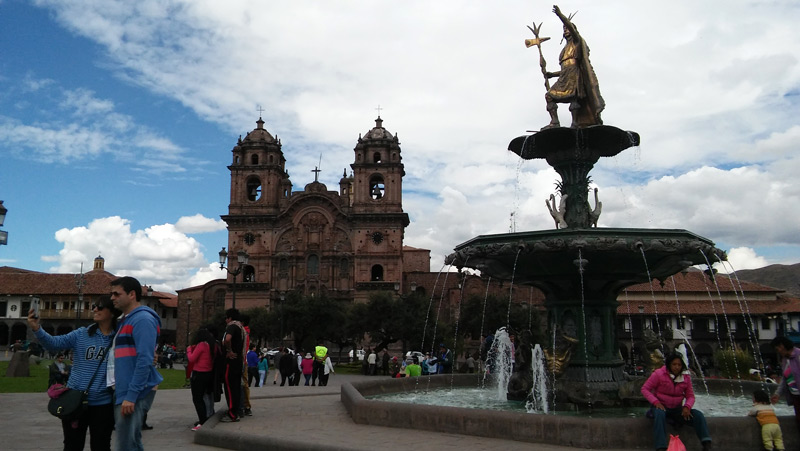 Tired, hungry and agitated, I stepped out of our plane into the high valley in the Andes mountains and immediately felt the crisp, thin air in my lungs. My flight weariness disappeared – I was now literally on top of the world. Welcome to Peru – welcome to Cusco.
Yes, obviously I did also start singing the opening number from "The Emperor's New Groove" to my wife. Cuscooooooo…
At an elevation of 11,300 feet and surrounded by rolling hills of the Andes mountains, Cusco is unique among places I've visited. Its history is unique – the former capital of the Inca empire still features structures, roads and walls built centuries ago, some now capped by the architecture of the former Spanish Empire.
Historic sites
One of the more scenic sites include Plaza de Armas (pictured above), with its two Spanish cathedrals and central fountain dedicated to the greatest Inca emperor, Pachacuti. Nearby, you can walk down the narrow Hatun Rumiyoc, an original Inca street lined with an example of their mindblowing masonry – massive white granite cut to fit together so tightly, to paraphrase on of Pizarro's conquistadors, you can't fit a pin between the cracks. It's a cool sight, but be forewarned, the street has been something of a tourist trap.
Other sites near the city center include Qorikancha, site of the Inca empires most sacred temple, razed by the Spanish and now the site of a Spanish mission. Sacsayhuaman sits atop a hill to the north of the city square, overlooking the entire valley. This site was the most important fortress of the Inca empire and saw the apex of a desperate skirmish between Inca and Spanish forces in 1536. Also, the name is Quechua for "the fortress of the satisfied falcon," which is awesome. Due to unforeseen circumstances, however, we didn't get to see either of these sites up close.
Instead, we found ourselves surrounded by 40,000 Peruvians celebrating the annual Corpus Christi festival, one of the most extravagant annual fiestas in all of Peru. We had no idea when we booked the trip that we would be in town during the annual Catholic festival, which comes complete with marching bands, elaborate processions, fanciful idols and revelers of all stripes. What a sight to see! The fortuitous turn more than made up for missing some of the historic sites.