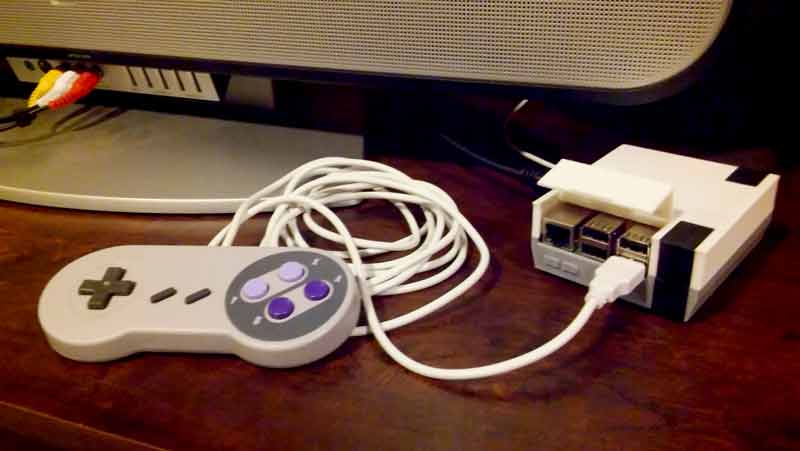 A couple of years ago my original Nintendo Entertainment System stopped working – the pins in the machine had worn out and wouldn't recognize the games. I found a used game store in my neighborhood that had a new head of pins, so I replaced the part, which worked for a while but ultimately this set of pins also wore out.
Lucky for me, this was around the time I was getting into Raspberry Pi projects, and doubly lucky for me, emulating old console games is one of the most popular uses of Raspberry Pi. With a software package called RetroPie, you can emulate games from dozens of systems, including NES, SNES, Sega Genesis, Gameboy, arcade games, and more. Frankly, installing the RetroPie software on a Raspberry Pi is so easy to do, it's worth the $50-ish cost of getting all the parts. You probably can't find an actual functioning NES for that price anymore.
Using the following resources, I built my own Pitendo console:
I also bough a few cheap USB SNES controllers from Amazon. Also, the Pitendo wasn't complete without this sweet 3D-printed case.
My Pitendo uses a Raspberry B+, and some of the more graphically intensive games like Starfox and Yoshi's Island don't function. But the B+ is already a few Pi models behind, and others have had good results with those (and even Nintendo 64 and Playstation games) on the Raspberry Pi 3 and the latest version of RetroPie.
I wouldn't consider myself a "gamer" by any means. The most recent system I own is the Gamecube, which came out 13 years ago. I just wanted a way to play those old games without having to buy a new console every few years. With the Pitendo and an 8MB SD card, not only can I play the old NES games I had, but I can find and store thousands of classic and undiscovered games from all kinds of systems.
Here are my top ten favorite games I've been able to emulate on Raspberry Pi. Some are old favorites, some are new discoveries, but all have successfully prevented me from writing numerous blog entries: