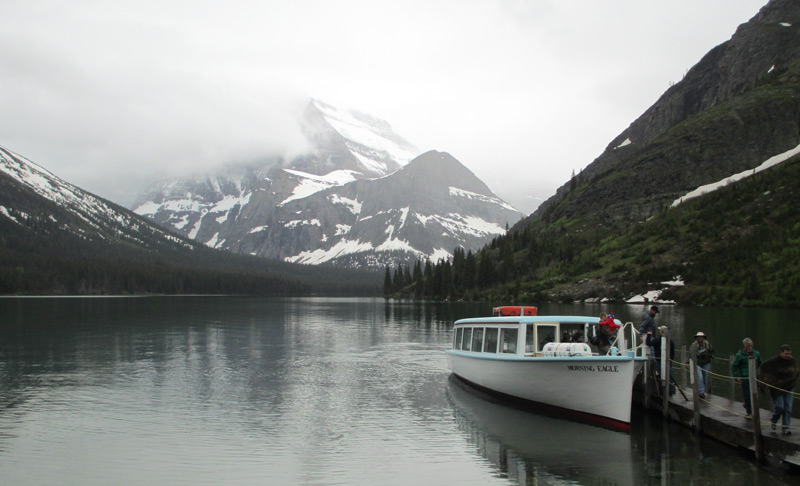 Two years ago, Taylor and I road tripped to Glacier National Park, on the northern U.S. border where cell phone reception doesn't exist. In early June, the crowds were sparse, the wildlife was abundant, and the views were spectacular. It instantly became one of our favorite destinations.
Yet, in the week we spent hiking up, down and around the mountains, lakes and waterfalls, we saw just one of the park's eponymous glaciers. To do that, we had stay at a lodge at the heart of the park, boat across a lake, hike a quarter mile to a higher lake, then boat to the other side. After all that, we finally could see through the early summer fog the Salamander Glacier clinging to the backbone of the continent. An incredible sight, undoubtedly, but as our boat captain pointed out, one that was more than  20% larger just twenty years ago and in another twenty may be gone completely.
When Glacier National Park was dedicated in 1910, it featured nearly 150 alpine glaciers, but 2014 estimates now put that number at just 25. Almost assuredly, my children will be visiting a glacierless national park, and much of the plant and animal life dependent on the glaciers to regulate the high climate will have no place left to go.
Since that trip I've not thought much about glaciers, humanity's carbon footprint or the resulting accelerated climate change we're causing. Every time I read an article or dig out from another massive snow storm, I feel like it's such a huge problem I can do nothing about. Some people even think our impact is closing in on – or even past – the point of no return. Not to mention, multitudes of people stand to gain from misinforming and obfuscating the seriousness of the issue, and even those who agree on the causes can't agree on the remedies. But last year's historic Paris accord, which requires nearly every nation to drastically reduce its carbon emissions, got me interested again. If even the United States government can get in line with the rest of the world to combat climate change, then surely I could do my part. So how do I begin to make smart decisions for mitigating our damage?