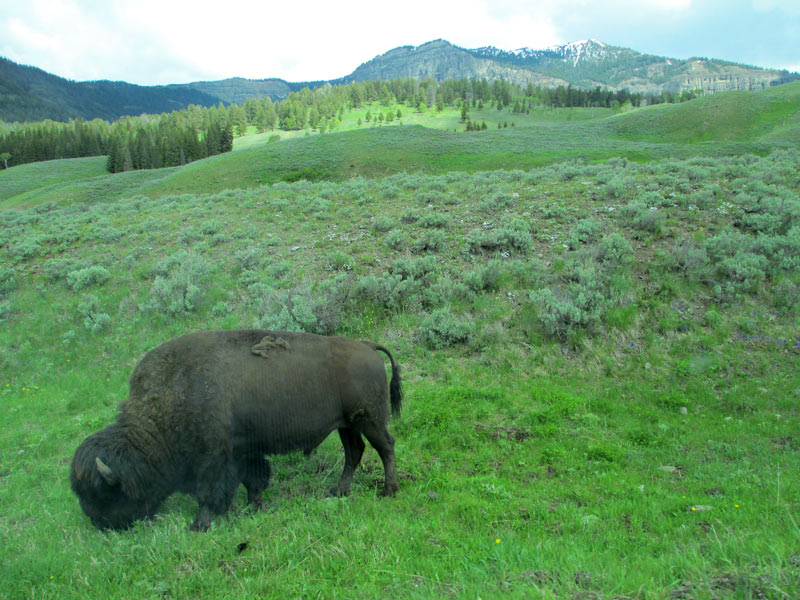 If you're looking for a summer travel destination, I know it's cliche, but see Yellowstone at least once in your life.
My wife and I traveled through on our road trip up to Glacier National Park in Montana. We were only in Yellowstone for a day, but it was possibly the most spectacular day of the trip. We entered the park after driving the Bear Tooth Highway, and coming down the mountains into the park we were almost immediately greeted by hundreds of bison and calves grazing in freshly green fields. We looped around the entire park in about 10 hours, seeing Tower Falls, the Grand Canyon of Yellowstone, Yellowstone Lake, Old Faithful, the Grand Prismatic Spring, and Mammoth Springs, not to mention all kinds of birds, elk, coyotes, Canadians, and the backside of at least one black bear.
On the way out of the park, we stopped at a gift shop, and being a sucker for nonfiction, I picked up "Empire of Shadows: The Epic Story of Yellowstone
." I wanted to learn more about the history of America's first national park, and at 600-plus pages, "Empire of Shadows" taught me more than I could ever hope to remember.
What stuck with me most vividly was the history our high school teachers tend to gloss over – the unabashed and egregious taking of Native American land, liberty and lives. Not that this was a surprise to me – obviously the entirety of the United States was taken at one point or another in this fashion. The unsettling fact, as author George Black recounts, is that Yellowstone would not be a national park today without decades of undue violent conflict between Native Americans and white settlers.
There's an old myth, perpetrated by the early promoters of the park, that Yellowstone was a mysterious land so filled with oddities and wonder that are Natives were scared to set foot in the caldera. This is patently false turn-of-the-century marketing tactics, explicitly crafted to gloss over the historical truth. Shoshone, Crow and Blackfeet had been hunting bison in the area for thousands of years. Many tribes traveled their yearly, and as white settlers expanded westward in the 19th century, it quickly became one of the few areas left on which they could move undisturbed.
Believe it or not, white explorers (outside of possibly Jim Bridger a few other lucky trappers) didn't complete a successful expedition into the Yellowstone area until well after the Civil War! In part, the geography of the area – a volcanic caldera surrounded by impassable mountains on three sides – kept them out. But so did the Piegan Blackfeet, among the last of the Western Plains natives willing to resist white settlement in the Upper Missouri watershed. For decades they successfully prevented any white explorers from safely traversing their traditional hunting territory, including the Yellowstone River valley.
That all changed in January of 1870. Civil War hero Phillip Sheridan, in one of the great hypocrisies of American History, had become the general in charge of securing western territory from "unfriendly" native peoples, facilitating the kind of genocidal atrocities seen in the Dakotas, Montana and Utah (this just years after he fought to end slavery in the Southern United States). One such tragedy unfolded on the banks of Marias River in Montana, the heart of Piegan territory.
A young Piegan named Owl Child murdered respected Montana rancher Malcolm Clarke, who had, ironically enough, brokered relative piece between whites and Piegans for many years. The killing was mostly part of a family feud, but local settlers had been looking for an excuse to assert their claims to Piegan land. Owl Child has sought protection from a Piegan band led by Mountain Chief, and General Sheridan asked the cavalry to attack and bring Owl Child to justice before Mountain Chief and his men could escape to Canada. The cavalry headed up the river to find Mountain Chief's camp, and when they did, rather than negotiate Owl Child's surrender, the drunk and belligerent commanders massacred the band, killing all men, plus many women and children.
Except the camp wasn't Mountain Chief's. It was the winter camp of Heavy Runner, another Piegan chief who was friendly with white settlers and had been promised protection from his people by the U.S. government.
The slaughter was a disaster for the U.S. military in the West, damaging the national reputation of the "Indian Wars." Nevertheless, some cavalry members defended their actions against "hostiles" and "savages" and were even officially commended by the locals in Montana settlements.
After Marias, the Piegans were unable to recover their will to defend the Yellowstone area, leaving the Yellowstone valley open for white explorers. Additionally, Piegan resistance had helped shield the area from corporations and profiteers, meaning the short time between exploration in 1871 and declaration as a national park in 1872 kept the continent's most interesting geological wilderness exceptionally well preserved. Of course, the American Indians who frequented the area were never consulted about the creation of the park, thus leading to many more violent incidents between visitors and natives, but that's a story for another day.
This account and more are spectacularly retold in Empire of Shadows, including the stories of Nathaniel Langford, Ferdinand Hayden, and Lt. Gustavus Cheyney Doane – all of whom joined the first U.S. expedition into the park. Black reminds us how easily we tend to forget the complicated and tragic history of the American West, for all involved.
I hope to get to Yellowstone again someday, to spend even more time among its natural beauty and geological splendor. In some ways, I feel it's my patriotic duty. But next time I visit, I hope to remember that the preservation of these wonders came at a price for so many people. America lay claim to this wonderland, rightfully or not, only recently. And while we claim to master it, I believe it is just as patriotic to remember the mistakes of the past that still define and master us.
Empire of Shadows: The Epic Story of Yellowstone