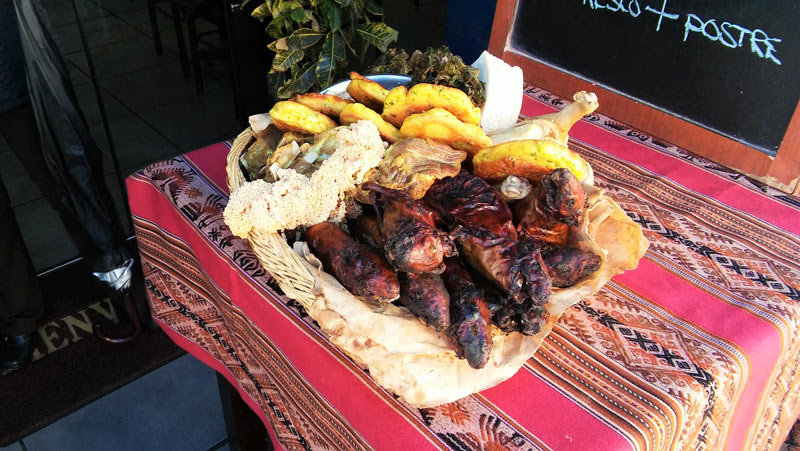 Does this look appetizing? I turned a corner one afternoon in Cusco and this mouthwatering basket was sitting outside a local restaurant smiling right back at me. It's one of Peru's finest delicacies and the crown jewel of fine Cusco dining: roasted Guinea pig. Well, I was hungry.
Guinea pig is prepared for special occasions (like the Corpus Christi festival we stumbled into) and is the Peruvian equivalent of a nice lobster. One of our tour guides was bewlidered to hear that Americans keep Guinea pigs as pets, and when asked what it tastes like, he suggested it tasted most like "cat." I'm still not sure if he was screwing with us.
Regrettably (?), I did not sample the Guinea pig. For starters, I don't eat red meat. Also, not sure I'm ready to get into roasted rodents (if I am, the squirrels that keep knocking over my porch plants will be first). But we were fortunate to try many other Peruvian dishes, all of which were fresh, light, delicious and weren't staring back at me.
Cusco is an incredible place. Our stays in Cusco bookended our trek on the Inca Trail to Machu Picchu. Therefore, we only had opportunity to visit a few of the local restaurants, so I wanted to make the most of our nights and decided to try new or local foods wherever we went. There were a few places we had hoped to visit but didn't make, thanks to the Corpus Christi festival. Nevertheless, if you ever find yourself in central Cusco, I recommend trying the following. These might not be the best restaurants in town, but they're the ones we tried!
El Paititi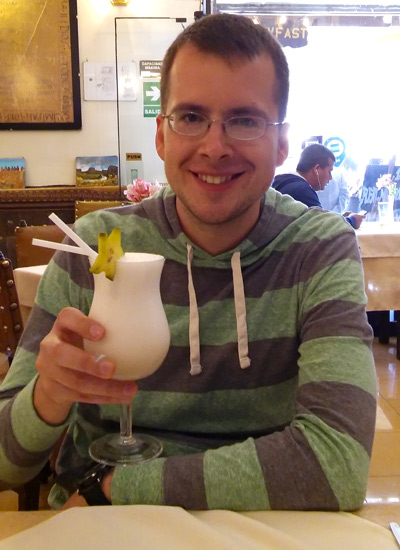 135 Sta Catalina Angosta, Plaza de Armas del Cusco
cuscogastronomico.pe/paititi
El Paititi sits right off of Plaza de Armas, where you can see some of the most iconic landmarks of Cusco. We sort of stumbled in during the Corpus Christi festival, not only because we were hungry but to get away from the masses of people. Paititi has a cozy but classy interior, with a mirrored wall and a large wine rack across the back wall.
It must have been all the revelry outside, but it was here I decided to try my first true pisco sour – the national cocktail of Peru. Pisco, an Andean brandy, is ubiquitous in Cusco, and I would have felt remiss visiting the city and not trying one. I found my drink generously sized, generously boozy and generally light and refreshing. I can't attest to its authenticity or its merits among the pisco sours of the world, but Paititi's was tasty.
To complement the drink, I thought I'd try a meal uniquely Cusqueñean. Paititi's extensive menu included an array of dishes, not all necessarily local or traditional meals. It included a good mix of chicken, steak, seafood and vegetarian options, as well as pasta and pizza. I, however, settled on something I probably couldn't get most in most other areas of the world – barbecued alpaca skewers (pictured above). That's right, I decided to break my red meat rule. I figured I wouldn't be making a habit of alpaca meals, and, you know, when in Rome…
The alpaca skewers came drizzled in a tangy house barbecue sauce, with a side of a mildly spicky aji sauce for dipping. I found the meat a little tough, but otherwise surprisingly flavorful. It tasted most like lamb to me – others may differ. I'm glad I tried it, and I'd get it again if I were a habitual carnivore.
The dish came with excellent tender local potatoes and a mix of pickled vegetables. All of it paired tremendously with my drink, and the portion size would be appreciated by any American appetite.
Meanwhile, my wife Taylor tried the chicken soup, prepared with local vegetables and seasonings. She reported that it was a little over seasoned. So maybe skip the soups if you stop in Paititi. But definitely try to alpaca – once.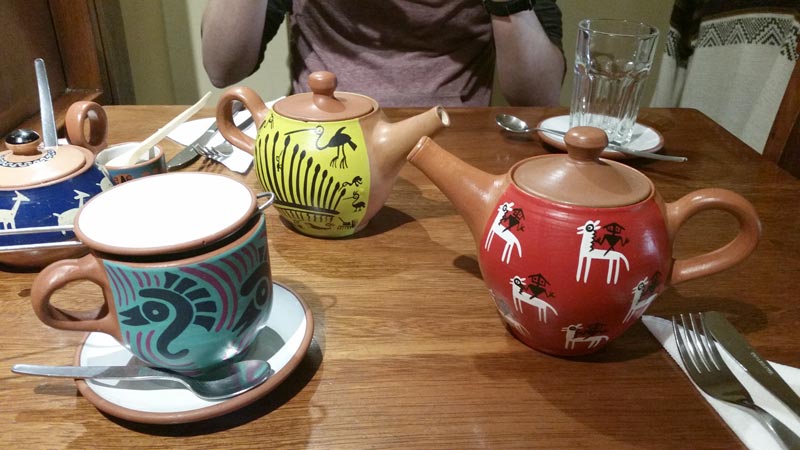 Jack's Café
Choquechacka 509, Cusco
jackscafecusco.com
"Jack's Café" doesn't sound terribly authentic, and it probably isn't. It's owned by the same people who own the obnoxious Irish pub that sits on Plaza de Armas. Why Cusco has an Irish pub on its central plaza I don't know. But there's also a McDonalds and about a thousand people trying to sell you tours and massages, so why not I guess. But I've digressed.
I actually found Jack's Café to be a charming, if crowded and popular, place. It sits right at the end of Hatum Rumiyoc, which is itself somewhat of a tourist trap. But we stopped in because the outdoor menu boasted excellence coca tea and breakfast. I would agree it was excellent. It was served to us in colorful clay teapots (pictured above), and I assume it was fairly authentic because the pot was jammed full of coca leaves bathing in boiling water. Coca tea doesn't really have a distinct taste to my palate, though. If you gave me a cup of coca and a cup of green tea, I probably couldn't tell you the difference. But it is supposed to help if you suffer from altitude sickness, and after 24 hours of travel and less than two hours of sleep, it was a nice pick-me-up on our first full day in Cusco.
We also helped ourselves to breakfast at Jack's. Taylor and I both had basic scrambled eggs, potatoes and toast. Sure, nothing was terribly Peruvian about this dish, or really anything on Jack's menu, but for a quick breakfast, I had no complaints. The price was incredibly cheap, too – amounting to less than $10 USD for both meals and tea. One small frustration was the slow service, but again, this was a very busy place in a high-traffic area, so just be prepared.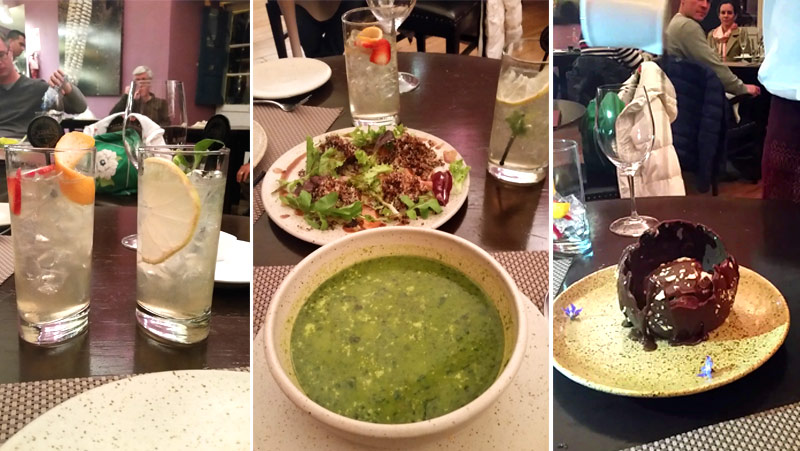 Chicha
Plaza Regocijo 261, 2do piso, Cusco
chicha.com.pe/es/cusco
Of the three restaurants we tried during our short stay in Cusco, Chicha was my favorite. If you look around the Internet, various blogs and travel sites sign Chicha's praises, and on our visit this was evidenced by the fact that the entire place was filled with tourists and expats (on a Monday night, to be fair).
Chicha seems to pride itself on local ingredients, inventive recipes and a mix of the traditional and contemporary. The menu is divided into categories such as "from the land," "from the country" and "from Cusco." Vegetarians and carnivores alike will find something gourmet to sample, and great care was taken in the presentation by the executive chef. In our two weeks in South America, our meal at Chicha stands out as the most memorable.
Let's start with the drinks. As I mentioned above, pisco is big in Peru, and Chicha stands as no exception. Though their drink menu expanded far beyond the classic pisco sour to include a wide array of cocktails and juices that made use of homegrown ingredients. Taylor and I both opted for two of the more inventive house drinks – mine a sweet and acidic citrus concoction with orange peel and strawberry, hers a subtler and fuller mixture with mint and passion fruit. Both were excellent.
For dinner, we shared a couple dishes: the tabule cusco suecia (platter above) and the menestron soup (also above). The tabule was a goregous dish of quinoa pyramids, perfectly prepared trout, local leafy greens, yacón root and a tart vinaigrette of sorts. Taylor, who hates seafood, said the trout was "pretty good," and I thought this light and hearty dish was a perfect meal for two people about to hike the Inca Trail. Meanwhile, the soup – a bright green stew of Peruvian root vegetables, quinoa and spices, had a very mild and gentle flavor that allowed you to taste every ingredient at your own pace. Also, the bowl was huge and more than plenty for two people.
But the highlight of our meal was emphatically desert, which for us was a no brainer after the table next to use ordered it at the beginning of the night. Without further ado, I present the globo de chocolate:
As this literal ball of chocolate melted before our eyes, it revealed a heap of zucchini ice cream atop a bean brownie with apple filling and a cinnamon foam. It was just as good as the drinks and main courses. Definitely make time for Chicha if you visit Cusco – I don't think you'll regret it.
That's it for our Cusco dining experiences. Like I mentioned, there seems to be a great restaurant in every nook near the historic city center, but we can recommend these three. If you're ever in the area, let me know what you think! Also, good luck with the Guinea pig.