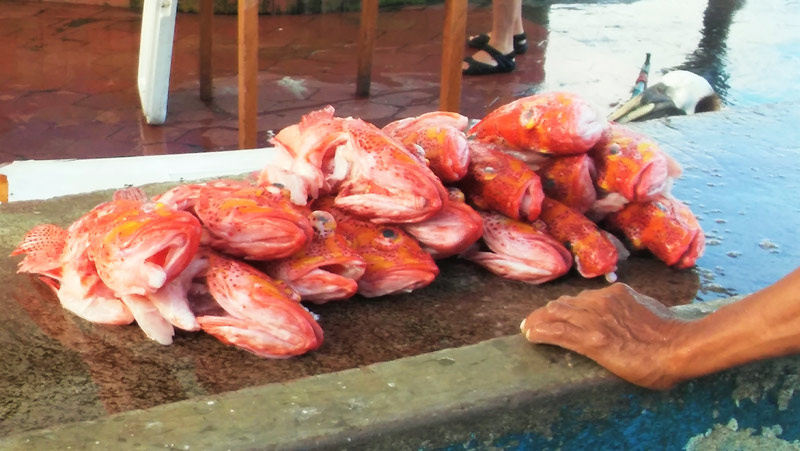 Look tasty?
Maybe if you're a sea lion or a pelican. Here at the Puerto Ayora fish market, while fishermen and fisherwomen haul in their catches and prep them for sale, those two animals watch closely for any falling fish parts or unattended piles like these. While in town, Taylor and I even watched one young sea lion nudge a woman slicing up fish until she threw him some juicy scraps.
If you're not into the scaly, raw offerings of Galapagos, don't worry. The island towns offer a variety of delicious dishes, all of which blend island offerings with the traditional tastes of South America. Taylor and I opted for the land-based method of seeing the Galapagos, so our trip included visits to Puerto Ayora and Puerto Villamil. It also means that when we weren't venturing into the highlands in search of giant tortoises or snorkeling volcanic reefs in search of penguins, we were searching for a one-of-a-kind dish. We found a ton of great Galapagos dining, day or night. Below are our recommendations on where to eat and where to skip in two of Galapagos' largest ports.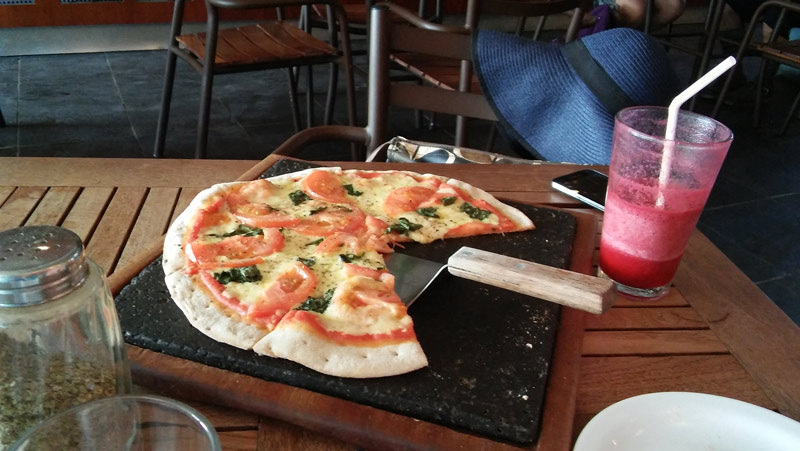 Galapagos Deli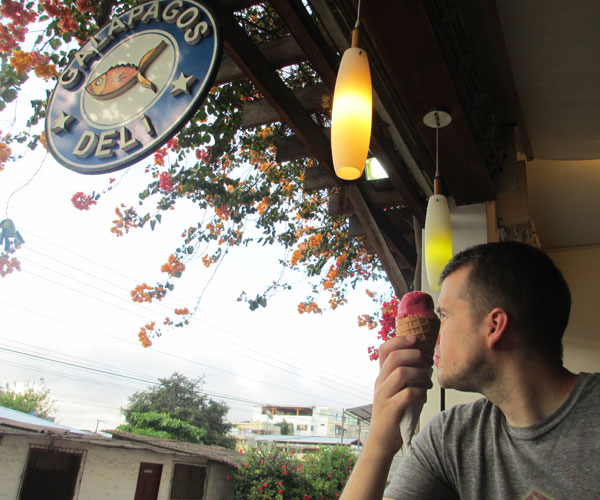 Tomas de Berlanga y Av. Baltra, Puerto Ayora
Ok, so maybe Galapagos Deli isn't as authentic as I was mentioning above. But that didn't stop us from eating here twice, as the first and last meal we had in Galapagos. When we arrived on Santa Cruz, this was one of the first restaurants recommended to us. Open six days a week, Galapagos Deli serves mainly pizza, sandwiches, coffee and tea. Oh, and the best helados in the entire Pacific Ocean, probably.
The restaurant is tucked in a back street of Ayora, but its open storefront draped in bright, hanging yellow and pink flowers offers an inviting spot to rest and enjoy the breeze. The prices are not necessarily cheap, but nothing really is in Galapagos, and comparatively, you won't find many less expensive options of this quality. The pizzas were, what, $15?
We arrived here exhausted from 12 hours of red-eye travel from Cusco. Starving, nothing sounded better than a gosh-dang pizza. On our first trip, we tried the vegetarian pie. The pizzas are all made to order – we even got to watch the staff make the dough late in the morning. The two of us finished off a full medium pizza, and I didn't feel hungry or stuffed at the end. Excellente.
Oh, I would be remiss not to mention the ice cream again. All of it was supposedly made on site, and the flavors included all kinds of uncommon flavors – passion fruit, tamarind, pomegranate, etc. We stopped by at least three times while in Ayora to get ice cream, which came in ginormous waffle cones on to which the staff was more than willing to heap extra scoops. Two scoops came to about 4-5 bucks.
Verdict? Do visit Galapagos Deli, if only for the comfort of an Americanized meal.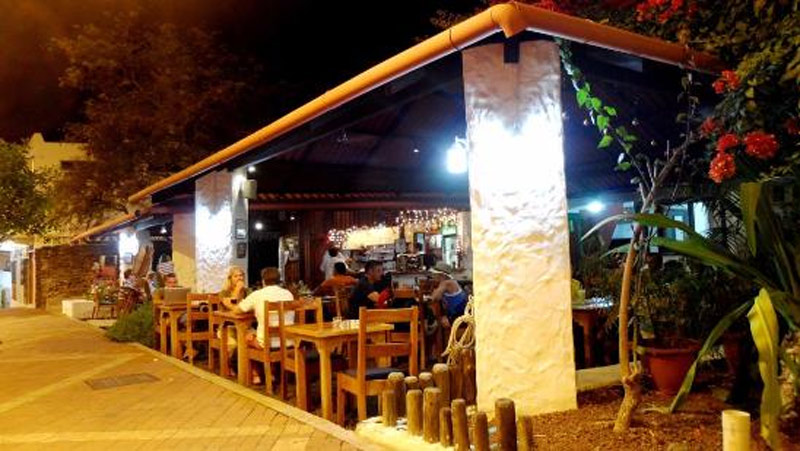 La Garrapata
Charles Darwin y Tomas de Berlanga, Puero Ayora
After recovering from our travels and visiting El Chato, we made our way into town for our first fine dining in Galapagos. La Garrapata had piqued our interest, so we walked down Charles Darwin Avenue to what we were told was one of Ayora's best restaurants. I wouldn't go that far, but we had a pleasant experience.
La Garrapata is another open-air restaurant on the main drag through Puerto Ayora (you'll see this open-air thing becomes a theme). I quite enjoyed the atmosphere – the ground lava rock floor feels great between your toes as you sip a cocktail from the bar next door and watch Ayora's revelers pass by on Charles Darwin.
Like many of the restaurants in Galapagos, Garrapata specializes in seafood, although the menu featured a few offerings for landlubbers, too. Taylor had a chicken dish, which she generally enjoyed. I had the fish. What kind of fish, you ask? I have no idea. Just… the fish. But it was very good fish, whatever fish it was. Done perfectly, it almost melted in my mouth. Yum. It came with a classic South American aji dipping sauce and some steamy mini potatoes.
The dishes at Garrapata were somewhat expensive – in the neighborhood of $20-25 per plate. I would go back for the atmosphere and experience, but I probably wouldn't make more than one trip unless I found a dish I really liked.

Lo y Lo
Tomas de Berlanga y Av. Baltra, Puerto Ayora
Located right next to Galapagos Deli, Lo y Lo was another recommendation we received on our ride from Baltra airport into Puerto Ayora. This, my friends, was one of the best eateries in all of Galapagos.
We stopped in for lunch after a swim in Las Grietas, looking for something light and nutritious. Lo y Lo doesn't look to fancy inside, but again, the front is open and breezy, the staff is quick and the ingredients are fresh. I did not take the photo above, but it shows what I ordered, basically: fried plantains, shrimp ceviche and a guava fruit juice. All three were superb.
First of all, indulge me for a second on these fried plantains. Why aren't these more popular in the U.S.? I loved the not-to-sweet taste of the fruit with the battering and a little homemade ketchup that Lo y Lo served. I ended up having fried plantain like four different times in Galapagos and loved it every time. But Lo y Lo might have been the best.
Ok, now the ceviche. A traditional South American dish more associated with Peru or Chile, this ceviche might have well been the original according to my tastebuds. The shrimp was excellent marinaded in lime juice, and the local seasonings and vegetables gave it the sharp, citric flavor you expect from this dish. Incredibly satisfying.
Finally, get the fruit juices. I don't care where or what kind. Just go try some of the fresh-squeezed fruit juices offered all around the islands. They are sooooo good. In Ayora, Lo y Lo had some of the best, so I'll say try it there.
Yes, go to Lo y Lo. Just, go.

The Rock
Charles Darwin, Puerto Ayora
The Rock was not recommended to us, and though it wasn't that bad, I can see why it wasn't mentioned. Styled as a hip, rock-and-roll kind of diner, The Rock has a fun vibe. Lots of places in Ayora weren't content with Happy Hour – most advertised a "Super Crazy Loco Hour" and The Rock was no exception (I even saw a different restaurant with a sign that said "Every day is happy hour!" which doesn't really make sense, but sure). They serve a huge variety of dishes – probably too many, to be honest. All of the traditional seafood and South American fares appeared on the menu, but each seemed to have some kind of American/western twist that compromised the authenticity. In addition, a full slate of Mexican food could be ordered (why?), as well as hamburgers, club sandwiches and the like.
The service at The Rock wasn't great. I'm fairly certain the server gave us the wrong appetizer, or maybe it was a translation error. We ordered a tray of cheeses and started veggies, but it ended up containing a couple beef and bacon products (a problem since we don't eat red meat). Also, the cheeses were soft and… strange. Though I don't think cheese is Galapagos' strong suit.
We both ordered quesadillas, one of the more affordable options on the menu. Yet they were still about $14 each. Mine was a fish/shrimp concoction, and Taylor's was a chicken and veggies variety. They were fine. I definitely wouldn't order them again, if I were to go to The Rock again, which I probably wouldn't.
A final note – Galapagos prohibits smoking in public areas. Yet for some reason, a ton of people were smoking at The Rock, and no one seemed to care. I thought it detracted from the experience, especially when you could be enjoying the nice weather on the open patio outside. Oh well.
There are too many other options in Ayora that we could have tried, and I'd opt for one of them next time. Skip The Rock (heh) and the super-fun-time-crazy-hour places and look for something more authentic.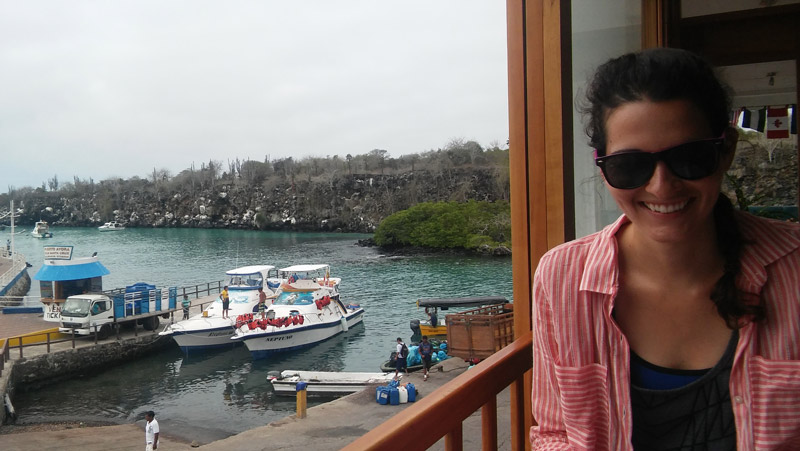 Cafeteria Proinsular
Charles Darwin y Ninfas, Puerto Ayora
The Cafeteria is not an obvious or conspicuous choice. It's located on the third floor of the local grocery store, right by the docks. We stopped in for breakfast before our ferry ride to Isabela and were pleasantly surprised.
The cafeteria operates only early in the day, but it's probably the best time to enjoy it anyway. You can either eat indoors away from the sun and elements or in an open balcony area and enjoy a view of the bay. Not a bad seat in the house, though. It's a long narrow space, and every table has a great view to watch sea lions dart around water taxis or track frigate birds as they circle endlessly above.
My breakfast consisted of a couple scrambled eggs, some toast, fried plantains and a mango juice. Taylor ordered a similar plate – honestly most of the dishes had an egg, toast and extra item. They were all pretty similar, so I'll go out on a limb and say they are all pretty good for what they are. Price-wise, I think we spent $7-8 a plate.
I would go back to Cafeteria Proinsular – not really a standout, but for breakfast/lunch food that's light and healthy, you can't really go wrong here.

Angermeyer Waterfront Inn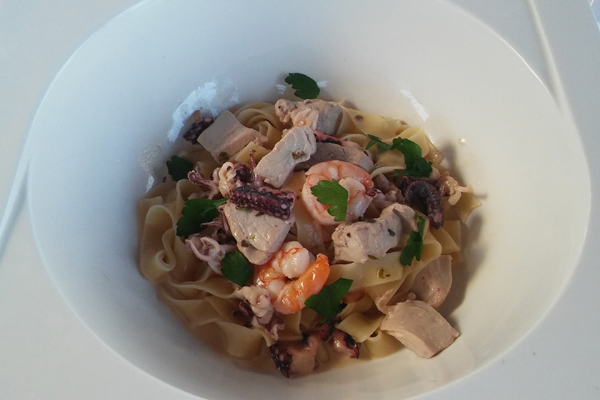 Academy Bay, Puerto Ayora
angermeyer-waterfront-inn.comClassy. Upscale. Refined. Angermeyer Waterfront Inn provided the first atmosphere that truly felt like vacation. To get there, you take a five-minute water taxi ride to a rocky outcrop across the bay. Here you'll find an upscale resort with a high-end restaurant right at the edge of the water. This is one of the better views of the bay and ocean you'll get in all of Ayora. It also serves some of the best food we had in our entire week.
Angermeyer certainly takes advantage of its proximity to the water, with a large menu of mostly seafood options. I had a seafood medley linguini (pictured left), which included shrimp, octopus, crab and tuna. Yeah, I know seafood is really fresh when you're literally looking at the sea not 12 feet away from you, but damn this dish was amazing. I could have done without the pasta, honestly.
Of course, you get what you pay for, and I believe Angermeyer has the highest prices of any place we ate. However, the food more than satisfied, the view is unmatched, and the mixed drinks (full bar service) were refreshing. To top it all off, over the wooden railing, we could watch sharks and sea lions patrol the waters. I also happened upon the biggest sea turtle I've ever seen – twice as big as any other we saw – surface just a few feet below.
In short, the food and drinks are wonderful, and even if they weren't, the view and experience are well worth it.

Cesar's Restaurant
Antonio Gil y 16 de Marzo, Puerto Villamil
Now we travel to the island of Isabela, the largest of the Galapagos. Here stands Puerto Villamil, one of the more remote locations on earth. Because of its far away location, most of the food here is frozen or prepackaged. All supplies to the island have to be flown daily from mainland Ecuador, then ferried to this westernmost outpost of Galapagos. So I go a bit easier on Villamil restaurants. Obviously no one travels this far for the Galapagos dining – the main attraction is the wildlife. But when you've spent all day snorkeling, climbing a volcano or trying not to barf on an intra-island ferry, you're hungry.
Villamil has limited options. The town has, like, 10 restaurants, and because of the difficulty in getting supplies, you either need to make a reservation a night or two ahead, or you need to eat when the food is available. Each night, restaurants serve until they're out of food, and then they close up shop. So keep this in mind when eating in Villamil. Also, everything costs a little extra. Oh, one other thing – bring cash. The island has no ATMs, and none of the stores or restaurants take cards. Definitely get dollar bills before you arrive.
Our first stop in Villamil was Cesar's. No recommendation, we stopped because a) it was open and b) the menu had a lot more options than most places. I opted for the teriyaki shrimp. It came with some veggies and french fries. My entire plate appeared to have been frozen food (as you can see in the photo above), so it wasn't much to write home about. The "teriyaki" sauce on the shrimp tasted suspiciously like garden-variety soy sauce. But again, when you're literally at the end of the earth, I'm not going to complain too much. Our server was incredibly friendly and helpful, and a couple of buskers came into the airy, island-themed restaurant to play some traditional Ecuadorian songs on guitar and pan flute. Overall, I thought this Galapagos dining experience fit the bill.

The Booby Trap
Antonio Gil, Puerto Villamil
I would call The Booby Trap nearly the only "destination" restaurant on Galapagos. This place is heralded on all the travel sites. Someone even recommended it to us minutes after our plane landed in Baltra. Therefore, when we finally arrived in Villamil and walked into the storied Booby Trap, I wondered if we had the wrong place. I think I expected a fancy, fine-dining establishment, but the Booby Trap is essentially a large porch of a house. Behind a wide counter, the owner and his wife cook dinners for patrons nightly before retiring upstairs. Don't be fooled, however. The Booby Trap serves some of the greatest meals in all of Galapagos.
On the night we walked up, we approached the counter and met the owner, who happens to be a native of Ohio. He told us they weren't serving, so we made a reservation for the next night, when he said another couple also planned to come in (crowded places, these Galapagos eateries). He asked us to put our orders in – the "menu" was basically a choice of beef, chicken or fish – and then we went on our way.
When we returned the next night, we had the fine dining experience everyone told us about, all at a table covered with plastic tablecloth with a tropical fish print. Our starter – mini fried plantains – were addictive, and paired nicely with the house red wine. Even our water was "gourmet" – Galapagos rain water collected from the slopes of Sierra Negra volcano.
Our main dishes – mine fish and Taylor's chicken – came out hot and expertly prepared. Complete with some fresh mixed veggies and "smashed" potatoes, the meal felt familiar and comfortable even if the setting was as exotic as could be. Frankly, I started to get pretty jealous of the expat owner – he gets to live a block away from an amazing beach and serve meat and potatoes to weary, grateful travelers. Must be nice!
My only regret about the Booby Trap is that we couldn't go back – we were treated like friends who had stopped by rather than anonymous tourists, and the food tasted great.

El Tropical
Piquero y Tero, Puerto Villamil
If the Booby Trap represents the finest of Galapagos dining, I suppose El Tropical represents the other end. Most restaurants in Villamil sit on one long main strip through town, just a block off of the beach. However, you'll find El Tropical in the middle of the town down a dark street, unmarked and unremarkable. The eatery looks like a large garage with folding tables set up inside, and a kitchen tucked in the back corner. Run by a local family, El Tropical seems like a total hole in the wall. But the food is awesome, and authentic.
We stopped by in the late afternoon, but the lady at the counter told us to come back in an hour because they weren't ready to serve yet. No problem – we walked the beach for a bit. When we got back, apparently they were now "serving," although we were the only people in the place. El Tropical, like a few other places at which we ate, has no menu, just a choice of fish or chicken. Per usual, I had the fish (when in Rome, right?). But at El Tropical, you could tell they used only fresh ingredients. We had a vegetable broth starter before our main plates came out, and the family made all of our food to order. My plate (pictured above) wasn't fancy, but the lemony gravy sauce went well with the fish and rice, and it wasn't too heavy either.
El Tropical certainly stands out as a different, and perhaps authentically Villamil, dining experience. You should go once, too, if you're up for a little more adventure.

La Choza
Malecon y 16 de Marzo, Puerto Villamil
Like El Tropical, La Choza is operated by a local family and serves authentic food made to order. However, this restaurant has all the advantages of sitting right on the beach. You can sip a banana smoothie while watching the clouds and waves roll in. If you want to feel like you're truly on vacation, stop by La Choza.
We visited over a lunch hour, not a popular time for Galapagos eateries, so we were again the only patrons. The dining area is entirely open air. You can sit in the shade of the overhang or out on the beach. We opted for a happy medium – as the lone diners, we sat at a beach table underneath a pop-up awning. More juices here, which go well with the equatorial sun beating down on the hot sand. Taylor ordered a veggie sandwich, and I tried a spicy pepper shrimp tortilla (Spanish style, so more like an omelette). To my pleasant surprise, my dish came with fried plantains. Yesss.
The food was… ok. But I can't complain – I sat on a beach and got a full service meal for a relatively reasonable price (I think about $25 for two of us?). For the view alone, check out La Choza.

Coco Surf
Antonio Gil y 16 De Marzo, Puerto Villamil
For our last stop in Villamil, we chose Coco Surf. Located on the western end of the main street, this eatery is a nice little sidewalk cafe of sorts. It's only open in the evenings and is popular with tourists, probably because it gets great reviews from travel sites. I found it decent, but a bit underwhelming.
For starters, the service is somewhat slow, even for Galapagos. I'll admit, we ate on a busy night, but the place has like eight tables, max. It seemed our server would often go 20 minutes between visits to our table, and this was when trying to order drinks and dinner. They also seemed to be out of a few things Taylor and I tried to order, including signature drinks.
Coco Surf serves some of the more traditionally South American food we had on Villamil. I had a crab and rice dish (pictured above), with fried plantains, picked vegetables and traditional seasonings. It tasted ok but left me wanting something a little more. The main course seemed to be more rice than crab, and at the end I was still feeling a bit hungry.
Overall, I'd go again, because it's one of the few places that doesn't seem to serve frozen carrots, and because there are only a handful of dining options in Villamil. But if pressed to make a return visit, I'd probably go eat at The Booby Trap again instead.
Well, that's way too many words about Galapagos dining. Check out some of our actual Galapagos activities below. Also, be sure to check back for more of our travel adventures!