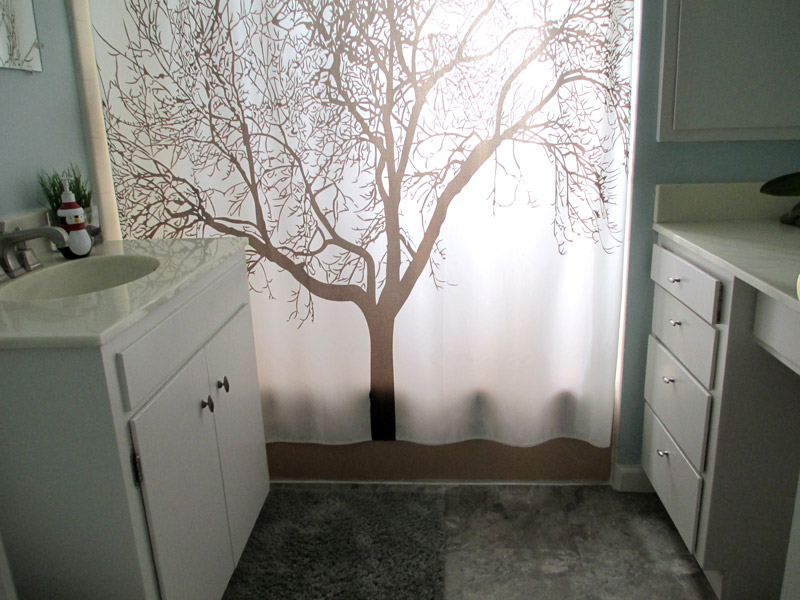 My wife is a multi-talented woman. However, before we bought our new house, I had no idea those talents include home improvement extraordinaire. The following is a before-and-after comparison of our bathroom remodel, a project in which I had no part whatsoever. This was all Taylor, and this update alone modernized the interior by about 40 years.
Most of the interior feels up-to-date as is, but our main bathroom had some horrible 1970s linoleum and cracking flesh-colored paint to complement the awesome pink tub. Well, the tub's not going anywhere, so we had to find a way to work around it. Fortunately, Taylor came up with a great combo of color for the walls and tile for the floor.
(If you look closely, we also got more toilet paper.)
She also repainted the trim and added new baseboards where the linoleum formerly wrapped up the walls. Everything looks much fresher now.
Again, I was no help at all with this project. In the one trip I made to Lowes to get trim, I had them cut it all wrong and cost us like $30. All painting, flooring, trim, caulking is Taylor's handiwork, done over the course of a couple weekends. The walls are now a frosty blue-green, and the floor is a shiny marble grey, with some pinkish undertones. Meanwhile, the tub itself, which looked very dated in the old setup, now serves almost as an accent piece of the bathroom. It stands out against the much cooler and calmer walls and floor now! It's great!
A fresh coat on the cabinets even made the ceramic counter tops feel like new. We were thinking we couldn't accomplish this without a full-scale teardown and remodel, but in my opinion, Taylor made the whole room feel new pretty easily.
Here's a closeup complete with all the grimy details of the old flooring and the new. So much better. Not even close.
And, so our bathroom remodel is complete, no thanks to me. I guess I'll stick with the home automation projects and very necessary dancing robots. Surely more home improvement projects are ahead. With the warming weather outside, we're already hard at work on a few. But this one from inside was just too great not to share.