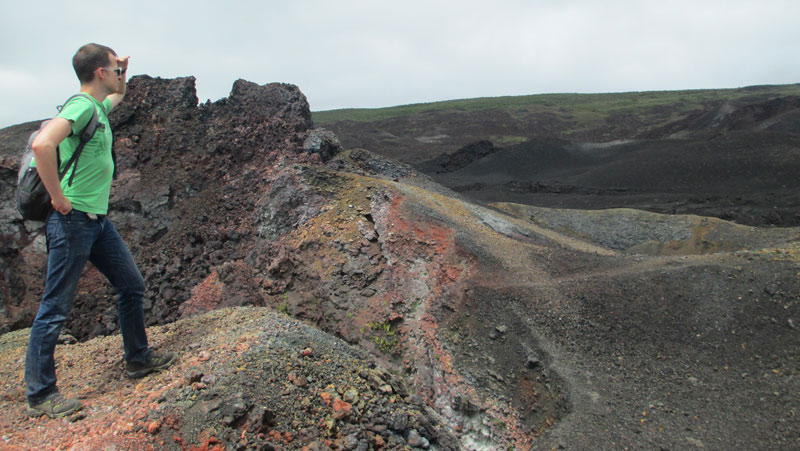 I know what you're thinking: Is this post just an opportunity for a pun headline referencing a terrible '90s movie? Yes and no.
On our trip to Galapagos, we saw unique wildlife and had once-in-a-lifetime snorkeling adventures. But the Galapagos Islands exist because of a volcanic hotspot along the Nazca plate, meaning we spent half of our trip sleeping at the base of an active volcano. Did you really think we wouldn't take a look inside!?
If you want to see a Galapagos volcano, Sierra Negra awaits you. Taylor and I stayed four nights on Isla Isabela, the largest of the Galapagos Islands. Isabela is actually a collection of six still-active volcanoes. Puerto Villamil, it's largest/only settlement, sits on the southern end of Sierra Negra. The caldera is only about 20 miles from the port, although it rises to about 3600 feet in that short distance. It last erupted in 2005 (video), when it spewed lava and ash for about a week down its northeastern side. It's also the largest of the Galapagos calderas – 5.7 miles across at its widest. It's big is what I'm saying.
Our hike lasted about six hours, and while it can't compare with our trek just a week earlier on a portion of the Inca Trail in Peru, it holds its own wonders for those willing to explore. Dozens of tour companies in Villamil will take you up to Sierra Negra. Our AirBnb hosts also owned their own tour company, so they took care of everything for us, which was nice. At about 6 a.m., a driver picked us up at our house and drove about 30 minutes up the mountainside. At the head of the Sierra Negra trail, we met our tour guide. He gave the tour in both Spanish and English.
Our Sierra Negra hike had two phases – first, we walked along the rim of the caldera, then we traveled down the northeast side into the freshest areas of new lava flow. As you first begin the hike, you might not feel like you're on an active volcano. One of the most interesting aspects of Galapagos is the incredible variation of climatic zones in such a short distance. From open ocean to shallows to shore to sulfuric desert to grassland to dense jungle to mountaintop, Isabela features so many different environments. The hike starts in the misty forested zone of the island. At first, you're surrounded by trees, ferns, and wildflowers. However, as you climb up to the rim, the view transforms quickly. As we reached the edge, the dense green gave way to expansive black: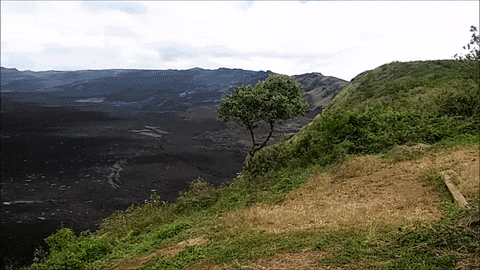 This is the caldera – just a decade ago pulsating with red-hot magma and today scarred with collapsed cracks in its sharp igneous rock. As previously mentioned, the other side is about 5 miles away. But molten lava sits just 100 meters below this carapace, making it one of the most shallow of the Galapagos volcanoes.
Our trip happened to fall just a month after the massive 8.0 earthquake on the coast of Ecuador, 600 miles away. It's obviously a seismically active area. One of the people on the tour asked what we would do if the volcano began to erupt. "Well, not much," he said. "It would probably be too late for us." Not making any of us feel great, someone asked what kind of warning humans get before an eruption. "Usually there's activity detected so we know it's coming," he said, "but in 2005 that wasn't the case." Gulp.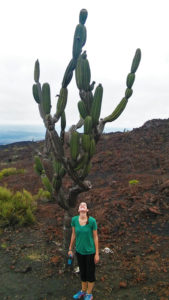 After this nice exchange, we continued on the tour. After walking about 2 miles along the rim, we ventured down the side of Sierra Negra toward a large vent called Volcan Chico. During the last eruption, lava flowed down this edge, mercifully away from town and any people. As we ventured further toward Chico, the forest gave way to rocky, tan desert. We had crossed into yet another mini-biome. Here, we had to watch our step as we walked over steam vents, sharp rock and lava tunnels that could collapse at any time. Not many living things occupied this area, though the plane was dotted with opuntia cacti, which were easily the tallest and most impressive cacti I've seen outside of Arizona's saguaros. Our tour guide said some of the largest dated back 300 years!
Further on, however, even the cacti disappeared, as we crossed a very distinct line in the rock from tan to black. The trail crossed over into fresh lava flow, barely a decade old. It's cliche, but we might as well have been on the the moon at this point. After a few hundred yards, there wasn't a plant to be seen – just the occasional lava lizard skittering away. This in a place known for its diversity of wildlife, nonetheless. You could clearly see the rivers and waves of lava frozen in time (for now at least). We walked along the edge of jagged trenches, where all manner of formations, bridges, ridges, tunnels, had collapsed almost 20 meters. It's not an easy walk – lots of loose rocks and uneven slopes. We were literally treading on shaky ground.
Without incident, though, we made it to the top of Volcan Chico. Here again the landscape changed somewhat. Instead of expanses of frozen black lava, we were now climbing among piles of varous spewed minerals. Rocks of all colors – red, silver, purple, pink – littered the mouth of this smaller volcano, evidencing the heavy minerals and rich veins deep underneath our feet. But while the vent was impressive, the view from the top serves as the highlight. From the edge, we could five of Isabela's six volcanoes, as well as the entire island of Fernidina, the westernmost of the large Galapagos islands. It's probably one of the best views on the islands: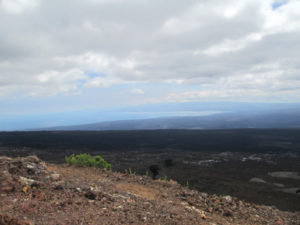 Wildlife epitomizes the allure of Galapagos, but the geography equally fascinates, and our hike up Sierra Negra illustrated the tectonic history of the islands in short order. If you visit Isabela, set aside a morning to see Sierra Negra. Few accessible places allow you to see Earth's respiration up close. I promise you won't be disappointed.
Here's a few more photos from our hike:
Also, check out more of our excursions in Galapagos and Peru below!