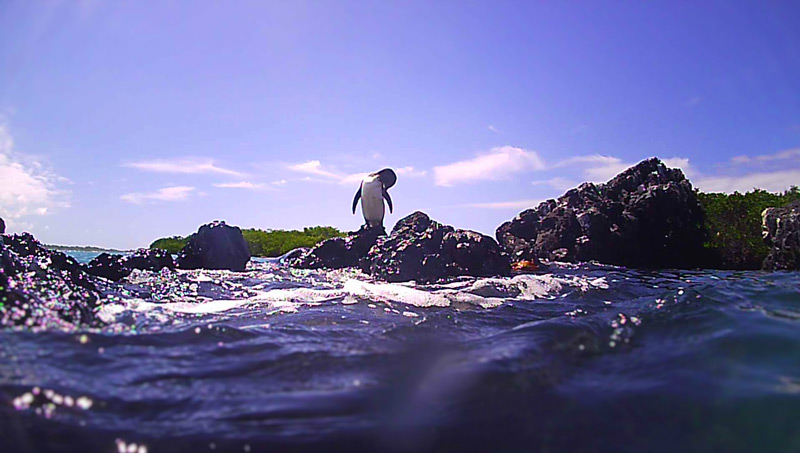 I have to admit that one of the top reasons we wanted to go to Galapagos was to see real, live penguins in the wild. Penguins are my wife's absolute favorite animal of all time, and Galapagos is the closest place to the United States to see them. Some Galapagos penguins even live north of the equator, the only penguins in the world to do so. After a few days in Peru and a week exploring other areas of Galapagos (including a prehistoric land of giant tortoises), we were determined to meet a tuxedoed ambassador of bird-kind. Commence Operation Penguin.
If you take the land-based approach to seeing Galapagos like we did, your best bet to see a penguin sits right off the southern coast of Isabela, the archipelago's largest island, in Las Tintoreras.
Just about a half-mile from Puerto Villamil, Las Tintoreras is an irregular group of low volcanic rocks surrounded by shallow coves. The area makes an ideal nesting ground for the Galapagos penguins, because they can nest among the rocks and swim around safely in the relatively calm waters. Las Tintoreras host much more than penguins, however. There are so many unique species to see in Galapagos (view a slideshow here), and this atoll of volcanic rock serves as a home and nesting ground for dozens of them, including boobies, frigate birds, herons, marine iguanas, sea lions, and the namesake of the area – las tintoreras, the white-tipped sharks that are endemic in these waters.
Las Tintoreras provides one of the best diving areas in all of Galapagos, too. Beneath the shallow waters among the cracked and craggy rocks, you can see all sorts of wonders – rainbow fish, sea cucumbers, rays, sharks, sea turtles, marine iguanas, and, yes, penguins.
Toward the tail-end of our trip, we took a tour of Las Tintoreras, which consisted of three parts, a boat tour, a walking tour and a diving session. I had bought a cheap HD underwater camera specifically for this excursion – in no reality would I leaving Galapagos without a picture of Taylor meeting a Galapagos penguin.
After a five-minute ride from Puerto Villamil, we drifted along the edge of the islotes in our tour boat. In the water around us, sea turtles bobbed their heads in and out of the water, and marine iguanas snaked from rock to rock. Our tour guide helped us find a rare blue-footed booby, a nest of frigate birds, and, from a distance, a small colony of Galapagos penguins. We'd found them! Yet, we could do better. We had to get closer.
We then landed on a dark rocky outcrop and strolled a short path, taking caution not to step on the sharp volcanic rock or any marine iguana nests. Most of the islotes are stark, jagged volcanic rock. These areas perfectly protect nesting iguanas, frigate birds, boobies and penguins. As we continued along the path, we came upon lush red mangroves full of life – nesting birds, lazy sea lions and more. Below is a look at one of these areas, Sea Lion Cove. Look closely and you'll see one splashing in the shallows:
Above the water, it's a beautiful area that feels so pristine and untouched, you'll think you are among the first humans to ever visit. Life is everywhere. Seemingly hundreds of marine iguanas jockeyed for sun atop the rocks, and just over the edge, swarms of tintoreras sharks congregated and circled in the shade.
Below the water, it got even better. The second half of our Tintoreras tour stands out as one of the most memorable hours of our two-week South America tour. As we jumped into the waves, snorkels ready, the clear water beneath us revealed all kinds of tropical fish and coral. Our tour guide adamantly declared he would find us a shark as we scanned the seabed, but you, dear reader, know what Taylor and I truly sought.
As we swam along the edge Las Tintoreras, open water to our left and sheer rock wall to our right, we ultimately saw incredible species up close, including a huge eagle ray, a sleeping tintorera that had to be 7- or 8-feet long, and one particularly precocious sea lion, who seemed like he wanted to play:
For someone who had never been diving before, this was a show-stopper. Las Tintoreras delivered.
I thought the dive couldn't get more jaw-dropping. But just minutes later we surfaced, and our tour guide pointed to the rocks, making a strange noise like Danny Devito in Batman Returns. Sunbathing on the rocks, flapping his little wings, sat a Galapagos penguin!
He sat somewhat inland though, a few yards into some sharp rocks, though, so we couldn't get too close. We swam a little further, around a large rock formation, and on the other side, two more penguins! This time, we could swim almost right up to the little guys. Operation complete: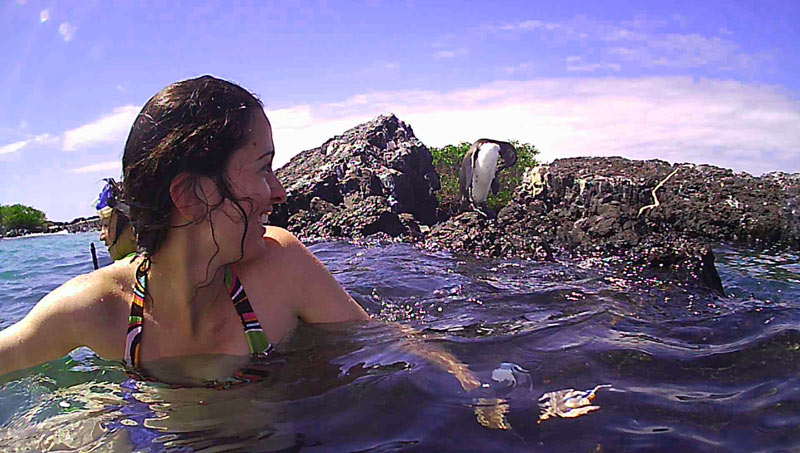 All the commotion prompted a few of the penguins to jump into the water with us, and Taylor and I gave chase as best as we could. While the rest of the group, tour ending, climbed back onto the tour boat, we were furiously swimming away, tailing a trio of penguins lazily swimming away from us. Our adrenaline fueled us, however, as we kicked our flippers, kept our goggles in the water and tracked the swimmers as best as we could for what felt like a mile (it was probably a couple dozen meters).
Naturally, we couldn't catch up with them, but they didn't get away completely. I manage to get these stellar photos of swimming penguin butts: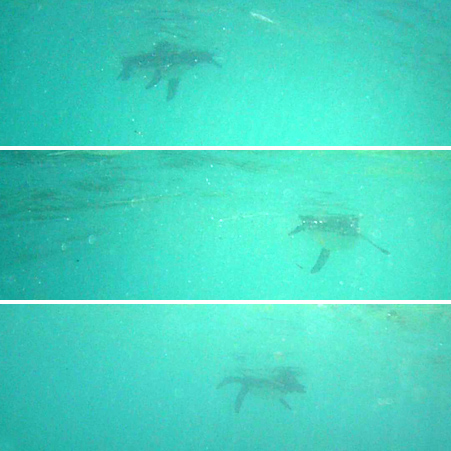 But hey, you know what? We did it. We met some penguins, we swam with them in the freakin' ocean and we encountered all kinds of rare wildlife in situ. Short of an African safari, an excursion into Boreno or a return trip to Yellowstone, I doubt we'll ever again have such a phenomenal wildlife experience.
There was only one downside to the tour – at some point during our dive, I lost my wedding ring. But that's a post for another day.
Here's a short slideshow of photos from our Tintoreras adventure: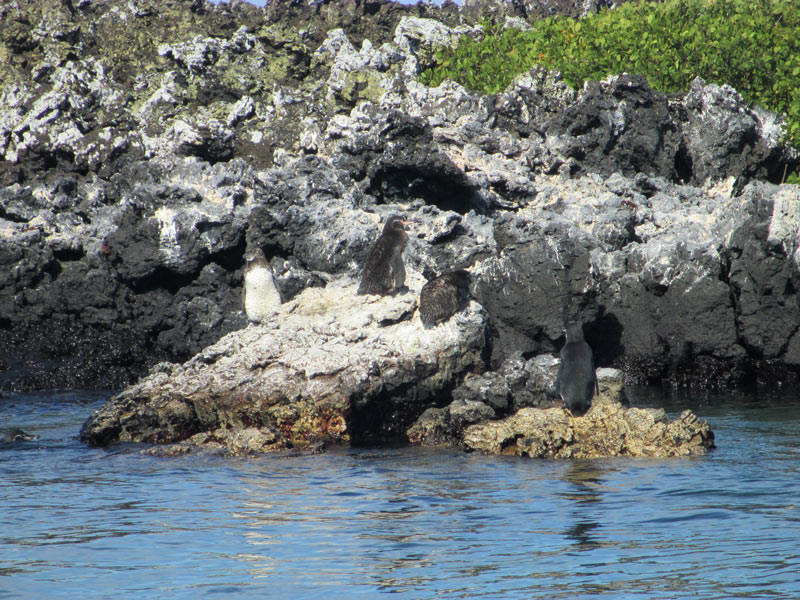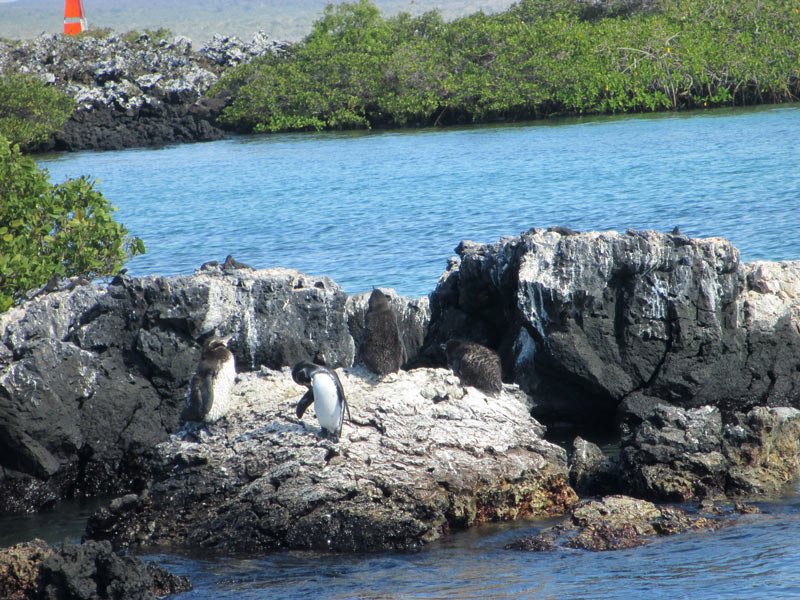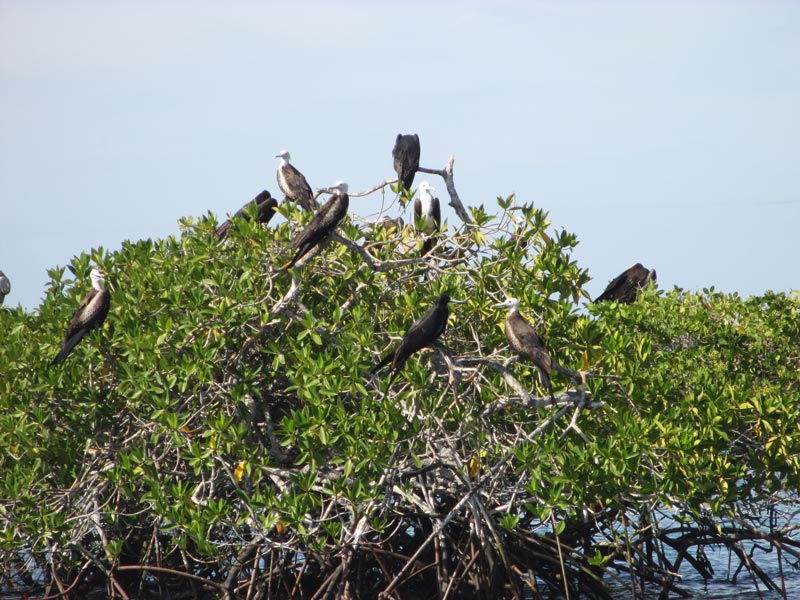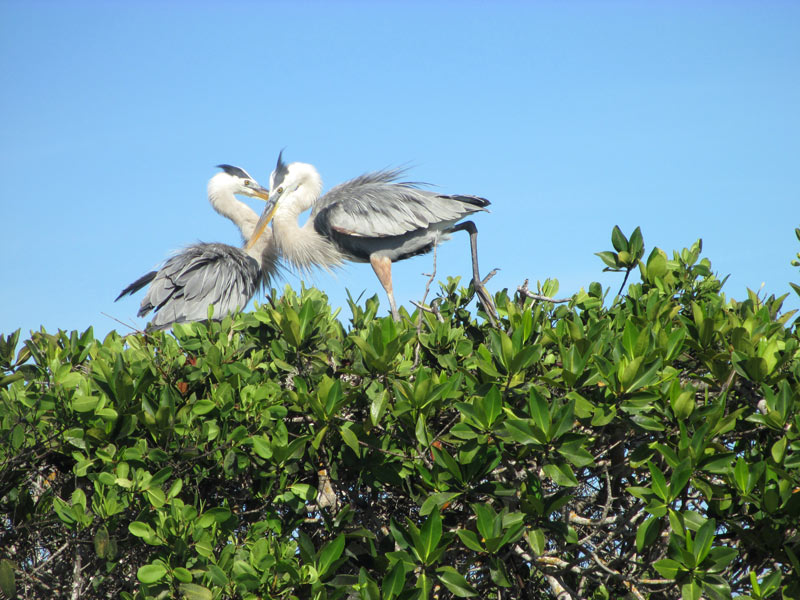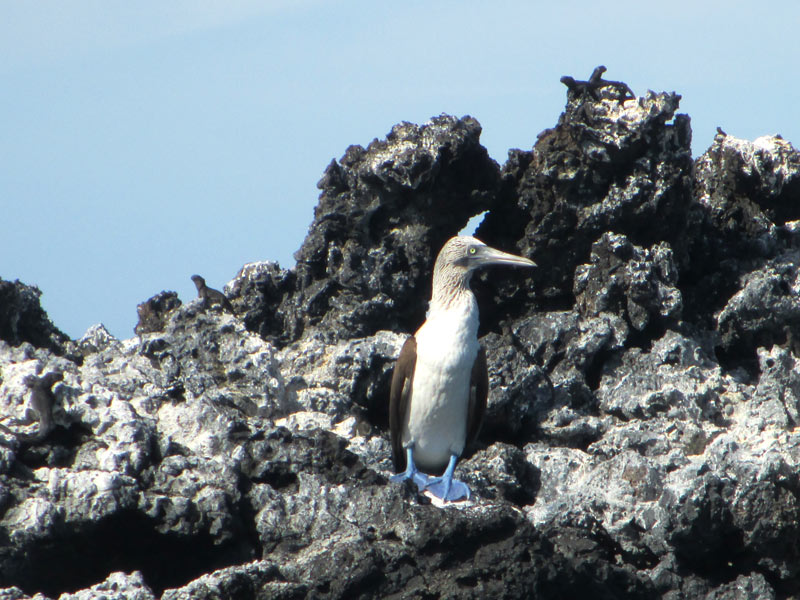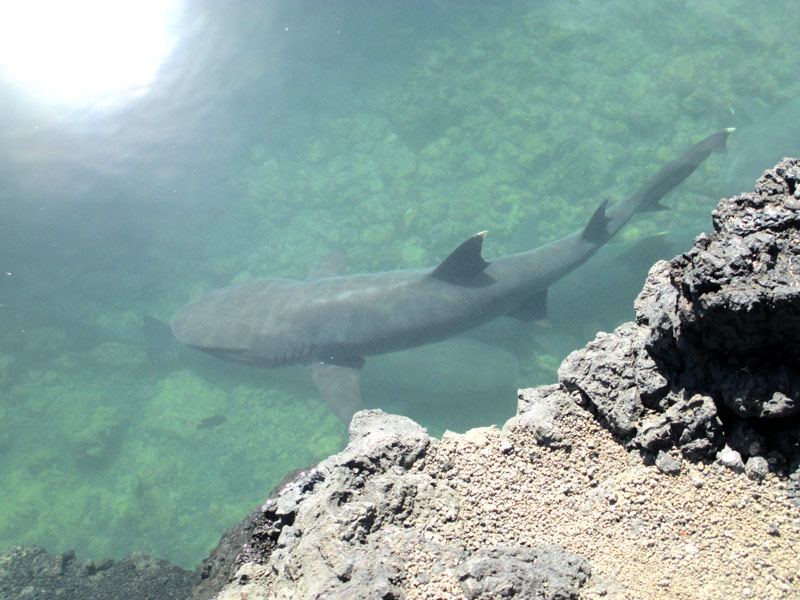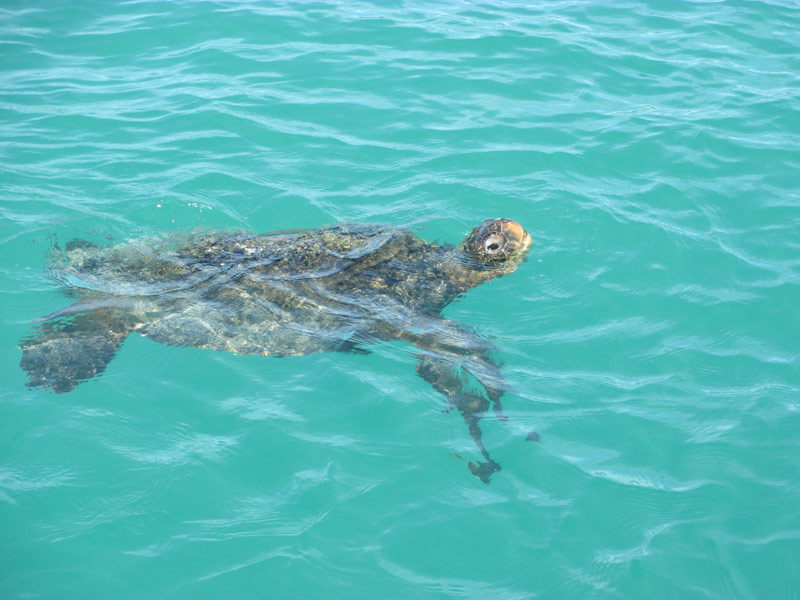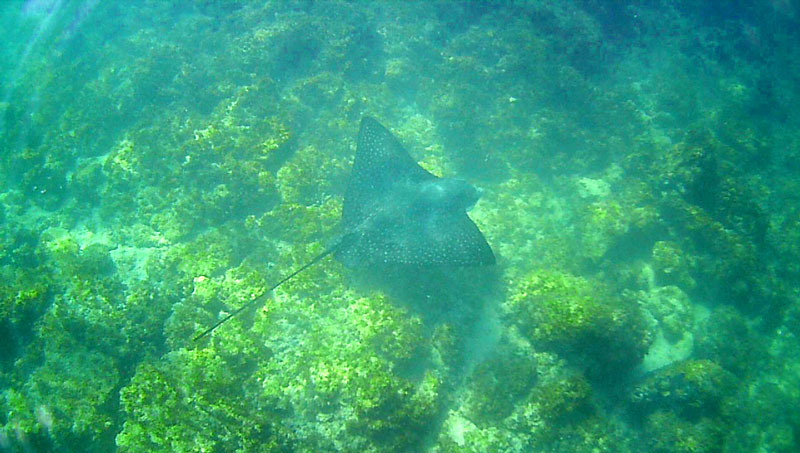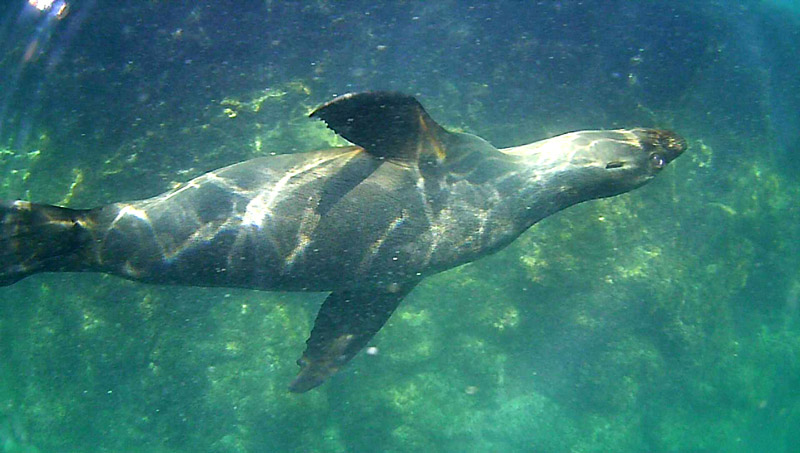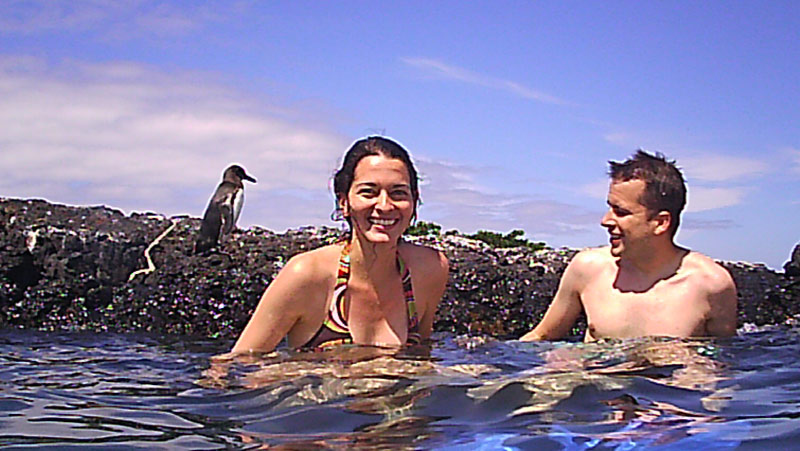 The tintoreras, or white-tipped sharks, sleep in big schools during the day among the narrow cracks in the volcanic rock. This guy was probably 6-7 feet long. Harmless, though, we were told.
Want to read more about our South America adventures? See our trip to the giant tortoise sanctuary Reserva El Chato here, check back later for more posts about Galapagos, or see some of my previous write-ups below!