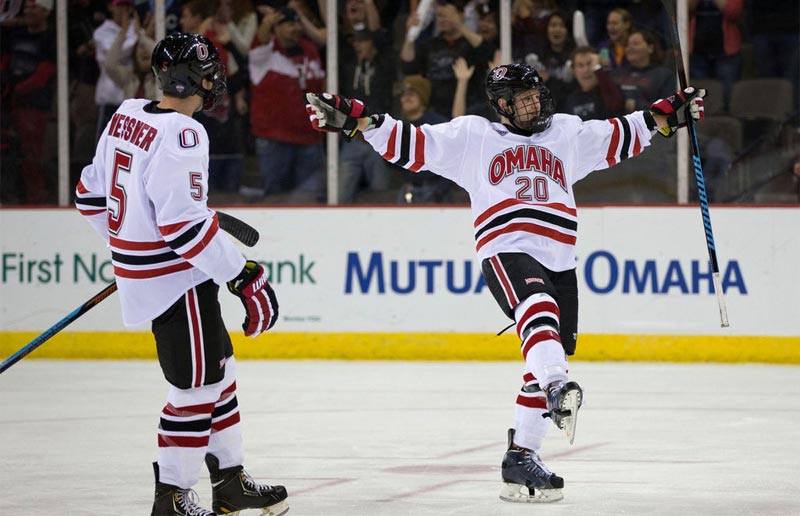 We're still a few weeks away from the 2015-16 NCHC season, and the photo above sums up how I feel. I can't wait for some ol' fashioned hashtag college hockey. But in the meantime, let's continue our look at the talent that will be returning to the ice. A couple of days ago, we took a more advanced analytic approach to goaltending in the conference. Today, let's consider the offensive production side of things – forwards.
Much like with the goalies, Taylor and I have utilized the new data available from College Hockey News to get away from the usual points-goals-assists assessment. With a more complete picture of the shot statistics available, we can get closer to understanding who's really changing the game with their ice time, and who stands out as the most effective forwards in the league. It's not a perfect analysis, but it's better than what was possible less than even a year ago. Progress is good.
So we'll get there, I promise. But first, let's take a look at who is not returning this year, and which teams have holes to fill.
Top Losses
Looking only at guys who played in 50% or more of their team's games, the NCHC loses 27 players. Most heavily hit is undoubtedly Miami, who loses three of the top four point earners in the conference – Austin Czarnik, Blake Coleman and Riley Barber, who is leaving early. St. Cloud's Jonny Brodzinski also leaves early for the pros, taking 21 goals and 7.9 shots per game (!) with him. North Dakota (Michael Parks and Mark MacMillan) and Western Michigan (Colton Hargrove and Justin Kovacs) both lose a 50-plus-point pair of offensive leaders. Rounding out the top ten, say goodbye to Denver's Daniel Doremus and Duluth's Justin Crandall.
Every team lost a few key pieces, however Colorado College and Omaha escape graduation relatively unscathed in the forward department. Most depleted? Arguably Miami, though I could see a case for North Dakota or Denver, too.
Traditional Analysis
Time to evaluate the returning forwards in the NCHC. For the sake of defining the discussion, and because the metrics we're using are all based on shots, we're only going to examine those players that took 50 or more shots last season. That will include pretty much everyone in each team's top three lines, and it eliminates the regular scratches, cleanup lines, etc. This way, we're more likely to compare apples-to-apples when we start looking at percentages and average performance.
Let's first take a look at the returning talent in the traditional sense. We know the NCHC lost some big playmakers, but it wasn't a total turnover. Some teams return a strong core of their point-producing players. Below, I list two metrics that are historically used to evaluate player contributions – points and goals scored.
In addition, I'm also adding a couple new metrics now possible because of the expanded data being tracked by College Hockey News. Those are shots per game and accuracy. Shots per game is self explanatory – total shots taken / games played. Accuracy is defined as shots on goal (and goals) divided by total shots taken (which includes blocked shots, wide shots and shots that hit the post). Accuracy gives us a better idea of which players are producing high-probability scoring attempts when they fire off the puck. The top 10 in each of these categories (Points, Goals, Shots/Game, Accuracy), are listed here:
| Points Leaders |   | Goals Leaders | | Shots per Game | | Shot Accuracy | |
| --- | --- | --- | --- | --- | --- | --- | --- |
| Danton Heinen (DEN) | 45 | Trevor Moore (DEN) | 22 | Austin Ortega (UNO) | 7.2 | Grant Arnold (DEN) | 68.2% |
| Trevor Moore (DEN) | 44 | Austin Ortega (UNO) | 20 | Joey Benik (SCSU) | 6.6 | Sean Kuraly (MIA) | 67.7% |
| Joey Benik (SCSU) | 39 | Sean Kuraly (MIA) | 19 | Sean Kuraly (MIA) | 5.7 | Austin Poganski (NDAK) |  66.7% |
| Jake Guentzel (UNO) | 39 | Drake Caggiula (NDAK) | 18 | Nolan LaPorte (WMU) | 5.6 | David Pope (UNO) | 66.0% |
| Austin Ortega (UNO) | 37 | David Morely (SCSU) | 17 | Tony Cameranesi (UMD) | 5.4 | Luc Gerdes (CC) | 65.2% |
| Drake Caggiula (NDAK) | 36 | Danton Heinen (DEN) | 16 | Alex Iafallo (UMD) | 5.4 | Austyn Young (UMD) | 65.2% |
| Anthony Louis (MIA) | 36 | Joey Benik (SCSU) | 16 | Anthony Louis (MIA) | 5.2 | Matt Marcinew (DEN) | 63.7% |
| Cody Bradley (CC) | 30 | Dominic Toninato (UMD) | 16 | Jake Guentzel (UNO) | 5.1 | Christian Heil (CC) | 63.7% |
| Tony Cameranesi (UMD) | 30 | Jake Guentzel (UNO) | 14 | Sheldon Dries (WMU) | 4.9 | Blake Winiecki (SCSU) | 63.3% |
| Sean Kuraly (MIA) | 29 | Sheldon Dries (WMU) | 14 | Patrick Russell (SCSU) | 4.5 | Trevor Moore (DEN) | 63.1% |
Points-wise, Denver retains Danton Heinen and Trevor Moore, the top returning point earners. Joey Benik is back, tasked with carrying St. Cloud now that Brodzinski has departed. Omaha brings back starters Austin Ortega and Jake Guentzel, North Dakota's Drake Caggiula returns, and Miami's Anthony Louis and Sean Kuraly make another appearance. All names with which we're familiar.
I find it interesting, however, that only Kuraly and Moore are among the most accurate shooters in the league. Sure, some of it's luck, but all of the top point earners took 100+ shots last year, so it's only sort of luck. Also interesting is the fact that guys like Nolan LaPorte is a top returner in terms of shots per game but he's not even in the top 20 returning point scorers. Again, could be some bad bounces involved.
But these are all mostly statistical artifacts. After all, we know goals are low-frequency events, so evaluating players on goal scoring alone isn't the most accurate way to assess talent. For all we know, all of the top ten point forwards from 2014-15 could regress to league average in 15-16.
What we really want to know is who is performing the best – that is, who is making the most of their time on the ice, be it by talent or by luck. As it turns out, there's a way to do that.
A better performance model
Much like we did when we assessed goaltending performance, we've developed a model to rate the play of skaters, too. Using points as the dependent variable, we've used a regression model to construct the Average NCHC Skater, which is a representation of all players in the NCHC condensed and averaged into one constant level of performance. Long story short, the Average NCHC Skater has allowed us to put a point value on each kind of shot a player takes – wide, blocked, post, saved shot and goal. It also allows us to do a fair comparison of a guys who took 250 shots against a guy who only took, say, 75. We run each player in the league through this model to get an expected points output. From there, we can compare each individual player's efforts last year to the Average NCHC Skater and give them a rating based on how they compare to expectations.
What this method does is allows us to see the extent to which each forward took advantage of the opportunities they were given. That is, on average, each time Player X had the puck, how likely was he to make a decision that led to his team scoring compared with the other players in the league.
This will not give us the top goal scorers, or the most accurate shooters, or the best possession guys. It will simply tell us who are the smartest, most effective or just plain lucky hockey players.
So, with that, here are the ten most effective returning players in the NCHC:
| Team | Player | Year | Total Shots | Expected Points | Actual Points | Rating |
| --- | --- | --- | --- | --- | --- | --- |
| DEN | Gabe Levin | Sr | 76 | 9.68 | 19 | 1.96 |
| NDAK | Nick Schmaltz | So | 89 | 15.17 | 26 | 1.71 |
| DEN | Danton Heinen | So | 167 | 27.48 | 45 | 1.64 |
| MIA | Anthony Louis | Jr | 194 | 25.00 | 36 | 1.44 |
| DEN | Grant Arnold | Sr | 66 | 6.29 | 9 | 1.43 |
| SCSU | Kalle Kossila | Jr | 119 | 19.21 | 26 | 1.43 |
| NDAK | Austin Poganski | So | 78 | 10.51 | 14 | 1.33 |
| UMD | Cal Decowski | Sr | 94 | 12.03 | 16 | 1.33 |
| UNO | Jake Randolph | So | 110 | 19.80 | 26 | 1.31 |
| UNO | Jake Guentzel | Jr | 183 | 30.21 | 39 | 1.29 |
This is admittedly a much different list, but in our estimation, a much more accurate representation of player performance. Gabe Levin from Denver? Didn't get as much attention as some of his teammates, but it's likely he does this season. He made the most of his 76 shots, and had he found a few more scoring chances he might have been among the league leaders in points. That's true of everyone on this list. From watching the games, we know many of them indeed are very talented (Kossila, Poganski, Randolph), but they haven't risen to the top of the goal-oriented stat sheets.
Interestingly, there's only three players who overlap with the top point earners from last season – Denver's Danton Heinen, Miami's Anthony Louis, and UNO's Jake Guentzel. Look for all three of these guys to take the lead on their respective teams this year. These three are probably likely to regress somewhat in 15-16, because some of their total was luck. However, if I'm the coach of one of these players, I'd be trying to figure out how I get them in the game more often. They don't even need to score goals – it would appear their presence on the ice has a net positive effect, whether than be in possession, decision making, system execution, or something else.
So what of SCSU's Joey Benik, North Dakota's Drake Caggiula, or Miami's Sean Kuraly? They were all top scorers last year – what gives? Why aren't they in the top ten? Well, here's their ratings according to this analysis:
| Team | Player | Year | Total Shots | Expected Points | Actual Points | Rating |
| --- | --- | --- | --- | --- | --- | --- |
| CC | Cody Bradley | Sr | 152 | 26.56 | 30 | 1.13 |
| SCSU | Joey Benik | Sr | 264 | 35.96 | 39 | 1.09 |
| NDAK | Drake Caggiula | Sr | 171 | 36.16 | 36 | 1.00 |
| UMD | Tony Cameranesi | Sr | 217 | 31.10 | 30 | 0.97 |
| UNO | Austin Ortega | Jr | 280 | 38.55 | 37 | 0.96 |
| MIA | Sean Kuraly | Sr | 226 | 33.68 | 29 | 0.86 |
Of the rest of the top point earners, only Colorado College's Bradley outperformed his shot activity. Benik, Caggiula, Cameranesi and Ortega are basically right at expectations. That is, given their 264, 171, 217 and 280 respective shots, they did about how we'd expect the average NCHC player to do. They're talented, yes. They are getting more shot opportunities, which is important and shouldn't be discounted. But they're not over-performers.
Kuraly is a slightly different story. For as many goals/points as he earned, given the number of shots he took, he actually underperformed compared with what we would expect from an average NCHC player taking that many shots. Does this mean he was a poor player? Absolutely not. But he weren't making the most of the opportunities he got. Among returning forwards, Kuraly ranks 3rd in shots taken. I think one of two things is likely happening. First, he may be choosing to shoot more often than pass away to a better opportunity. That's not necessarily a bad strategy – shooting more nets you more goals, as these two proved. The second thing that could be happening is that Kuraly was called on to get his team out of tough spots – down one goal, overtimes, etc. When a player has to shoulder more of the offensive burden, the average quality of their looks is going to go down, so he's not going to appear as if he's using his puck time as wisely.
Alright, enough analysis. More than 1,500 words later (I can't believe you read this far (and now neither can you)), without further comment, here are our Top Five NCHC Forwards to watch in 2015-16:
Top 5 Fowards to watch:
Anthony Louis, Miami (Jr.)
Danton Heinen, Denver (So.)
Trevor Moore, Denver (Jr.)
Jake Guentzel, UNO (Jr.)
Nick Schmaltz, North Dakota, (So.)
Honorable mention: Kalle Kossila, St. Cloud (Sr.), Joey Benik, St. Cloud (Sr.); Grant Arnold, Denver (Sr.); Austin Poganski, North Dakota (So.); Jake Randolph, UNO (So.); Cody Bradley, Colorado Collge (Sr.)
In a couple days, we'll finish up with the top defensemen to watch this year, and we'll try to separate the offense-oriented guys from the true muscle at the blue line.
Read about returning NCHC goaltenders here.
EDIT (09/18/2015): I had previously misidentified Danton Heinen and Cal Decowski as defensemen. I have updated the analysis and rankings after correcting this error.