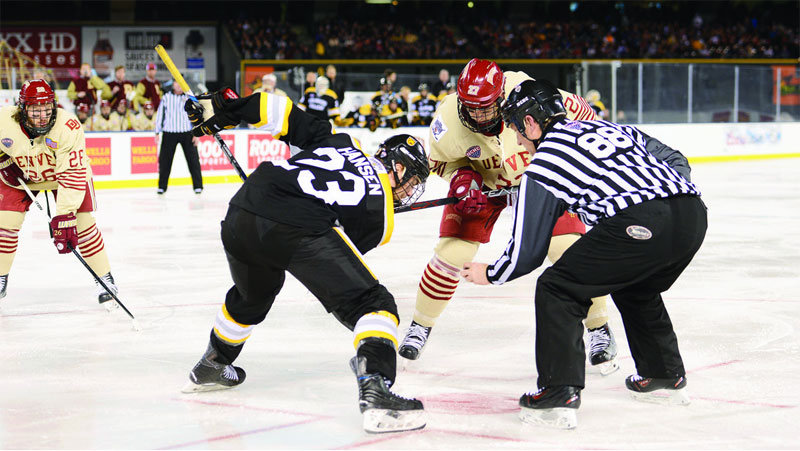 Last year turned into a banner year for the National Collegiate Hockey Conference's offensive players. Two seasons ago, the top 20 NCHC forwards combined for 703 points. Last year? 808 – nearly 15% more scoring. High-powered offense certainly made for more than a few exhilarating tilts.
Now as 2016-17 approaches, NCHC hockey returns but without 14 of the leagues 20 top forwards, six of whom departed early. Adios, Kalle Kossila. See ya, Danton Heinen. Peace out, Nick Schmaltz. Jack Roslovic? We hardly knew ye.
A huge vacuum of talent waits to be filled, but in this league the wait never lasts long. Who's going to step in for all that lost offensive production? My goal here is to figure that out.
Earlier this week I looked at returning NCHC goaltenders, finding few surprises. That's not so with the NCHC forwards. Much like with the goalie model Taylor and I developed, we have utilized the new data available from College Hockey News to look beyond the traditional scouting reports. With a more complete picture of the shot statistics available, we can get closer to understanding who's really changing the game with their ice time, and who stands out as the most effective forwards in the league. I'll spare you the gory methodology since it's about the same as last year's analysis.
Let's get warmed up by applying that analysis to those NCHC forwards not returning in 2016-17.
Top Losses
Looking only at guys who played in 50% or more of their team's games, the NCHC loses 31 forwards, just a few more than last year. As I mentioned above, though, the list is top heavy, and some teams get hit harder than others.
St. Cloud State loses its top five point earners, for starters. The represents 61% of their forward's scoring from 2015-16, and even for a strong program like SCSU, that's a tough roster to reload. Denver and North Dakota each lose three of their top five scorers, though for Denver that includes underclassmen Heinen and Trevor Moore. For North Dakota, Nick Schmaltz leaves early, as does Luke Johnson. Most unscathed is probably Western Michigan – losing only 15% of their scoring from last season.
Teams losing their top-scoring forward include Colorado College (Hunter Fejes), Denver (Heinen), Miami (Roslovic), St. Cloud (Kossila), Duluth (Tony Cameranisi), and Omaha (Jake Guentzel). Only Western Michigan and North Dakota return their top forward. Woof.
Let's warm up by applying the advanced model to the top 10 departing NCHC forwards by points earned:
| Team | Player | Year | Total Shots | Expected Points | Actual Points | Rating |
| --- | --- | --- | --- | --- | --- | --- |
| SCSU | Kalle Kossila | Sr | 179 | 27.75 | 54 | 1.95 |
| NDAK | Drake Caggiula | Sr | 201 | 50.10 | 51 | 1.02 |
| DEN | Danton Heinen | So | 224 | 40.88 | 48 | 1.17 |
| SCSU | Joey Benik | Sr | 265 | 49.84 | 48 | 0.96 |
| NDAK | Nick Schmaltz | So | 126 | 34.26 | 46 | 1.34 |
| UNO | Jake Guentzel | Jr | 196 | 39.28 | 46 | 1.17 |
| DEN | Trevor Moore | Jr | 226 | 31.74 | 44 | 1.39 |
| SCSU | Patrick Russell | So | 212 | 42.70 | 41 | 0.96 |
| SCSU | Jimmy Murray | Sr | 115 | 30.83 | 39 | 1.27 |
| UMD | Tony Cameranisi | Sr | 234 | 31.40 | 39 | 1.24 |
Without question, the player who will be most missed is SCSU's Kossila, not just because he led the NCHC in points, but because according to our model he scored nearly twice as many points as would have been expected from someone with his offensive input (shots). Dude hustled.
Beyond that, though, the players who put in the best performances relative to their chances are actually a few towards the bottom of the list. Trevor Moore earned about 39% more points than expected, which makes his early departure hurt Denver just that much more. Jimmy Murray and Tony Cameranisi also outperformed expectations by about a quarter. Needless to say, of course: none of these players underperformed by any significant margin – the data backs this up.
One last thing to mention, though. Kossila most outperformed expectations, but the next two overperformers don't even appear on this list. They are SCSU's David Morley and Denver's Gabe Levin, both of whom earned 65% more points that expected (Levin was the top overperforming scorer from last year's model – so we're on the right track). These two might not be among the league's top scorers, but followers of their respective teams know they will be sorely missed.
Traditional Analysis
Let's get back to the business at hand – returning NCHC forwards. For the sake of defining the discussion, and because the metrics we're using are all based on shots, we're only going to examine those players that took 50 or more shots last season. That will include pretty much everyone in each team's top three lines, and it eliminates the regular scratches, cleanup lines, etc. This way, we're more likely to compare apples-to-apples when we start looking at percentages and average performance.
Let's first take a look at the returning talent in the traditional sense. Below, I list two metrics that are historically used to evaluate player contributions – points and goals scored. In addition, I'm also adding a couple new metrics now possible because of the expanded data being tracked by College Hockey News: shots per game and accuracy. Shots per game is self explanatory – total shots taken / games played. Accuracy is defined as shots on goal (and goals) divided by total shots taken (which includes blocked shots, wide shots and shots that hit the post). Accuracy gives us a better idea of which players are producing high-probability scoring attempts when they fire off the puck. The top 10 in each of these categories (Points, Goals, Shots/Game, Accuracy), are listed here:
| Points Leaders |   | Goals Leaders | | Shots per Game | | Shot Accuracy | |
| --- | --- | --- | --- | --- | --- | --- | --- |
| Brock Boeser (UND) | 60 | Brock Boeser (UND) | 27 | Austin Ortega (UNO) | 8.74 | Jacob Benson (SCSU) | 70.9% |
| Dylan Gambrell (DEN) | 47 | Austin Ortega (UNO) | 21 | Brock Boeser (UND) | 6.26 | Patrick Newell (SCSU) | 69.7% |
| Austin Ortega (UNO) | 36 | Dylan Gambrell (DEN) | 17 | Anthony Louis (MIA) | 5.94 | Judd Peterson (SCSU) | 69.5% |
| Mikey Eyssimont (SCSU) | 33 | Judd Peterson (SCSU) | 16 | Justin Parizek (UNO) | 5.14 | Blake Winiecki (SCSU) | 68.3% |
| Justin Parizek (UNO) | 28 | Dominic Toninato (UMD) | 15 | Dominic Toninato (UMD) | 4.95 | Griffen Molino (WMU) | 66.7% |
| Anthony Louis (MIA) | 26 | Mikey Eyssimont (SCSU) | 14 | Karson Kuhlman (UMD) | 4.93 | Rhett Gardner (UND) | 66.1% |
| Josh Melnick (MIA) | 25 | Blake Winiecki (SCSU) | 12 | Alex Iafallo (UMD) | 4.70 | Steven Spinner (UNO) | 64.8% |
| Austin Poganski (UND) | 25 | Karson Kuhlman (UMD) | 12 | Frederick Tiffels (WMU) | 4.69 | Ryan Siroky (MIA) | 64.7% |
| Griffen Molino (WMU) | 25 | Anthony Louis (MIA) | 11 | Sheldon Dries (WMU) | 4.53 | Aidan Muir (WMU) | 64.6% |
| Blake Winiecki (SCSU) | 24 | Five other guys | 11 | Adam Johnson (UMD) | 4.33 | Dylan Gambrell (DEN) | 64.1% |
A few things. For starters, look at the top returning point and goal leaders! We all know Boeser, Gambrell, Ortega and Eyssimont. Beyond that, though, a lot of unexpected/unheralded names. That's the effect of losing so much top talent. It will be interesting to see if these players remain in the top ten, and our analysis below will help determine that.
I think the shots-per-game leaders and accuracy leaders are incredibly telling this year. First, you might be asking how the hell Duluth has four of the top ten shot takers. Easy: they were far and away the greatest producer of shots in the NCHC last year, with a 58.3% Corsi-For in league play. The Bulldogs look like they're going to continue to pelt opposing goalies, and that should work heavily in their favor, as I argued earlier this month.
Also, though, how in the hell does St. Cloud have the top four most accurate shooters in the conference? That one I have no explanation for. Kudos to the coaching staff for getting this group together. SCSU is also a high-possession team, so I urge the other seven NCHC teams to allow the Huskies to shoot as little as possible. This is a recipe for some seriously effective offense.
Finally, I know Brock Boeser is the obvious stand-out among returners, and probably a Hobey Baker candidate. But don't discount Dylan Gambrell. He appears on three of these four lists, and he just missed the fourth. He scores a lot because he's highly accurate, and as we'll see in a moment, he bests Boeser in a very key way.
Shot-performance analysis
The above, while informative, are mostly statistical artifacts. After all, we know goals are low-frequency events, so evaluating players on goal scoring alone isn't the most accurate way to assess talent. For all we know, all of the top ten point forwards from 2015-16 could regress to league average in 15-16. How do we know if they will? Who is making the most of their time on the ice, be it by talent or by luck?
Using shot statistics, we can look at that. Much like we did when we assessed goalies, we've developed a model to rate the play of skaters, too. Using points as the dependent variable, we've used a regression model to construct the Average NCHC Skater, which is a representation of all players in the NCHC condensed and averaged into one constant level of performance.
Long story short, the Average NCHC Skater has allowed us to put a point value on each kind of shot a player takes – wide, blocked, post, saved shot and goal. It also allows us to do a fair comparison of a guys who took 250 shots against a guy who only took, say, 75. We run each player in the league through this model to get an expected points output. From there, we can compare each individual player's efforts last year to the Average NCHC Skater and give them a rating based on how they compare to expectations.
What this method does is allows us to see the extent to which each forward took advantage of the opportunities they were given. That is, on average, each time Player X had the puck, how likely was he to make a decision that led to his team scoring compared with the other players in the league.
I'm going to look at this a little differently this year. I want to look at the top exectation-beating forwards from 2015-16, but first, let's look at the ten returning point leaders from above. In this chart, we can determine whether we expect them to repeat their stellar performance:
| Team | Player | Year | Total Shots | Expected Points | Actual Points | Rating |
| --- | --- | --- | --- | --- | --- | --- |
| NDAK | Brock Boeser | So | 263 | 60.18 | 60 | 1.00 |
| DEN | Dylan Gambrell | So | 167 | 29.69 | 47 | 1.58 |
| UNO | Austin Ortega | Sr | 306 | 42.00 | 36 | 0.86 |
| SCSU | Mikey Eyssimont | So | 160 | 32.70 | 33 | 1.01 |
| UNO | Justin Parizek | Sr | 180 | 24.93 | 28 | 1.12 |
| MIA | Anthony Louis | Sr | 214 | 30.27 | 26 | 0.86 |
| WMU | Griffen Molino | So | 132 | 22.53 | 25 | 1.11 |
| NDAK | Austin Poganski | Jr | 120 | 19.01 | 25 | 1.32 |
| MIA | Josh Melnick | So | 84 | 22.14 | 25 | 1.13 |
| SCSU | Blake Winiecki | Jr | 126 | 25.38 | 24 | 0.95 |
Here's what this table tells us: the "rating" on the right indicates whether a player overperformed or underperformed expectations. Above 1.00 is overperforming, and below 1.00 is underperforming. Now, the only thing we know for sure is that the players closes to 1.00 are WYSIWYG.
So, according to this, Brock Boeser is just as good as advertised. The model expected him to earn 60 points last year, and he did exactly that. It's only one year, but if he gets a similar amount of shots or more this year, we should expect his performance to continue. The same can be said for Eyssimont and Winiecki at SCSU.
The real wildcards on this list are overperformers Dylan Gambrell and Austin Poganski, and underperfomers Austin Ortega and Anthony Louis. The reason is that this over/underperformance could be indicative of two things – either these players are naturally over/underperformers, or they had very good/ very bad luck last season.
First the overperfomers. Gambrell earned 58% more points than we would have expected – is this because he played on that ridiculous "Pacific Rim" line last year? Surrounding talent can make a player look like a massive overachiever. Is it because he is just that good? Some players maintain overperformance season to season. Because Gambrell was only a freshman, it's hard to tell. If he maintains a rating of 1.5-ish this season, I think he's arguably the best player in the NCHC, all things being held equal. This analysis suggests he's making more of his puck time than just about anyone else in the conference. We'll only know once the season starts, though, if he can keep up this performance.
In Poganski's case, he's had a previous season for comparison, so it's a bit easier. Last year as a sophomore, he earned 32% more points than expected. His freshman year? 33%. So… he's just that good. He'll be a force this year again.
Underperformers Ortega and Louis also have previous experience to which we can compare. Last year, I though Louis would be one of the top forwards in the league, because of his 1.44 rating. But he dropped to 0.86 this year, meaning he steeply regressed and underperformed expectations. So it's hard to tell what to make – will we see 14-15 Louis this year or 15-16 Louis?
Ortega is a different story. Last year his performance was almost exactly at expectations (0.96). This year, he slumped. Really, I would feel most comfortable with a third year to compare, but we don't have shot data from Ortega's freshman year. Nevertheless, I think Maverick fans should take some comfort – this limited data suggests Ortega had an "off" year in 2015-16, and you could reasonably expect him to rebound to an at-expectation performance this season.
Does underperformance indicate a poor player? Absolutely not. But it does indicate a player not making the most of the opportunities he got. I think one of two things is likely happening. First, players may be choosing to shoot more often than pass away to a better opportunity. That's not necessarily a bad strategy – shooting more nets you more goals, as these two proved. The second thing that could be happening is that underperformers are called on to get their team out of tough spots – down one goal, overtimes, etc. When a player has to shoulder more of the offensive burden, the average quality of their looks is going to go down, so he's not going to appear as if he's using his puck time as wisely.
Under the Radar
Now let's look at the top-ten overperforming players. This won't necessarily return the top scorers or best players – it will return the guys who most beat expectations. This phrase feels so unscientific, but think of it as the guys with the "most hustle" or "best positioned" or "right-place, right time." These will usually be under-the-radar guys, but if you follow their team, you likely already know the contribution they're making. My argument is that these guys might be primed for a breakout year:
| Team | Player | Year | Total Shots | Expected Points | Actual Points | Rating |
| --- | --- | --- | --- | --- | --- | --- |
| NDAK | Trevor Olson | Jr | 53 | 0.94 | 4 | 4.25 |
| UNO | Luke Nogard | Jr | 71 | 3.19 | 8 | 2.51 |
| WMU | Matheson Iacopelli | So | 87 | 3.67 | 7 | 1.91 |
| WMU | Aaron Hadley | Sr | 51 | 5.47 | 9 | 1.65 |
| DEN | Dylan Gambrell | So | 167 | 29.69 | 47 | 1.58 |
| MIA | Zach Lavalle | So | 60 | 5.69 | 9 | 1.58 |
| UMD | Jared Thomas | Jr | 85 | 6.42 | 10 | 1.56 |
| NDAK | Johnny Simonson | Jr | 114 | 11.21 | 17 | 1.52 |
| SCSU | Patrick Newell | So | 76 | 16.15 | 22 | 1.36 |
| CC | Mason Bergh | So | 91 | 9.70 | 13 | 1.34 |
So, pretty amazing numbers from Trevor Olson and Luke Nogard – both exceptionally outperforming expectations (although with very small data sets). Good news for Western Michigan fans: you have two players who are potential breakout players this season in Iacopelli and Hadley. Interestingly every team has at least one player in the top ten – that's certainly not a guarantee. So everyone has a potential new breakout contributor this season. That's what happens when so much talent leaves. It's going to be an exciting year.
Oh, and there's Gambrell again. He beat expectations last year. But like all of these guys on this list, we'll see if he can do it again. Again, there's no guarantees on this list – the scores could be luck-driven, too. What's unique about Gambrell, however, is the sheer quantity of shots he takes in contrast with the rest of the list. It gets harder and harder to say that such a high rating is due to luck the more shots a player takes, because that "luck" would tend to even out. Looking at this list again, the two guys who took more than 100 shots – Gambrell and UND's Johnny Simonson – are most likely to be just that good.
I wouldn't be surprised to see any of these players make a huge impact this season, though.
So, that was a long road to get to this: Looking at the preponderance of the data, and making some judgment calls, I say…
Top Five Returning Forward in 2016-17
Brock Boeser, North Dakota (So.)
Dylan Gambrell, Denver (So.)
Austin Poganski, North Dakota (Jr.)
Mikey Eyssimont, St. Cloud (So.)
Austin Ortega, Omaha (Sr.)
Honorable mention: Johnny Simonson, North Dakota (Jr.); Patrick Newell, St. Cloud (So.); Justin Parizek, Omaha (Sr.); Josh Melnick, Miami (So.)
Top Five Under-the-Radar Forwards to Watch 2016-17
Trevor Olson, North Dakota (Jr.)
Luke Nogard, Omaha (Jr.)
Matheson Iacopelli, Western Michigan (So.)
Aaron Hadley, Western Michigan (Sr.)
Zach Lavalle, Miami (So.)
In a couple days, we'll finish up with the top defenders to watch this year, and we'll try to separate the offense-oriented guys from the true muscle at the blue line.