In June of 1831, Charles Darwin arrived in a small archipelago off the coast of Ecuador looking forward to taking some geologic samples and confirming the emerging theories on plate tectonics. When he left, he had collected hundreds of flora and fauna samples; observed strange and wondrous animals such as the giant tortoise, the marine iguana and the blue-footed booby; and had noticed the peculiar, subtle differences between species of animal from island to island. What would follow would literally change scientific knowledge and cement Darwin as one of the greatest minds the world has ever known.
In June of 2016, Taylor and I arrived in that same archipelago, and said, "Holy crap! We're in the mother-flippin' Galapagos Islands!"
Ok, so maybe we weren't as ambitious as Darwin, but we still found ourselves in one of the world's most unique and storied locations. Galapagos still inspires as a pristine paradise with dramatic implications for science, ecology and the way we think. And it's beautiful to boot. However, few visit Galapagos because it had a reputation of being remote and inaccessible.
I'm here to tell you it's accessible, and it's not as difficult to see as you might think.
There are two ways to see the islands and its treasures. Most people see Galapagos via cruise. You can make brief stops at multiple islands and truly see a large portion of the archipelago. Heck, that's how Darwin saw the islands, and it was inspiring enough to prompt his theory of evolution and The Origin of Species. Tickets for these trips tend to be fairly expensive, though, especially when you still have to factor in airfare. We opted for a less expensive, but still awe-inspiring, route. After all, whether by boat or by land, you're still in Galapagos. Seemingly every square inch of the islands have something incredible worth seeing.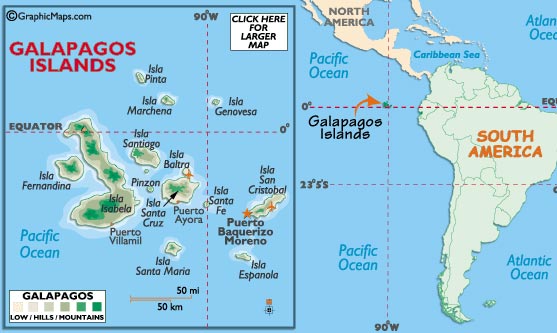 We planned to spend a week in Galapagos, visiting two of the major islands, Santa Cruz and Isabela. The only way to get to Galapagos is by plane, and you have to fly from mainland Ecuador. Our plane from Quito flew into Baltra, an old U.S. air base from World War II. We spent three days staying in Puerto Ayora, the largest settlement in Galapagos, before taking a ferry to Isabela's tiny Puerto Villamil for four more days. From both towns you can take day trips to a great variety of excursions and sites. I've outlined the highlights of our trip below.
The pros of our land-based Galapagos visit? We set our own schedule, we could take our time and enjoy the scenery and wildlife, we got to really explore two great locations, and we saved more than a couple bucks. In both towns, we sought out AirBnb lodging, and it worked beautifully. Our hostel in Puerto Ayora was fairly empty, and our room was nicer than most hotel rooms. When we switched to Puerto Villamil, we stayed in a private extra bedroom/bathroom house. The owners happened to own a tour company, so booking day trips posed no problems for us.
The downsides? Well, we didn't get to see other major islands or towns, like San Cristobal. We missed some of Galapagos most iconic sites because they're only accessible by boat. I'm not really complaining though. The wildlife and landscape we did see more than fulfilled our wishes.
You won't get to see absolutely everything the islands have to offer if you stick to land, but you'll see a lot. Check out this slideshow I put together of animals we saw in just our week of wandering and taking day trips.
Below I've listed some of the amazing trips and attractions you can see on Santa Cruz and Isabela. Check out some of the embedded links for longer write-ups of some of my favorite, including Reserva El Chato Tortoise Ranch, Las Tintoreras, and Sierra Negra. Also, if you're interested in where to eat while in Ayora or Villamil, check out this post.

Santa Cruz
The large island in the middle of the archipelago, Santa Cruz is a low-lying volcano covered in low greenery and bustling with activity on its southern end. One of Galapagos' main towns, Puerto Ayora, serves as a great host from which to visit dozens of incredible sites. Some of the unparalleled sites we saw on this first phase of our trip include:
Reserva El Chato (click for extended post): Located about 30 minutes north of Puerto Ayora, El Chato is an incredible protected ranch that serves as home to dozens of giant tortoises. You can walk among them and see them do their thing in their natural habitat. To me, it felt like the closest thing we have to a real Jurassic Park.
Las Grietas: On the other side of the Puerto Ayora bay, away from the seaside town, you'll find one of the world's most incredible swimming holes. Las Grietas (which translates to "The Cracks") is a deep, narrow gouge in the volcanic rock, filled with clear, blue spring water. Above you, huge cactuses perch on the high canyon walls. Below you, fish school in the cool, brackish water. For us, Las Grietas served as a great training ground for snorkeling. We visited on a Saturday, and the entrance to the area – which has a dock and some steps into the water – was fairly crowded. But if you swim down to the end of the cracks, you'll be virtually alone with the fish and crabs.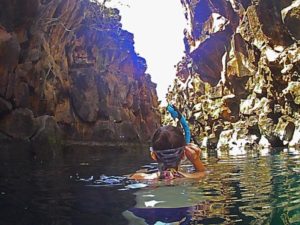 Tortuga Bay: Probably the top attraction in Santa Cruz/Puerto Ayora, Tortuga Bay is worth the mile-long walk. From Puerto Ayora, a paved path through what can only be described as a cactus forest takes you to one of the most pristine, blue beaches I've ever seen. The beach stretches for about a quarter mile. A few rocky outcrops serve as tanning beds for marine iguanas and crabs at low tide. At the end of the strip, you make a sharp right turn to a hidden gem. To the left is a raised volcanic rock area with a walkable, vertitable garden of cactuses that tower eight feet or higher. To the right, a mangrove forest home to sharks and sea turtles. In the middle, a calm cove perfect for recreational swimming, sunbathing and snorkeling. This is paradise.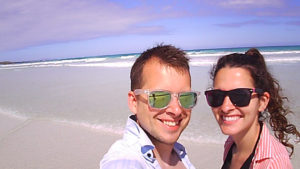 Darwin Research Station: A research and conservation laboratory tasked with protecting and saving the multitude of species unique to Galapagos, the Darwin Research Station might be one of the more prominent of Ayora. However, I wouldn't say it's one of the more amazing sites. While you can see tortoises, finches, native plants and some scientific displays, the station is truly a research site, meaning there's not a lot to see. The work they do is extremely important, and if you'd like to see the efforts they take to preserve the islands, do visit. But if you're pressed for time, I would peruse their website and skip the visit for something more memorable.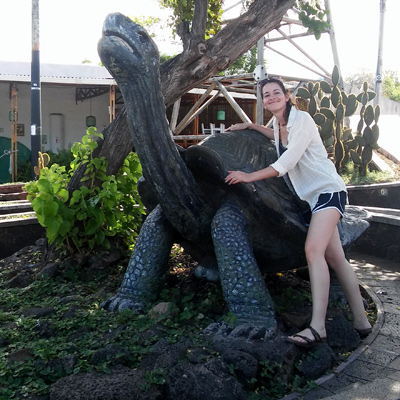 Puerto Ayora Fish Market: Calling this area a fish "market" might be an oversell – it's literally a small area on Charles Darwin Ave not much bigger than a patio where local fisherman collect their catches and prepare them for the local restaurants. However, the fish market offers some of the best entertainment on the island. The strong fish smell attracts sea lions and pelicans who beg, steal, sneak and generally make trouble for the poor fish mongers. We stayed for more than a few minutes watching one woman cut up her catch, then feed a curious sea lion who kept nudging her in the midsection until he got some scraps. Fun times.

Isabela
Standing on the beach of Puerto Villamil on Isabela Island, I felt like I was looking at the edge of the earth. One night after dinner, we went out the the water after dark. With nothing between us and Antarctica, we saw the Milky Way for the first time in our lives.
Isabela is the largest of the Galapagos Islands, made up of six active volcanoes waiting for their next eruption. Villamil is the largest settlement there, and there's hardly anything in it. With a population of a few thousand people, it felt mostly deserted during our visit, but you don't go for the hoppin' nightlife. Instead, you go for the hiking, diving, snorkeling and wildlife spotting:
Concha de Perla: For the excellent price of nothing, you can snorkel with tropical fish, sea turtles, rays, iguanas and more at this intimate inlet just a few hundred yards from Villamil's port. Bring your own gear, and be warned, the water is chilly, but you get used to it quick. Under the surf, you'll find all kinds of life. In one of the most amazing moments of our trip, we watched dumbfounded as a sea turtle swam right next to us to feed on algae. Also, iguanas and sea lions frequently hang out at the dock if you're hoping to make some friends.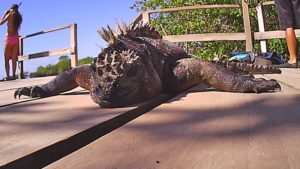 Sierra Negra (click for extended post): Sierra Negra is the largest of the Galapagos volcanoes. With a massive caldera more than seven miles across, a hike up Sierra Negra quickly turns into an otherworldly moonscape. See my post above for more about this feature of Galapagos' strange geology.
Tintoreras (click for extended post): Nearly every penguin in the world lives south of the equator. However, one species lives right at the equator, and they live right here in Tintoreras. A five-minute boat ride from Villamil, Tintoreras is a sharp pile of rocks sticking awkwarldy out of the shallows of Galapagos, but it's home to the most incredible variety of wildlife, both above water and below. Here, we saw iguanas, boobies, penguins, sharks, rays, more penguins, sea lions, sea cucumbers, frigate birds, and yes, more penguins. See the post linked above for video, photos and more.
Isabela Beach: The main beach of Villamil anchors the south edge of town, where the water might be a little rough and rocky for swimming, but the sunsets are picturesque (see photo above). We spent nearly every night walking the beach, and along the main section of sand, restaurants and bars offer great drinks and greater food if you're so inclined.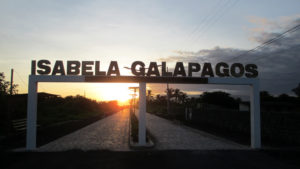 Tortoise Breeding Station: Ayora's Darwin Research Center might get all the attention, but VIllamil's Tortoise Breeding Center truly has everything you're looking for. Here, almost every species of Galapagos tortoise lives and helps keep the population alive and healthy, thanks to the scientist who work here. Not only will you see massive, 100-year-old adults lumbering around, you'll see one-year-old tortoises the size of you fist scrambling around in protected cages. It's adorable.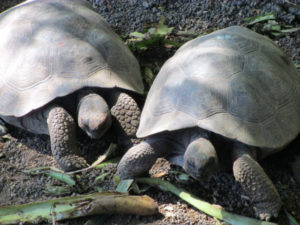 Playa del Amor: There's a nice easy trail west of town that stretches over 7 kilometers and ultimately ends at the Wall of Tears. We didn't make it all the way there, but one of the stops along the trail is Playa del Amor, a quiet beach where the shore is covered with tiny multicolored shells and small pools of ocean water where fish get trapped after the tide recedes. I wouldn't make a huge effort to get out here, but if you're on the trail and want to make a nice pit stop, see this beach. It's got a great view of the ocean and southern shore.
Again, there are all kinds of sites we didn't see – The Tunnels, Garrapatera Beach, whale-watching, etc. – but I don't really care. We saw more once-in-a-lifetime sights in seven short days than we've seen in our whole lives, and it was worth every moment. Even if you can't see everything staying on land, what you will see makes it more than worth it.
I'm happy to answer any questions in the comments, or feel free to check out some of out other adventures below!