You know that scene in Jurassic Park? The one where the jeeps stop, and Sam Neill, hands shaking, pulls off his sunglasses and first lays eyes on a living, snorting brontosaurus? That's how it feels to walk into Reserva El Chato.
Our visit unfolded in much the same way. Our taxi driver parked his truck in a gravel parking lot and pointed out the front windshield to something. Not seeing what he was gesturing toward, and neither us nor him speaking much of the other's language, he motioned for us to get out and follow him. We did, and not 100 feet into the park's low trees and grassland, two Galapagos giant tortoises lay bathing in a pool of mud.
For the tortoises, we probably served as another daily annoyance standing in their sunlight, as their resting tortoise faces betrayed. But for me, having arrived on the island of Santa Cruz in the Galapagos just hours earlier, it finally dawned that I was standing in the Land that Time Forgot. There's nothing like a staring contest with a 120-year-old reptile to make you feel like you've reached the end of the earth.
Reserva El Chato is one of the most spectacular reserves I'll probably ever see. Located on Santa Cruz, the large island in the middle of the volcanic Galapagos archipelago, El Chato is a nature reserve for the island's famous giant tortoises. For the ridiculously underpriced entrance fee of $3 per person, you can spend an entire day walking among the forest, watering holes and grasslands where these living legends lumber.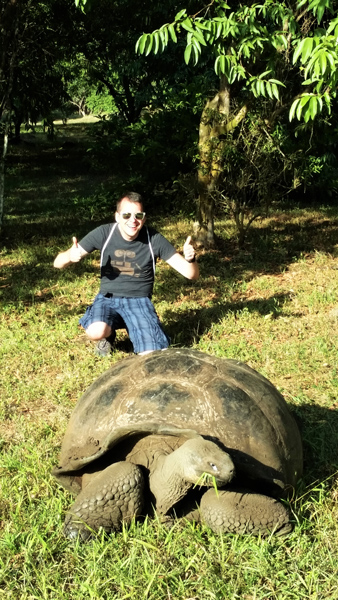 If you want to get to El Chato, any taxi drive on Santa Cruz should be able to take you there for about $25-$30. For a few extra dollars, they might even serve as a guide for you, as our driver did. From Puerto Ayora, the main town on Santa Cruz, the drive takes about 30 minutes. There are actually two El Chato areas, and we visisted El Chato II, where you can see not only the tortoises but walk down into a few very large lava tunnels.
We arrived at the ranch just before dusk, which turned out to be a great time because the tortoises were becoming more active at this time, converging on the watering holes and coming out from under the shade of trees to munch on tall grass and wildflowers.
The world is lucky to have a place like El Chato, where wild animals can live and move freely in and out of their natural habitat without any restrictions. We're also lucky these tortoises are still around – back a few hundred years ago, pirates and sailors were rounding up these docile creatures by the thousands, shipping them to Europe and eating them. Fortunately they have free roam and are highly protected now – so much so that if one wanders into the road and you hit it with your car, you could be fined $12,000.
Depending on the source, Galapagos originally hosted between 12 and 15 species of giant tortoise. Today,  only 11 species survive. The most recent species went extinct in 2012 when Lonesome George, the last of the Pinta Island tortoises, died at the Darwin Research Station.
The research center, in Santa Cruz, houses a few giant tortoises and is engaged in critical conservation work to preserve and protect the giant tortoise populations throughout Galapagos. However, as a Darwin employee themselves told us, if you really want to see the wonder of the eponymous Galapagos tortoises, head to El Chato. Having visited both the research station and El Chato, I agree. You won't be disappointed.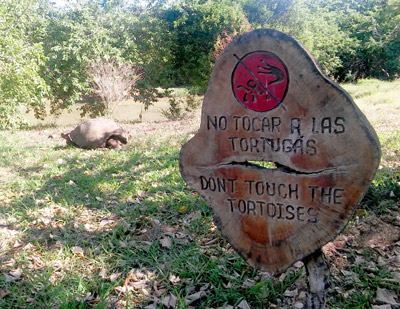 If you visit Galapagos, you'll see all kinds of animals just by keeping your eyes open. But the tortoises stick with me because they seem so ancient, so mythical and unreal. Some of these animals were wandering around when my great-great-grandparents were born, and that makes me feel pretty lame as a mere human.
The tortoises fascinated Charles Darwin himself. He even tried riding one, something I wouldn't recommend doing today. A few people claim that some of those same tortoises Darwin saw still wander the highlands today, but considering that was nearly 200 years ago, I wouldn't count on it. Still, these tortoises have probably met more people than you ever will.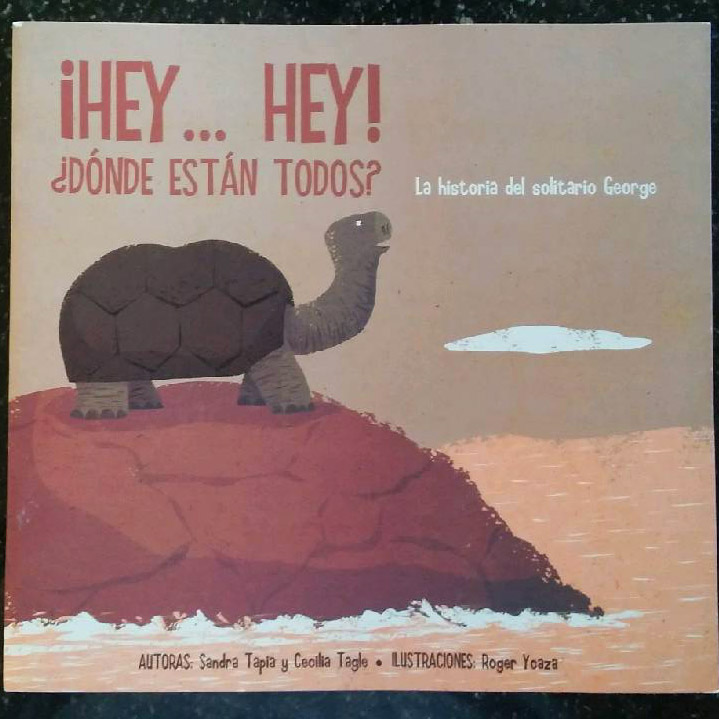 After our visit, walking through the shops in Santa Cruz, I discovered what is simultaneously the saddest and most adorable children's book I have ever seen: "¡Hey… Hey! ¿Dónde Estan Todos?" by Sandra Tapia and Cecilia Tagle. The book is in Spanish, but it's little-kid-level Spanish, so I can comprehend about half of the book. Side note: if you want to feel really dumb, buy a Spanish children's book and try to read it without any kind of translation assistance. The pictures are very nice.
Anyway, the book tells Lonesome George's story as he looks for his family, recruits all of the animals of Galapagos to help and becomes a world-famous symbol of conservation and protection of our wildlife and world. It… obviously doesn't have a happy ending for George.
However, it carries a great message, one you'll leave El Chato with – it's on all of us to protect our environment and help fight climate change by making smarter choices. If we do this, 120 years from now, our great-great grandchildren will go to places like El Chato on Galapagos and see the same tortoises bred and born today.
A few photos: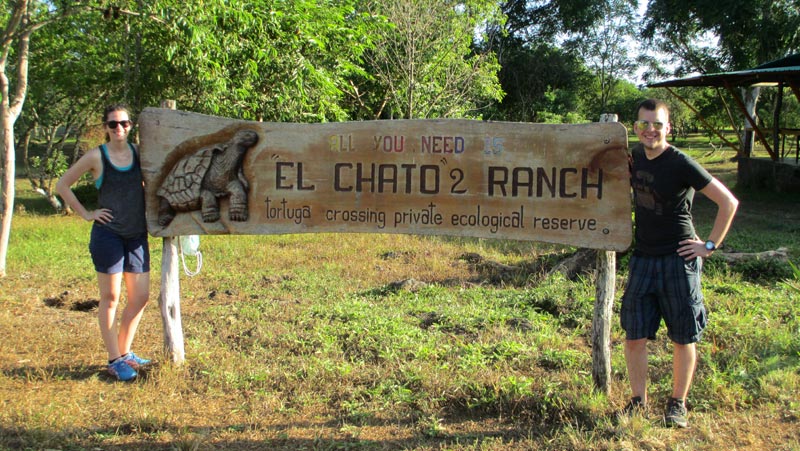 Proof. Ask your driver for El Chato II.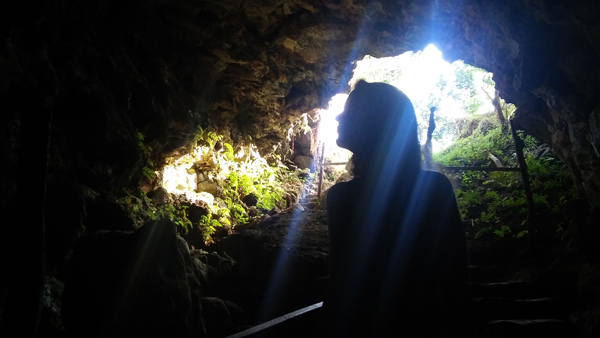 Taylor walks into one of the massive lava tunnels underneath El Chato.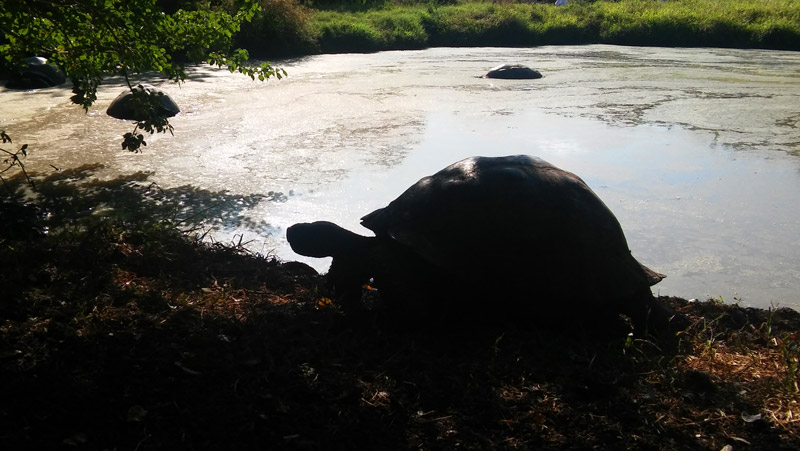 Read more about our travels in Peru and Galapagos below!