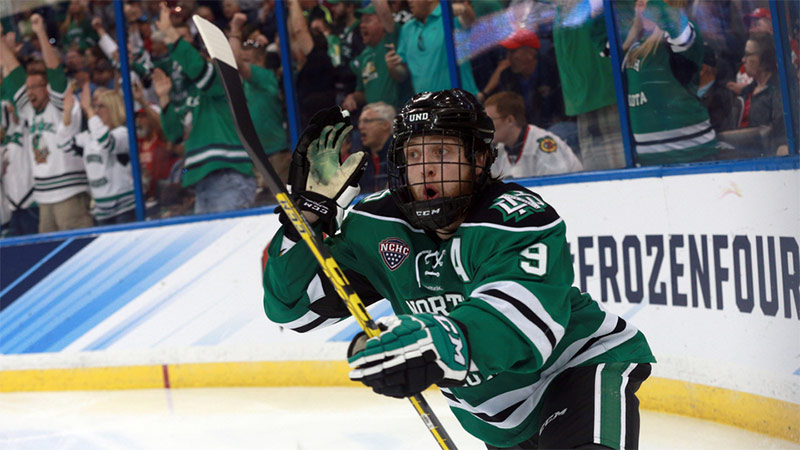 Welcome back, NaCoHoCo fans. It's been a long offseason – partying for some of us (North Dakota, Denver), pangs for others (Omaha, Miami), pleading for others still (Arizona State, Mankato). But the days are getting shorter, the lattes are getting pumpkin spicier and the rev of distant zamboni motors grows and grows. Let's talk college hockey, eh?
It's destined to be another exciting year in the National Collegiate Hockey Conference. Sure, it's tough to beat a national championship season. How about another one? And sure, the conference lost a lot of talent to graduation and pro contracts, but there are incredibly talented goaltenders, forwards and defenders returning for another year of play. How will it all shake out?
The writers and experts have had their say, and once again, I'm taking a stab using shot data from last season to predict how the conference race might unfold this year.
We haven't always agreed, these hockey writers and me (me being "data", I mean). In the last couple of years I've been doing this, the data has uncovered some interesting trends that bucked conventional wisdom. Two years ago, this statistical model helped predict an insurgent UNO Maverick team (that ultimately made the Frozen Four). Last year, it pegged Denver as the conference favorite – wrong, but the Pios did make the Frozen Four.
Sometimes data finds the trends that we don't normally see. Other times, it simply confirms what everyone already knows. This year, as we're about to see, is one of those years.
I've collected individual-level data on all NCHC players from 2015-16, primarily goals, shots, shot%, save% and a derived possession-share (individual shots/all shots). That data is readily available thanks to better tracking by the NCHC and more in-depth shot statistics compiled by College Hockey News. (P.S. to NCHC's marketing team: I love the new website and data page – huge improvements. Someone's been reading?)
As is tradition, we're going to adjust sh%, sv% and possession for each team based on what we know about roster changes, particularly about who is returning and who has left. To do this, I have to make some assumptions about players and teams. I'll try to keep these as safe as possible: