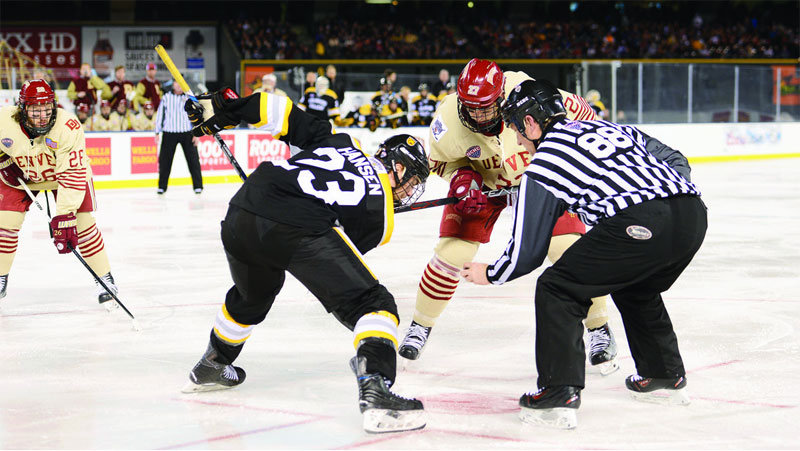 Last year turned into a banner year for the National Collegiate Hockey Conference's offensive players. Two seasons ago, the top 20 NCHC forwards combined for 703 points. Last year? 808 – nearly 15% more scoring. High-powered offense certainly made for more than a few exhilarating tilts.
Now as 2016-17 approaches, NCHC hockey returns but without 14 of the leagues 20 top forwards, six of whom departed early. Adios, Kalle Kossila. See ya, Danton Heinen. Peace out, Nick Schmaltz. Jack Roslovic? We hardly knew ye.
A huge vacuum of talent waits to be filled, but in this league the wait never lasts long. Who's going to step in for all that lost offensive production? My goal here is to figure that out.
Earlier this week I looked at returning NCHC goaltenders, finding few surprises. That's not so with the NCHC forwards. Much like with the goalie model Taylor and I developed, we have utilized the new data available from College Hockey News to look beyond the traditional scouting reports. With a more complete picture of the shot statistics available, we can get closer to understanding who's really changing the game with their ice time, and who stands out as the most effective forwards in the league. I'll spare you the gory methodology since it's about the same as last year's analysis.
Let's get warmed up by applying that analysis to those NCHC forwards not returning in 2016-17.
Top Losses
Looking only at guys who played in 50% or more of their team's games, the NCHC loses 31 forwards, just a few more than last year. As I mentioned above, though, the list is top heavy, and some teams get hit harder than others.
St. Cloud State loses its top five point earners, for starters. The represents 61% of their forward's scoring from 2015-16, and even for a strong program like SCSU, that's a tough roster to reload. Denver and North Dakota each lose three of their top five scorers, though for Denver that includes underclassmen Heinen and Trevor Moore. For North Dakota, Nick Schmaltz leaves early, as does Luke Johnson. Most unscathed is probably Western Michigan – losing only 15% of their scoring from last season.
Teams losing their top-scoring forward include Colorado College (Hunter Fejes), Denver (Heinen), Miami (Roslovic), St. Cloud (Kossila), Duluth (Tony Cameranisi), and Omaha (Jake Guentzel). Only Western Michigan and North Dakota return their top forward. Woof.
Let's warm up by applying the advanced model to the top 10 departing NCHC forwards by points earned: