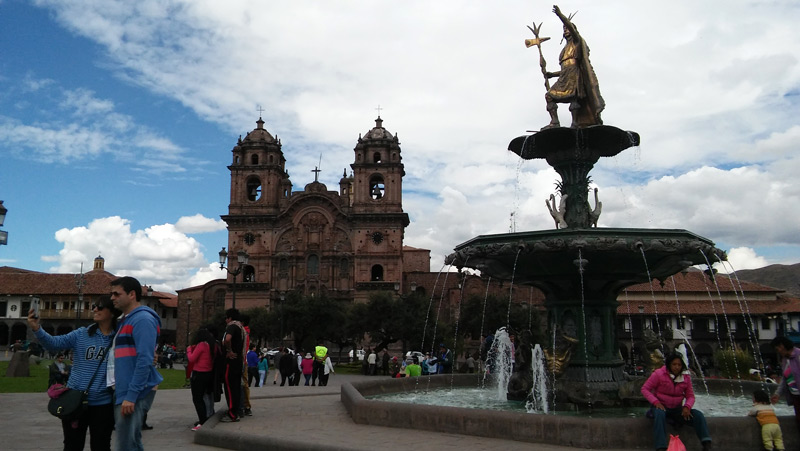 Tired, hungry and agitated, I stepped out of our plane into the high valley in the Andes mountains and immediately felt the crisp, thin air in my lungs. My flight weariness disappeared – I was now literally on top of the world. Welcome to Peru – welcome to Cusco.
Yes, obviously I did also start singing the opening number from "The Emperor's New Groove" to my wife. Cuscooooooo…
At an elevation of 11,300 feet and surrounded by rolling hills of the Andes mountains, Cusco is unique among places I've visited. Its history is unique – the former capital of the Inca empire still features structures, roads and walls built centuries ago, some now capped by the architecture of the former Spanish Empire.
Historic sites
One of the more scenic sites include Plaza de Armas (pictured above), with its two Spanish cathedrals and central fountain dedicated to the greatest Inca emperor, Pachacuti. Nearby, you can walk down the narrow Hatun Rumiyoc, an original Inca street lined with an example of their mindblowing masonry – massive white granite cut to fit together so tightly, to paraphrase on of Pizarro's conquistadors, you can't fit a pin between the cracks. It's a cool sight, but be forewarned, the street has been something of a tourist trap.
Other sites near the city center include Qorikancha, site of the Inca empires most sacred temple, razed by the Spanish and now the site of a Spanish mission. Sacsayhuaman sits atop a hill to the north of the city square, overlooking the entire valley. This site was the most important fortress of the Inca empire and saw the apex of a desperate skirmish between Inca and Spanish forces in 1536. Also, the name is Quechua for "the fortress of the satisfied falcon," which is awesome. Due to unforeseen circumstances, however, we didn't get to see either of these sites up close.
Instead, we found ourselves surrounded by 40,000 Peruvians celebrating the annual Corpus Christi festival, one of the most extravagant annual fiestas in all of Peru. We had no idea when we booked the trip that we would be in town during the annual Catholic festival, which comes complete with marching bands, elaborate processions, fanciful idols and revelers of all stripes. What a sight to see! The fortuitous turn more than made up for missing some of the historic sites.
City and people
Away from the tourist centers, Cusco is one of the grittier cities I've visited – stray dogs are endemic, and organic waste littered many of the side streets. But it didn't seem worse than the more rugged alleys in, say, San Francisco or Chicago. Long narrow streets line with unbroken tall walls and barred storefronts can induce mild claustrophobia, but I never felt unsafe. The hilly streets were eerily quiet at night, however, and we didn't spend too much time roaming the city after dark.
But the people of Cusco were largely friendly and mostly preoccupied with their daily tasks. We spent most of our time near the city's center, which filled daily with business men and women in suits walking next to diminutive old women in traditional dress and gaucho hats taller than themselves. More than one baby waved at me from the pouch strapped to its mother's back. I got by with my minimal Spanish (with mucha ayuda from my infinitely more proficient wife), but most people I encountered spoke at least as much English as I spoke Spanish. It is a tourist center, after all.
Lodging
Cusco has plenty of hotels and hostels that I'm sure are very nice, but we opted for an Airbnb near the city center. Through the front doors, our room was on the bottom floor of a Spanish-style courtyard, and was not much more than a couple empty rooms behind a simple padlocked wooden door. Upsides – plenty of room, privacy and we could come and go as we pleased. Downsides – no hot water and no heat, both problematic when the late May temperatures dipped into the 40s outside. Still, I'd recommend the experience for the savings and a more authentic perspective on the city.
Food
As for the culinary offerings of the city, I can't say enough. All of our meals were light, flavorful and centered around locally sourced offerings – quinoa, trout, potatoes, passion fruit, coca tea, and more. Oh, and pisco – pisco everywhere. I enjoyed a few new food adventures, including sucking the slimy seeds out of a granadilla and dipping alpaca skewers in spicy Peruvian aji sauce. I've post more detailed and specific restaurant reviews here.
Overall, I wish we could have stayed a little longer in Cusco, especially since an entire day was consumed by the Corpus Christi festival. Though not a huge city, there's just so much history and culture to see so high up in the Andes, and an extra day probably wouldn't have been enough anyway. But Cusco was never a destination for us – the main event, the Inca Trail and Machu Picchu, lay ahead for us, so our time in the city was short. Thanks for letting us pass through, Cusco – we won't soon forget it.