2016 NCHC Season Stats & Predictions (Final)
| Team | GP | Goals For | Goals A. | Shots For | Shots A. | Shot % | Save % | Possession % | Preseason | Predicted Final | Real Pts |
| --- | --- | --- | --- | --- | --- | --- | --- | --- | --- | --- | --- |
| St. Cloud State | 24 | 104 | 53 | 777 | 690 | 13.38% | 92.32% | 53.0% | 37 (5) | 63 (1) | 53 (2) |
| North Dakota | 24 | 89 | 49 | 745 | 636 | 11.95% | 92.30% | 53.9% | 41 (3) | 58 (2) | 59 (1) |
| Minnesota-Duluth | 24 | 64 | 44 | 846 | 604 | 7.57% | 92.72% | 58.3% | 44 (2) | 47 (3) | 37 (4) |
| Denver | 24 | 74 | 52 | 731 | 739 | 10.12% | 92.96% | 49.7% | 44 (1) | 46 (4) | 53 (3) |
| Miami | 24 | 54 | 65 | 660 | 659 | 8.18% | 90.14% | 50.0% | 34 (6) | 29 (5) | 31 (5) |
| Omaha | 24 | 60 | 83 | 693 | 706 | 8.66% | 88.24% | 49.5% | 38 (4) | 24 (6) | 25 (6) |
| Western Michigan | 24 | 56 | 103 | 704 | 836 | 7.95% | 87.68% | 45.7% | 29 (7) | 15 (7) | 17 (7) |
| Colorado College | 24 | 47 | 99 | 594 | 870 | 7.91% | 88.62% | 40.6% | 21 (8) | 13 (8) | 13 (8) |
Updated 04-04-2016. All predictions +/-2.475 points.

This chart predicts the final points each NCHC team will earn in the 2015-16 season. Goals for, goals against, shots for, shots against, shot percentage, save percentage, and possession data are real game data.

"Preseason" notes the predicted final points I made prior to the 2015-16 season.

"Predicted Final" represents to-date results of a regression model to predict final points/standings.

Final results of the 2015 model.
More NCAA Hockey Analysis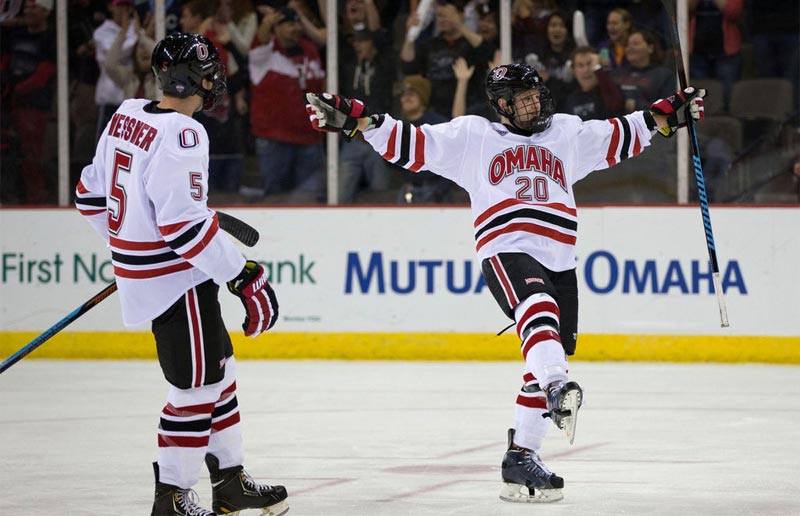 More NCHC Analysis
Read more NCHC articles and analysis throughout the season.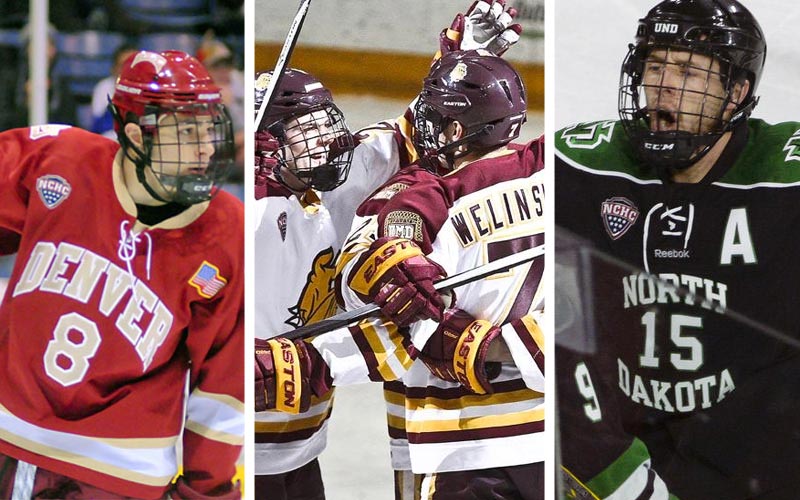 2016 NCHC Prediction
Oct. 8 - What's statistically expected from NCHC 2016.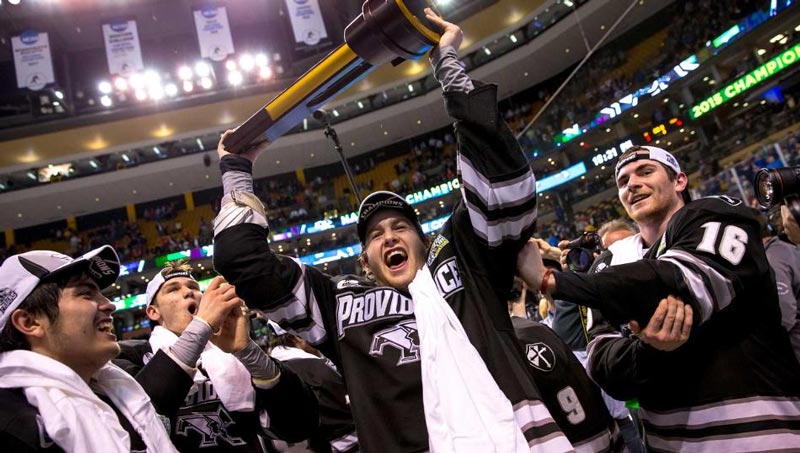 PDO in College Hockey
PDO is a misunderstood stat in NCAA, but context is key.
| | | | | | | | | | | | | | | | |
| --- | --- | --- | --- | --- | --- | --- | --- | --- | --- | --- | --- | --- | --- | --- | --- |
| Game | Date | Opponent | Result | Pts | GF | GA | SHF | SHA | SH% | SV% | Sea. SH% | Sea. SV% | Sea. Poss. | Sea. Pts. | Model |
| 1 | 30-Oct | North Dakota | L | 0 | 2 | 5 | 21 | 37 | 9.52% | 86.49% | 9.52% | 86.49% | 36.2% | 0 | 8.9 |
| 2 | 31-Oct | North Dakota | L | 0 | 0 | 2 | 29 | 42 | 0.00% | 95.24% | 4.00% | 91.14% | 38.8% | 0 | 2.3 |
| 3 | 6-Nov | at Denver | L | 0 | 3 | 5 | 23 | 38 | 13.04% | 86.84% | 6.85% | 89.74% | 38.4% | 0 | 9.8 |
| 4 | 7-Nov | Denver | L | 0 | 1 | 3 | 20 | 32 | 5.00% | 90.63% | 6.45% | 89.93% | 38.4% | 0 | 8.7 |
| 5 | 20-Nov | Minnesota Duluth | L | 0 | 0 | 5 | 19 | 39 | 0.00% | 87.18% | 5.36% | 89.36% | 37.3% | 0 | 1.1 |
| 6 | 21-Nov | Minnesota Duluth | L | 0 | 0 | 6 | 26 | 31 | 0.00% | 80.65% | 4.35% | 88.13% | 38.7% | 0 | 0.0 |
| 7 | 4-Dec | Miami | W | 3 | 2 | 1 | 33 | 21 | 6.06% | 95.24% | 4.68% | 88.75% | 41.6% | 3 | 3.0 |
| 8 | 5-Dec | Miami | W | 3 | 3 | 2 | 24 | 36 | 12.50% | 94.44% | 5.64% | 89.49% | 41.4% | 6 | 6.3 |
| 9 | 11-Dec | at W Michigan | L | 0 | 3 | 7 | 28 | 35 | 10.71% | 80.00% | 6.28% | 88.42% | 41.8% | 6 | 5.9 |
| 10 | 12-Dec | at W Michigan | L | 0 | 3 | 5 | 33 | 38 | 9.09% | 86.84% | 6.64% | 88.25% | 42.3% | 6 | 7.4 |
| 11 | 8-Jan | at St. Cloud State | L | 0 | 1 | 2 | 27 | 36 | 3.70% | 94.44% | 6.36% | 88.83% | 42.4% | 6 | 8.2 |
| 12 | 9-Jan | at St. Cloud State | W | 3 | 5 | 2 | 22 | 49 | 22.73% | 95.92% | 7.54% | 89.63% | 41.3% | 9 | 15.0 |
| 13 | 22-Jan | at North Dakota | T | 1 | 5 | 5 | 23 | 26 | 21.74% | 80.77% | 8.54% | 89.13% | 41.6% | 10 | 18.0 |
| 14 | 23-Jan | at North Dakota | L | 0 | 1 | 5 | 19 | 32 | 5.26% | 84.38% | 8.36% | 88.82% | 41.4% | 10 | 15.9 |
| 15 | 29-Jan | Nebraska Omaha | W | 3 | 5 | 1 | 30 | 37 | 16.67% | 97.30% | 9.02% | 89.41% | 41.6% | 13 | 21.0 |
| 16 | 30-Jan | Nebraska Omaha | L | 0 | 1 | 6 | 12 | 26 | 8.33% | 76.92% | 9.00% | 88.83% | 41.2% | 13 | 18.6 |
| 17 | 5-Feb | at Minnesota Duluth | L | 0 | 3 | 5 | 27 | 42 | 11.11% | 88.10% | 9.13% | 88.78% | 41.1% | 13 | 18.9 |
| 18 | 6-Feb | at Minnesota Duluth | L | 0 | 2 | 3 | 23 | 35 | 8.70% | 91.43% | 9.11% | 88.92% | 41.0% | 0 | 19.2 |
| 19 | 18-Feb | Denver | L | 0 | 1 | 4 | 28 | 33 | 3.57% | 87.88% | 8.78% | 88.87% | 41.3% | 13 | 17.9 |
| 20 | 20-Feb | at Denver | L | 0 | 1 | 4 | 25 | 47 | 4.00% | 91.49% | 8.54% | 89.04% | 40.9% | 13 | 17.0 |
| 21 | 26-Feb | at Miami | L | 0 | 0 | 3 | 31 | 26 | 0.00% | 88.46% | 8.03% | 89.02% | 41.5% | 13 | 15.3 |
| 22 | 27-Feb | at Miami | L | 0 | 0 | 4 | 24 | 44 | 0.00% | 90.91% | 7.68% | 89.13% | 41.2% | 13 | 13.8 |
| 23 | 4-Mar | St. Cloud State | L | 0 | 2 | 5 | 24 | 55 | 8.33% | 90.91% | 7.71% | 89.25% | 40.6% | 13 | 13.8 |
| 24 | 5-Mar | St. Cloud State | L | 0 | 3 | 9 | 23 | 33 | 13.04% | 72.73% | 7.91% | 88.62% | 40.6% | 13 | 12.6 |
| | | | | | | | | | | | | | | | |
| --- | --- | --- | --- | --- | --- | --- | --- | --- | --- | --- | --- | --- | --- | --- | --- |
| Game | Date | Opponent | Result | Pts | GF | GA | SHF | SHA | SH% | SV% | Sea. SH% | Sea. SV% | Sea. Poss. | Sea. Pts. | Model |
| 1 | 6-Nov | Colorado College | W | 3 | 5 | 3 | 38 | 23 | 13.16% | 86.96% | 13.16% | 86.96% | 62.3% | 3 | 60.7 |
| 2 | 7-Nov | at Colorado College | W | 3 | 3 | 1 | 32 | 20 | 9.38% | 95.00% | 11.43% | 90.70% | 61.9% | 6 | 64.8 |
| 3 | 13-Nov | at Minnesota Duluth | W | 3 | 3 | 0 | 29 | 27 | 10.34% | 100.00% | 11.11% | 94.29% | 58.6% | 9 | 68.6 |
| 4 | 14-Nov | at Minnesota Duluth | T | 1 | 1 | 1 | 20 | 46 | 5.00% | 97.83% | 10.08% | 95.69% | 50.6% | 10 | 56.4 |
| 5 | 4-Dec | at North Dakota | L | 0 | 1 | 5 | 23 | 22 | 4.35% | 77.27% | 9.15% | 92.75% | 50.7% | 10 | 42.7 |
| 6 | 5-Dec | at North Dakota | L | 0 | 0 | 4 | 18 | 37 | 0.00% | 89.19% | 8.13% | 92.00% | 47.8% | 10 | 32.1 |
| 7 | 11-Dec | St. Cloud State | L | 0 | 2 | 5 | 19 | 33 | 10.53% | 84.85% | 8.38% | 90.87% | 46.3% | 10 | 27.7 |
| 8 | 12-Dec | St. Cloud State | L | 0 | 2 | 6 | 29 | 31 | 6.90% | 80.65% | 8.17% | 89.54% | 46.5% | 10 | 22.7 |
| 9 | 8-Jan | at Nebraska Omaha | W | 3 | 3 | 0 | 19 | 35 | 15.79% | 100.00% | 8.81% | 90.88% | 45.3% | 13 | 28.6 |
| 10 | 9-Jan | at Nebraska Omaha | W | 3 | 4 | 3 | 18 | 28 | 22.22% | 89.29% | 9.80% | 90.73% | 44.8% | 16 | 31.9 |
| 11 | 15-Jan | Western Michigan | W | 3 | 5 | 3 | 33 | 33 | 15.15% | 90.91% | 10.43% | 90.75% | 45.4% | 19 | 35.3 |
| 12 | 16-Jan | Western Michigan | T | 1 | 2 | 2 | 51 | 32 | 3.92% | 93.75% | 9.42% | 91.01% | 47.3% | 20 | 33.9 |
| 13 | 22-Jan | Minnesota Duluth | W | 3 | 3 | 2 | 29 | 46 | 10.34% | 95.65% | 9.50% | 91.53% | 46.4% | 23 | 35.0 |
| 14 | 23-Jan | Minnesota Duluth | W | 3 | 2 | 1 | 29 | 35 | 6.90% | 97.14% | 9.30% | 91.96% | 46.3% | 26 | 35.5 |
| 15 | 29-Jan | at Miami | L | 0 | 1 | 3 | 21 | 30 | 4.76% | 90.00% | 9.07% | 91.84% | 46.0% | 26 | 33.8 |
| 16 | 30-Jan | at Miami | W | 3 | 5 | 3 | 31 | 21 | 16.13% | 85.71% | 9.57% | 91.58% | 46.8% | 29 | 35.9 |
| 17 | 12-Feb | North Dakota | W | 3 | 6 | 4 | 31 | 45 | 19.35% | 91.11% | 10.21% | 91.54% | 46.4% | 32 | 38.1 |
| 18 | 13-Feb | North Dakota | W | 3 | 4 | 1 | 25 | 35 | 16.00% | 97.14% | 10.51% | 91.88% | 46.1% | 35 | 40.2 |
| 19 | 18-Feb | at Colorado College | W | 3 | 4 | 1 | 33 | 28 | 12.12% | 96.43% | 10.61% | 92.09% | 46.5% | 38 | 41.8 |
| 20 | 20-Feb | Colorado College | W | 3 | 4 | 1 | 47 | 25 | 8.51% | 96.00% | 10.43% | 92.25% | 47.6% | 41 | 42.9 |
| 21 | 26-Feb | at Western Michigan | W | 3 | 5 | 1 | 40 | 21 | 12.50% | 95.24% | 10.57% | 92.34% | 48.5% | 44 | 44.8 |
| 22 | 27-Feb | at Western Michigan | W | 3 | 4 | 1 | 36 | 33 | 11.11% | 96.97% | 10.60% | 92.57% | 48.7% | 47 | 45.9 |
| 23 | 4-Mar | Nebraska Omaha | W | 3 | 3 | 0 | 34 | 26 | 8.82% | 100.00% | 10.51% | 92.84% | 49.0% | 50 | 46.8 |
| 24 | 5-Mar | Nebraska Omaha | W | 3 | 2 | 1 | 46 | 27 | 4.35% | 96.30% | 10.12% | 92.96% | 49.7% | 53 | 46.4 |
| | | | | | | | | | | | | | | | |
| --- | --- | --- | --- | --- | --- | --- | --- | --- | --- | --- | --- | --- | --- | --- | --- |
| Game | Date | Opponent | Result | Pts | GF | GA | SHF | SHA | SH% | SV% | Sea. SH% | Sea. SV% | Sea. Poss. | Sea. Pts. | Model |
| 1 | 30-Oct | at St. Cloud State | L | 0 | 0 | 3 | 15 | 40 | 0.00% | 92.50% | 0.00% | 92.50% | 27.3% | 0 | 0.0 |
| 2 | 31-Oct | at St. Cloud State | L | 0 | 1 | 3 | 34 | 25 | 2.94% | 88.00% | 2.04% | 90.77% | 43.0% | 0 | 0.0 |
| 3 | 6-Nov | W Michigan | W | 3 | 2 | 1 | 38 | 24 | 5.26% | 95.83% | 3.45% | 92.13% | 49.4% | 3 | 14.1 |
| 4 | 7-Nov | W Michigan | W | 3 | 2 | 1 | 32 | 30 | 6.25% | 95.00% | 4.20% | 92.66% | 52.2% | 6 | 22.7 |
| 5 | 13-Nov | at North Dakota | L | 0 | 2 | 6 | 21 | 32 | 9.52% | 81.25% | 5.00% | 90.07% | 49.8% | 6 | 14.5 |
| 6 | 14-Nov | at North Dakota | L | 0 | 3 | 4 | 14 | 36 | 21.43% | 88.89% | 6.49% | 89.83% | 46.5% | 6 | 16.4 |
| 7 | 20-Nov | Nebraska Omaha | T | 2 | 3 | 3 | 24 | 25 | 12.50% | 88.00% | 7.30% | 89.60% | 46.8% | 8 | 19.5 |
| 8 | 21-Nov | Nebraska Omaha | L | 0 | 2 | 3 | 32 | 25 | 6.25% | 88.00% | 7.14% | 89.43% | 48.1% | 8 | 19.6 |
| 9 | 4-Dec | at Colorado College | L | 0 | 1 | 2 | 21 | 33 | 4.76% | 93.94% | 6.93% | 90.00% | 47.0% | 8 | 19.4 |
| 10 | 5-Dec | at Colorado College | L | 0 | 2 | 3 | 36 | 24 | 5.56% | 87.50% | 6.74% | 89.79% | 48.5% | 8 | 19.5 |
| 11 | 8-Jan | Minnesota Duluth | T | 2 | 1 | 1 | 25 | 37 | 4.00% | 97.30% | 6.51% | 90.65% | 47.6% | 10 | 20.4 |
| 12 | 9-Jan | Minnesota Duluth | L | 0 | 2 | 5 | 15 | 22 | 13.33% | 77.27% | 6.84% | 89.80% | 47.2% | 10 | 18.5 |
| 13 | 22-Jan | at Nebraska Omaha | W | 3 | 3 | 1 | 34 | 28 | 8.82% | 96.43% | 7.04% | 90.30% | 47.9% | 13 | 21.8 |
| 14 | 23-Jan | at Nebraska Omaha | W | 3 | 7 | 3 | 27 | 30 | 25.93% | 90.00% | 8.42% | 90.27% | 47.9% | 16 | 27.8 |
| 15 | 29-Jan | Denver | W | 3 | 3 | 1 | 30 | 21 | 10.00% | 95.24% | 8.54% | 90.52% | 48.5% | 19 | 29.9 |
| 16 | 30-Jan | Denver | L | 0 | 3 | 5 | 21 | 31 | 14.29% | 83.87% | 8.83% | 90.07% | 48.1% | 19 | 29.1 |
| 17 | 5-Feb | St. Cloud State | L | 0 | 1 | 5 | 36 | 24 | 2.78% | 79.17% | 8.35% | 89.52% | 48.8% | 19 | 26.1 |
| 18 | 6-Feb | St. Cloud State | W | 3 | 3 | 2 | 29 | 23 | 10.34% | 91.30% | 8.47% | 89.60% | 49.2% | 22 | 27.3 |
| 19 | 19-Feb | at W Michigan | W | 3 | 4 | 1 | 34 | 28 | 11.76% | 96.43% | 8.69% | 89.96% | 49.5% | 25 | 29.9 |
| 20 | 20-Feb | at W Michigan | L | 0 | 1 | 4 | 31 | 28 | 3.23% | 85.71% | 8.38% | 89.75% | 49.7% | 25 | 28.0 |
| 21 | 26-Feb | Colorado College | W | 3 | 3 | 0 | 26 | 31 | 11.54% | 100.00% | 8.52% | 90.29% | 49.5% | 28 | 30.2 |
| 22 | 27-Feb | Colorado College | W | 3 | 4 | 0 | 44 | 26 | 9.09% | 100.00% | 8.56% | 90.67% | 50.3% | 31 | 32.7 |
| 23 | 4-Mar | at Minnesota Duluth | L | 0 | 0 | 5 | 20 | 27 | 0.00% | 81.48% | 8.29% | 90.28% | 50.0% | 31 | 29.9 |
| 24 | 5-Mar | at Minnesota Duluth | L | 0 | 1 | 3 | 21 | 21 | 4.76% | 85.71% | 8.18% | 90.14% | 50.0% | 31 | 28.9 |
| | | | | | | | | | | | | | | | |
| --- | --- | --- | --- | --- | --- | --- | --- | --- | --- | --- | --- | --- | --- | --- | --- |
| Game | Date | Opponent | Result | Pts | GF | GA | SHF | SHA | SH% | SV% | Sea. SH% | Sea. SV% | Sea. Poss. | Sea. Pts. | Model |
| 1 | 6-Nov | at Nebraska Omaha | L | 0 | 2 | 4 | 47 | 28 | 4.26% | 85.71% | 4.26% | 85.71% | 62.7% | 0 | 18.5 |
| 2 | 7-Nov | at Nebraska Omaha | L | 0 | 2 | 4 | 37 | 21 | 5.41% | 80.95% | 4.76% | 83.67% | 63.2% | 0 | 15.1 |
| 3 | 13-Nov | Denver | L | 0 | 0 | 3 | 27 | 29 | 0.00% | 89.66% | 3.60% | 85.90% | 58.7% | 0 | 8.2 |
| 4 | 14-Nov | Denver | T | 2 | 1 | 1 | 46 | 20 | 2.17% | 95.00% | 3.18% | 87.76% | 61.6% | 2 | 18.2 |
| 5 | 20-Nov | at Colorado College | W | 3 | 5 | 0 | 39 | 19 | 12.82% | 100.00% | 5.10% | 89.74% | 62.6% | 5 | 35.5 |
| 6 | 21-Nov | at Colorado College | W | 3 | 6 | 0 | 31 | 26 | 19.35% | 100.00% | 7.05% | 91.61% | 61.4% | 8 | 47.4 |
| 7 | 4-Dec | W Michigan | W | 3 | 7 | 0 | 51 | 27 | 13.73% | 100.00% | 8.27% | 92.94% | 62.1% | 11 | 58.7 |
| 8 | 5-Dec | W Michigan | W | 3 | 6 | 2 | 34 | 27 | 17.65% | 92.59% | 9.29% | 92.89% | 61.3% | 14 | 61.4 |
| 9 | 11-Dec | North Dakota | L | 0 | 0 | 3 | 40 | 22 | 0.00% | 86.36% | 8.24% | 92.24% | 61.6% | 14 | 55.3 |
| 10 | 12-Dec | North Dakota | L | 0 | 0 | 3 | 38 | 20 | 0.00% | 85.00% | 7.44% | 91.63% | 62.0% | 14 | 50.6 |
| 11 | 8-Jan | at Miami | T | 1 | 1 | 1 | 37 | 25 | 2.70% | 96.00% | 7.03% | 92.05% | 61.8% | 15 | 49.7 |
| 12 | 9-Jan | at Miami | W | 3 | 5 | 2 | 22 | 15 | 22.73% | 86.67% | 7.80% | 91.76% | 61.7% | 18 | 51.8 |
| 13 | 15-Jan | St. Cloud State | L | 0 | 1 | 3 | 29 | 26 | 3.45% | 88.46% | 7.53% | 91.48% | 61.0% | 18 | 48.4 |
| 14 | 16-Jan | St. Cloud State | T | 1 | 1 | 1 | 39 | 22 | 2.56% | 95.45% | 7.16% | 91.74% | 61.3% | 19 | 48.1 |
| 15 | 22-Jan | at Denver | L | 0 | 2 | 3 | 46 | 29 | 4.35% | 89.66% | 6.93% | 91.57% | 61.3% | 19 | 46.0 |
| 16 | 23-Jan | at Denver | L | 0 | 1 | 2 | 35 | 29 | 2.86% | 93.10% | 6.69% | 91.69% | 60.8% | 19 | 42.0 |
| 17 | 5-Feb | Colorado College | W | 3 | 5 | 3 | 42 | 27 | 11.90% | 88.89% | 7.03% | 91.50% | 60.8% | 22 | 45.9 |
| 18 | 6-Feb | Colorado College | W | 3 | 3 | 2 | 35 | 23 | 8.57% | 91.30% | 7.11% | 91.49% | 60.8% | 25 | 46.1 |
| 19 | 19-Feb | at North Dakota | L | 0 | 1 | 2 | 33 | 25 | 3.03% | 92.00% | 6.92% | 91.52% | 60.6% | 25 | 45.0 |
| 20 | 20-Feb | at North Dakota | L | 0 | 1 | 2 | 28 | 27 | 3.57% | 92.59% | 6.79% | 91.58% | 60.2% | 25 | 43.8 |
| 21 | 26-Feb | at St. Cloud State | W | 3 | 4 | 1 | 35 | 50 | 11.43% | 98.00% | 7.00% | 92.18% | 58.9% | 28 | 44.3 |
| 22 | 27-Feb | at St. Cloud State | W | 3 | 2 | 1 | 27 | 26 | 7.41% | 96.15% | 7.02% | 92.36% | 58.6% | 31 | 44.4 |
| 23 | 4-Mar | Miami | W | 3 | 5 | 0 | 27 | 20 | 18.52% | 100.00% | 7.39% | 92.62% | 58.6% | 34 | 46.8 |
| 24 | 5-Mar | Miami | W | 3 | 3 | 1 | 21 | 21 | 14.29% | 95.24% | 7.57% | 92.72% | 58.3% | 37 | 47.4 |
| | | | | | | | | | | | | | | | |
| --- | --- | --- | --- | --- | --- | --- | --- | --- | --- | --- | --- | --- | --- | --- | --- |
| Game | Date | Opponent | Result | Pts | GF | GA | SHF | SHA | SH% | SV% | Sea. SH% | Sea. SV% | Sea. Poss. | Sea. Pts. | Model |
| 1 | 30-Oct | at Colorado College | W | 3 | 5 | 2 | 37 | 21 | 13.51% | 90.48% | 13.51% | 90.48% | 63.8% | 3 | 72.0 |
| 2 | 31-Oct | at Colorado College | W | 3 | 2 | 0 | 42 | 29 | 4.76% | 100.00% | 8.86% | 96.00% | 61.2% | 6 | 69.6 |
| 3 | 13-Nov | Miami | W | 3 | 6 | 2 | 32 | 21 | 18.75% | 90.48% | 11.71% | 94.37% | 61.0% | 9 | 72.0 |
| 4 | 14-Nov | Miami | W | 3 | 4 | 3 | 36 | 14 | 11.11% | 78.57% | 11.56% | 91.76% | 63.4% | 12 | 72.0 |
| 5 | 20-Nov | at St. Cloud State | W | 3 | 4 | 3 | 26 | 38 | 15.38% | 92.11% | 12.14% | 91.87% | 58.4% | 15 | 64.8 |
| 6 | 21-Nov | at St. Cloud State | L | 0 | 1 | 6 | 29 | 21 | 3.45% | 71.43% | 10.89% | 88.89% | 58.4% | 15 | 49.3 |
| 7 | 4-Dec | Denver | W | 3 | 5 | 1 | 22 | 23 | 22.73% | 95.65% | 12.05% | 89.82% | 57.3% | 18 | 55.6 |
| 8 | 5-Dec | Denver | W | 3 | 4 | 0 | 37 | 18 | 10.81% | 100.00% | 11.88% | 90.81% | 58.5% | 21 | 60.3 |
| 9 | 11-Dec | at Minnesota Duluth | W | 3 | 3 | 0 | 22 | 40 | 13.64% | 100.00% | 12.01% | 92.44% | 55.7% | 24 | 61.4 |
| 10 | 12-Dec | at Minnesota Duluth | W | 3 | 3 | 0 | 20 | 38 | 15.00% | 100.00% | 12.21% | 93.54% | 53.5% | 27 | 62.6 |
| 11 | 15-Jan | Nebraska Omaha | L | 0 | 3 | 4 | 29 | 23 | 10.34% | 82.61% | 12.05% | 92.66% | 53.7% | 27 | 59.2 |
| 12 | 16-Jan | Nebraska Omaha | W | 3 | 5 | 1 | 23 | 29 | 21.74% | 96.55% | 12.68% | 93.02% | 53.0% | 30 | 62.1 |
| 13 | 22-Jan | Colorado College | T | 2 | 5 | 5 | 36 | 23 | 13.89% | 78.26% | 12.79% | 92.01% | 53.6% | 32 | 60.2 |
| 14 | 23-Jan | Colorado College | W | 3 | 5 | 1 | 32 | 19 | 15.63% | 94.74% | 13.00% | 92.16% | 54.2% | 35 | 62.5 |
| 15 | 29-Jan | at W Michigan | W | 3 | 2 | 0 | 30 | 31 | 6.67% | 100.00% | 12.58% | 92.78% | 53.9% | 38 | 62.2 |
| 16 | 30-Jan | at W Michigan | W | 3 | 2 | 1 | 37 | 29 | 5.41% | 96.55% | 12.04% | 93.05% | 54.0% | 41 | 60.9 |
| 17 | 12-Feb | at Denver | L | 0 | 4 | 6 | 45 | 31 | 8.89% | 80.65% | 11.78% | 92.19% | 54.4% | 41 | 57.5 |
| 18 | 13-Feb | at Denver | L | 0 | 1 | 4 | 35 | 25 | 2.86% | 84.00% | 11.23% | 91.75% | 54.7% | 41 | 54.0 |
| 19 | 19-Feb | Minnesota Duluth | W | 3 | 2 | 1 | 25 | 33 | 8.00% | 96.97% | 11.09% | 92.09% | 54.0% | 44 | 53.7 |
| 20 | 20-Feb | Minnesota Duluth | W | 3 | 2 | 1 | 27 | 28 | 7.41% | 96.43% | 10.93% | 92.32% | 53.8% | 47 | 53.4 |
| 21 | 26-Feb | at Nebraska Omaha | W | 3 | 4 | 2 | 24 | 22 | 16.67% | 90.91% | 11.15% | 92.27% | 53.7% | 50 | 54.0 |
| 22 | 27-Feb | at Nebraska Omaha | W | 3 | 4 | 1 | 37 | 27 | 10.81% | 96.30% | 11.13% | 92.45% | 53.9% | 53 | 54.9 |
| 23 | 6-Mar | W Michigan | W | 3 | 8 | 1 | 35 | 32 | 22.86% | 96.88% | 11.70% | 92.68% | 53.9% | 56 | 58.0 |
| 24 | 7-Mar | W Michigan | W | 3 | 5 | 4 | 27 | 21 | 18.52% | 80.95% | 11.95% | 92.30% | 53.9% | 59 | 57.9 |
| | | | | | | | | | | | | | | | |
| --- | --- | --- | --- | --- | --- | --- | --- | --- | --- | --- | --- | --- | --- | --- | --- |
| Game | Date | Opponent | Result | Pts | GF | GA | SHF | SHA | SH% | SV% | Sea. SH% | Sea. SV% | Sea. Poss. | Sea. Pts. | Model |
| 1 | 30-Oct | at W Michigan | L | 0 | 2 | 4 | 33 | 25 | 6.06% | 84.00% | 6.06% | 84.00% | 56.9% | 0 | 9.4 |
| 2 | 31-Oct | at W Michigan | L | 0 | 1 | 6 | 38 | 37 | 2.63% | 83.78% | 4.23% | 83.87% | 53.4% | 0 | -4.6 |
| 3 | 6-Nov | Minnesota Duluth | W | 3 | 4 | 2 | 28 | 47 | 14.29% | 95.74% | 7.07% | 88.99% | 47.6% | 3 | 17.3 |
| 4 | 7-Nov | Minnesota Duluth | W | 3 | 4 | 2 | 21 | 37 | 19.05% | 94.59% | 9.17% | 90.41% | 45.1 | 6 | 28.4 |
| 5 | 20-Nov | at Miami | T | 1 | 3 | 3 | 25 | 24 | 12.00% | 87.50% | 9.66% | 90.00% | 46.0% | 7 | 30.2 |
| 6 | 21-Nov | at Miami | W | 3 | 3 | 2 | 25 | 32 | 12.00% | 93.75% | 10.00% | 90.59% | 45.7% | 10 | 33.3 |
| 7 | 4-Dec | at St. Cloud State | L | 0 | 1 | 4 | 27 | 26 | 3.70% | 84.62% | 9.14% | 89.91% | 46.4% | 10 | 28.0 |
| 8 | 5-Dec | at St. Cloud State | W | 3 | 7 | 2 | 35 | 33 | 20.00% | 93.94% | 10.78% | 90.42% | 47.1% | 13 | 37.6 |
| 9 | 8-Jan | Denver | L | 0 | 0 | 3 | 35 | 19 | 0.00% | 84.21% | 9.36% | 90.00% | 48.8% | 13 | 32.1 |
| 10 | 9-Jan | Denver | L | 0 | 3 | 4 | 28 | 18 | 10.71% | 77.78% | 9.49% | 89.26% | 49.7% | 13 | 31.4 |
| 11 | 15-Jan | at North Dakota | W | 3 | 4 | 3 | 23 | 29 | 17.39% | 89.66% | 10.06% | 89.30% | 49.3% | 16 | 33.4 |
| 12 | 16-Jan | at North Dakota | L | 0 | 1 | 5 | 29 | 23 | 3.45% | 78.26% | 9.51% | 88.57% | 49.8% | 16 | 29.2 |
| 13 | 22-Jan | Miami | L | 0 | 1 | 3 | 28 | 34 | 3.57% | 91.18% | 9.07% | 88.80% | 49.4% | 16 | 27.6 |
| 14 | 23-Jan | Miami | L | 0 | 3 | 7 | 30 | 27 | 10.00% | 74.07% | 9.14% | 87.83% | 49.6% | 16 | 24.9 |
| 15 | 29-Jan | at Colorado College | L | 0 | 1 | 5 | 37 | 30 | 2.70% | 83.33% | 8.60% | 87.53% | 50.1% | 16 | 22.1 |
| 16 | 30-Jan | at Colorado College | W | 3 | 6 | 1 | 26 | 12 | 23.08% | 91.67% | 9.40% | 87.64% | 50.8% | 19 | 27.0 |
| 17 | 12-Feb | W Michigan | W | 3 | 2 | 1 | 25 | 29 | 8.00% | 96.55% | 9.33% | 88.17% | 50.6% | 22 | 28.1 |
| 18 | 13-Feb | W Michigan | W | 3 | 6 | 3 | 33 | 34 | 18.18% | 91.18% | 9.89% | 88.37% | 50.5% | 25 | 31.1 |
| 19 | 19-Feb | St. Cloud State | L | 0 | 1 | 4 | 33 | 22 | 3.03% | 81.82% | 9.48% | 88.10% | 51.0% | 25 | 29.0 |
| 20 | 20-Feb | St. Cloud State | L | 0 | 3 | 6 | 32 | 27 | 9.38% | 77.78% | 9.48% | 87.61% | 51.1% | 25 | 27.6 |
| 21 | 26-Feb | North Dakota | L | 0 | 2 | 4 | 22 | 24 | 9.09% | 83.33% | 9.46% | 87.44% | 51.0% | 25 | 26.8 |
| 22 | 27-Feb | North Dakota | L | 0 | 1 | 4 | 27 | 37 | 3.70% | 89.19% | 9.22% | 87.54% | 50.6% | 25 | 25.5 |
| 23 | 4-Mar | at Denver | L | 0 | 0 | 3 | 26 | 34 | 0.00% | 91.18% | 8.86% | 87.73% | 50.2% | 25 | 24.1 |
| 24 | 5-Mar | at Denver | L | 0 | 1 | 2 | 27 | 46 | 3.70% | 95.65% | 8.66% | 88.24% | 49.5% | 25 | 24.1 |
| | | | | | | | | | | | | | | | |
| --- | --- | --- | --- | --- | --- | --- | --- | --- | --- | --- | --- | --- | --- | --- | --- |
| Game | Date | Opponent | Result | Pts | GF | GA | SHF | SHA | SH% | SV% | Sea. SH% | Sea. SV% | Sea. Poss. | Sea. Pts. | Model |
| 1 | 30-Oct | Miami | W | 3 | 3 | 0 | 40 | 15 | 7.50% | 100.00% | 7.50% | 100.00% | 72.7% | 3 | 111.3 |
| 2 | 31-Oct | Miami | W | 3 | 3 | 1 | 25 | 34 | 12.00% | 97.06% | 9.23% | 97.96% | 57.0% | 6 | 69.7 |
| 3 | 13-Nov | at W Michigan | W | 3 | 5 | 2 | 29 | 28 | 17.24% | 92.86% | 11.70% | 96.10% | 55.0% | 9 | 71.0 |
| 4 | 14-Nov | at W Michigan | W | 3 | 11 | 1 | 45 | 28 | 24.44% | 96.43% | 15.83% | 96.19% | 57.0% | 12 | 92.6 |
| 5 | 20-Nov | North Dakota | L | 0 | 3 | 4 | 38 | 26 | 7.89% | 84.62% | 14.12% | 93.89% | 57.5% | 12 | 78.4 |
| 6 | 21-Nov | North Dakota | W | 3 | 6 | 1 | 21 | 29 | 28.57% | 96.55% | 15.66% | 94.38% | 55.3% | 15 | 83.1 |
| 7 | 4-Dec | Nebraska Omaha | W | 3 | 4 | 1 | 26 | 27 | 15.38% | 96.30% | 15.63% | 94.65% | 54.5% | 18 | 82.7 |
| 8 | 5-Dec | Nebraska Omaha | L | 0 | 2 | 7 | 33 | 35 | 6.06% | 80.00% | 14.40% | 92.34% | 53.7% | 18 | 68.4 |
| 9 | 11-Dec | at Denver | W | 3 | 5 | 2 | 33 | 19 | 15.15% | 89.47% | 14.48% | 92.12% | 54.6% | 21 | 69.4 |
| 10 | 12-Dec | at Denver | W | 3 | 6 | 2 | 31 | 29 | 19.35% | 93.10% | 14.95% | 92.22% | 54.3% | 24 | 71.4 |
| 11 | 8-Jan | Colorado College | W | 3 | 2 | 1 | 36 | 27 | 5.56% | 96.30% | 14.01% | 92.59% | 54.6% | 27 | 68.9 |
| 12 | 9-Jan | Colorado College | L | 0 | 2 | 5 | 49 | 22 | 4.08% | 77.27% | 12.81% | 91.54% | 56.0% | 27 | 62.4 |
| 13 | 15-Jan | at Minnesota Duluth | W | 3 | 3 | 1 | 26 | 29 | 11.54% | 96.55% | 12.73% | 91.95% | 55.4% | 30 | 62.4 |
| 14 | 16-Jan | at Minnesota Duluth | T | 2 | 1 | 1 | 22 | 39 | 4.55% | 97.44% | 12.33% | 92.51% | 54.0% | 32 | 60.4 |
| 15 | 22-Jan | W Michigan | W | 3 | 8 | 2 | 31 | 36 | 25.81% | 94.44% | 13.20% | 92.67% | 53.4% | 35 | 63.8 |
| 16 | 23-Jan | W Michigan | W | 3 | 7 | 3 | 32 | 28 | 21.88% | 89.29% | 13.73% | 92.46% | 53.4% | 38 | 65.5 |
| 17 | 5-Feb | at Miami | W | 3 | 5 | 1 | 24 | 36 | 20.83% | 97.22% | 14.05% | 92.81% | 52.6% | 41 | 66.9 |
| 18 | 6-Feb | at Miami | L | 0 | 2 | 3 | 23 | 29 | 8.70% | 89.66% | 13.83% | 92.64% | 52.2% | 41 | 64.8 |
| 19 | 19-Feb | at Nebraska Omaha | W | 3 | 4 | 1 | 22 | 33 | 18.18% | 96.97% | 13.99% | 92.90% | 51.6% | 44 | 65.6 |
| 20 | 20-Feb | at Nebraska Omaha | W | 3 | 6 | 3 | 27 | 32 | 22.22% | 90.63% | 14.36% | 92.77% | 51.3% | 47 | 66.4 |
| 21 | 26-Feb | Minnesota Duluth | L | 0 | 1 | 4 | 50 | 35 | 2.00% | 88.57% | 13.42% | 92.53% | 51.8% | 47 | 62.2 |
| 22 | 27-Feb | Minnesota Duluth | L | 0 | 1 | 2 | 26 | 27 | 3.85% | 92.59% | 13.06% | 92.53% | 51.7% | 47 | 60.4 |
| 23 | 4-Mar | at Colorado College | W | 3 | 5 | 2 | 55 | 24 | 9.09% | 91.67% | 12.77% | 92.50% | 52.7% | 50 | 60.4 |
| 24 | 5-Mar | at Colorado College | W | 3 | 9 | 3 | 33 | 23 | 27.27% | 86.96% | 13.38% | 92.32% | 53.0% | 53 | 62.9 |
| | | | | | | | | | | | | | | | |
| --- | --- | --- | --- | --- | --- | --- | --- | --- | --- | --- | --- | --- | --- | --- | --- |
| Game | Date | Opponent | Result | Pts | GF | GA | SHF | SHA | SH% | SV% | Sea. SH% | Sea. SV% | Sea. Poss. | Sea. Pts. | Model |
| 1 | 30-Oct | Nebraska Omaha | W | 3 | 4 | 2 | 25 | 33 | 16.00% | 93.94% | 16.00% | 93.94% | 43.1% | 3 | 68.0 |
| 2 | 31-Oct | Nebraska Omaha | W | 3 | 6 | 1 | 37 | 38 | 16.22% | 97.37% | 16.13% | 95.77% | 46.6% | 6 | 78.3 |
| 3 | 6-Nov | at Miami | L | 0 | 1 | 2 | 24 | 38 | 4.17% | 94.74% | 12.79% | 95.41% | 44.1% | 6 | 59.8 |
| 4 | 7-Nov | at Miami | L | 0 | 1 | 2 | 20 | 32 | 5.00% | 93.75% | 11.32% | 95.04% | 42.9% | 6 | 51.0 |
| 5 | 13-Nov | St. Cloud State | L | 0 | 2 | 5 | 28 | 29 | 7.14% | 82.76% | 10.45% | 92.94% | 44.1% | 6 | 41.4 |
| 6 | 14-Nov | St. Cloud State | L | 0 | 1 | 11 | 28 | 45 | 3.57% | 75.56% | 9.26% | 89.30% | 43.0% | 6 | 23.0 |
| 7 | 4-Dec | at Minnesota Duluth | L | 0 | 0 | 7 | 27 | 51 | 0.00% | 86.27% | 7.94% | 88.72% | 41.5% | 6 | 13.9 |
| 8 | 5-Dec | at Minnesota Duluth | L | 0 | 2 | 6 | 27 | 34 | 7.41% | 82.35% | 7.87% | 88.00% | 41.9% | 6 | 11.6 |
| 9 | 11-Dec | Colorado College | W | 3 | 7 | 3 | 35 | 28 | 20.00% | 89.29% | 9.56% | 88.11% | 43.4% | 9 | 20.8 |
| 10 | 12-Dec | Colorado College | W | 3 | 5 | 3 | 38 | 33 | 13.16% | 90.91% | 10.03% | 88.37% | 44.5% | 12 | 24.8 |
| 11 | 15-Jan | at Denver | L | 0 | 3 | 5 | 33 | 33 | 9.09% | 84.85% | 9.94% | 88.07% | 45.0% | 12 | 23.9 |
| 12 | 16-Jan | at Denver | T | 2 | 2 | 2 | 32 | 51 | 6.25% | 96.08% | 9.60% | 88.99% | 44.3% | 14 | 24.8 |
| 13 | 22-Jan | at St. Cloud State | L | 0 | 2 | 8 | 36 | 31 | 5.56% | 74.19% | 9.23% | 88.03% | 45.0% | 14 | 20.7 |
| 14 | 23-Jan | at St. Cloud State | L | 0 | 3 | 7 | 28 | 32 | 10.71% | 78.13% | 9.33% | 87.40% | 45.1% | 14 | 19.2 |
| 15 | 29-Jan | North Dakota | L | 0 | 0 | 2 | 31 | 30 | 0.00% | 93.33% | 8.69% | 87.73% | 45.5% | 14 | 17.9 |
| 16 | 30-Jan | North Dakota | L | 0 | 1 | 2 | 29 | 37 | 3.45% | 94.59% | 8.37% | 88.17% | 45.4% | 14 | 17.8 |
| 17 | 12-Feb | at Nebraska Omaha | L | 0 | 1 | 2 | 29 | 25 | 3.45% | 92.00% | 8.09% | 88.33% | 45.8% | 14 | 17.6 |
| 18 | 13-Feb | at Nebraska Omaha | L | 0 | 3 | 6 | 34 | 33 | 8.82% | 81.82% | 8.13% | 87.99% | 46.1% | 14 | 16.9 |
| 19 | 19-Feb | Miami | L | 0 | 1 | 4 | 28 | 34 | 3.57% | 88.24% | 7.91% | 88.01% | 46.0% | 14 | 16.0 |
| 20 | 20-Feb | Miami | W | 3 | 4 | 1 | 28 | 31 | 14.29% | 96.77% | 8.21% | 88.40% | 46.1% | 17 | 18.6 |
| 21 | 26-Feb | Denver | L | 0 | 1 | 5 | 21 | 40 | 4.76% | 87.50% | 8.09% | 88.35% | 45.6% | 17 | 17.4 |
| 22 | 27-Feb | Denver | L | 0 | 1 | 4 | 33 | 36 | 3.03% | 88.89% | 7.83% | 88.37% | 45.7% | 17 | 16.5 |
| 23 | 4-Mar | at North Dakota | L | 0 | 1 | 8 | 32 | 35 | 3.13% | 77.14% | 7.61% | 87.89% | 45.8% | 17 | 14.0 |
| 24 | 5-Mar | at North Dakota | L | 0 | 4 | 5 | 21 | 27 | 19.05% | 81.48% | 7.95% | 87.68% | 45.7% | 17 | 14.7 |